I am pumped about Facebook Offers.
If you find yourself in a conversation with me about Facebook or social media, you can bet I'll bring up Facebook Offers. And my eyes will light up.
I haven't been this excited about a social media product since Facebook Timeline for Pages. Okay, well that was only two months ago. But before that, I don't remember a comparable time.
Why? The opportunities for businesses to benefit from Facebook Offers are endless. And this isn't just big businesses, but small businesses, too. In fact, the little guys may benefit most.
The product is still in beta and is only available to a limited number of small businesses. If you don't yet have it, you can request access to Facebook Offers. And it's clear that Facebook is still tweaking it since they recently announced that Offers will be available to online businesses (YES!) and not just brick and mortar, as it is now.
In other words, the full feature set of Facebook Offers is not yet entirely clear. But based on what we currently know, there are already several campaignThe campaign is the foundation of your Facebook ad. This is where you'll set an advertising objective, which defines what you want your ad to achieve. More ideas roaming through my mind.
Here are five creative ways that businesses will be able to take advantage of Facebook Offers so that their Fans will be stalking their Page and updates:
1. Limited Availability

When you create a Facebook Offer as an admin, you have an option to control the availability. You can select any of the following:
Unlimited
100,000
10,000
1,000
Custom
Small businesses need to be careful with anything other than "Custom." If your Offer goes viral, you may have serious issues with supply and/or resources to fulfill. But Custom provides some interesting opportunities.
Sure, you could limit it to 500, 100 or 50. But what if you released a really, really good offer? What if once per week, you announced a steep 80-90% discount on a high demand, high priced item? And what if you made that Offer available to only five people? Or two? Or one?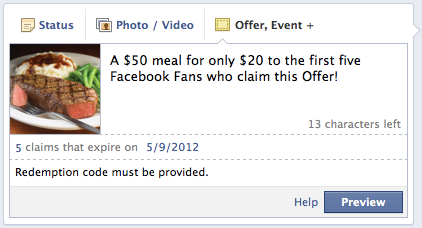 WHOA! That's called supply and demand, my people. Your fans would be hysterical. And let's also say that you don't even make the day and time public when you will announce this deal. But you do it at some time every week.
Do you realize what this could do? Your fans would stalk your Page and your updates.
More than that, this would be a great way to attract more fans.
2. Give-aways

You wanna step it up a notch? Forget giving steep discounts. Give something of value away for free! Again, don't make it public when you'll do it, but set the expectation that it will be once per week, two weeks or month.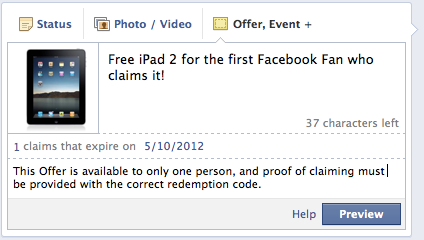 Suddenly, your fans have very strong motivation to follow you more closely.
With either the limited availability offer or the give-away, the latest news that redemption codes may be part of upcoming changes to Facebook Offers is critical. Otherwise, all you get is a very general email that could technically be used over and over or easily duplicated and faked.
But if you have a redemption code for a limited availability item, only you know the redemption code. And you can easily cross it off once it's been used so that it can't be redeemed multiple times.
I'm giddy thinking about how huge this can be for brands. It would create incredible buzz for high value items, but it could be just as successful for restaurants or small retailers as well. So many opportunities!
3. Discounted Services

My initial concern with Facebook Offers was that they would only be available for tangible goods. But since redemption codes are in play, that would seem to include the services industry as well.

Offer 50% off spa treatment or massage (Mother's Day is coming, fellas!). Discounted Facebook consulting. Anyone in the services industry could potentially benefit.
4. EBooks and Online Products

One of the first things I thought about when I initially heard about Facebook Offers was using it for a future eBook that I could sell. I could charge a normal price of $4.99, but make it available for a limited time to Facebook Fans for $.99 or for free. Now with the expected addition of redemption codes, that becomes a reality.

Of course, the possibilities here are endless. Anything you sell online can now be discounted with Facebook Offers. So this opens up a large door of opportunities for the struggling online business to reach more people with exciting discounts.
5. The Old Fashioned Way

The thing is, running Facebook Offers the old fashioned way will be plenty beneficial, too. Most brands will follow a similar template. They'll make an Offer available for three to five days, make it available to a few hundred or thousand people, and it will most often be goods that can be purchased in store.

There's nothing wrong with that. These are opportunities that didn't previously exist on Facebook in a formal way. So this, too, will be awesome!
What Do You Think?

It's time for brands, big and small, to get creative. You may not have Facebook Offers yet, but you need to start planning.

In what creative and amazing ways can you think of to use Facebook Offers to drive excitement for your brand?