If you run Instant Experience ads, how do you measure success? Facebook has added metrics that may prove helpful.
In this post, I'll help you find those metrics and understand what they all mean.
Let's go…
Access the Metrics
You'll need to add columns to your Ads Manager report.
Click the "Columns" dropdown in Ads Manager and select "Customize Columns."

Run a search for "Instant Experience." You'll see seven metrics…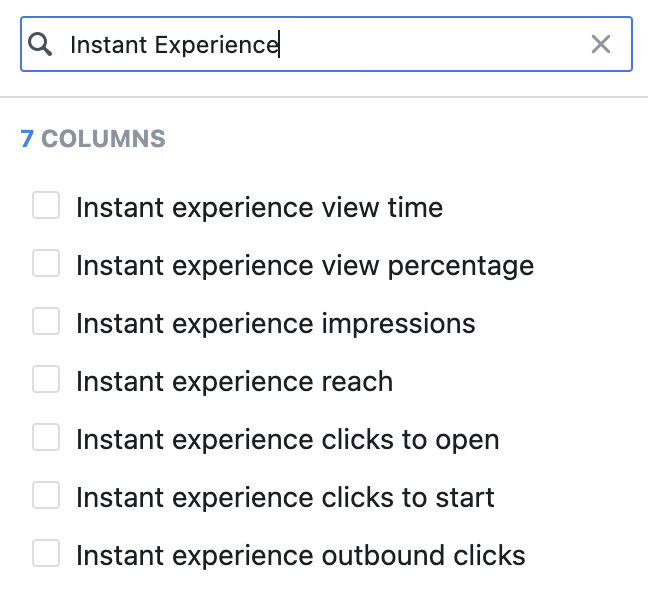 What the Metrics Mean
Following are the metrics related to Instant Experience measurement and what they mean…
Instant Experience View Time: "The average total time, in seconds, that people spent viewing an Instant Experience." This is similar to video view time metrics for measuring an engaged user. (SIDE NOTE: I'd love to see this for Landing Page ViewsLanding Page View is a Facebook ads metric that represents when people land on your destination URL after clicking a link in your ad. More and traffic metrics.)
Instant Experience View Percentage: "The average percentage of the Instant Experience that people saw." These ad units can scroll through multiple components. If your more important components are at the bottom, a higher percentage would be a priority.
Instant Experience ImpressionsImpressions are the number of times your ads were displayed to your target audience. Impressions aren't counted if it is detected they came from bots. More: "The number of elements viewed in an Instant Experience." This one confuses me a bit. While my assumption would be that an impression would be opening an Instant Experience, that metric is coming up. Instead, this seems to be related to the number of components that you see (similar to the percentage).
Instant Experience ReachReach measures the number of Accounts Center Accounts (formerly users) that saw your ads at least once. You can have one account reached with multiple impressions. More: "The number of people who viewed elements from an Instant Experience at least once."
Instant Experience Clicks to Open: "The number of clicks on your ad that open an Instant Experience." (This metric is in development)
Instant Experience Clicks to Start: "The number of times an interactive component in an Instant Experience starts." This will typically be a video. (This metric is in development)
Instant Experience Outbound ClicksOutbound clicks measure the number of clicks on ads that take people to properties away from Facebook. More: "The number of clicks on links in an Instant Experience that take people off Facebook-owned properties." Instant Experiences are often used to warm up an audienceThis is the group of people who can potentially see your ads. You help influence this by adjusting age, gender, location, detailed targeting (interests and behaviors), custom audiences, and more. More before sending them to a product page on the advertiser's website. (This metric is in development)
What About Audiences?
This may be bit off-topic, but I can't ignore it.
I wrote about the need for more targeting options due to iOS 14+ changes in another blog post. That includes audiences related to Instant Experience engagement.
Right now, Instant Experience audiences only include the following:
People who opened your Instant Experience
People who clicked a link within your Instant Experience
That's it!

It's not as if Instant Experience is some new format. It's been around long enough for Facebook to develop this further. And there are so many options for audience building — based on these seven metrics alone — that could provide some great options for advertisers.
Facebook is clearly collecting and storing this information. Why not allow us to target based on it?
Your Turn
How do you measure the success of your Instant Experience ads?
Let me know in the comments below!