Yeah, I hate that headline, too. Psychology and sense of urgency and whatnot. Usually, it's a load of crap. Usually, there is no actual urgency. It's all fabricated. Not this time. You need to create these audiences now, while you still can.
You may have heard that Facebook Analytics is going away after June 30, 2021.

There are many great uses for Facebook Analytics, and I'm bummed it's going away. But one of its super-cool benefits is the ability to create custom audiences that can't be created within the main Audiences interface.
Unless Facebook adds it, you'll no longer be able to create these once Facebook Analytics goes away. And since custom audiences based on pixel eventsPixel events allow you to track specific actions on your website that can be used for reporting, targeting, and optimization. More are becoming less dependable due to iOS 14 and browser changes related to privacy, Facebook advertisers need every good targeting option they can get.
In this post, I'm going to show you how to create custom audiences based on people who have performed the following actions on your Facebook page:
Post Comments
Post Shares
Post Reactions
This is so much better than Facebook's VERY general "engagement" audiences, which only allow you to isolate people based on very broad actions associated with your Facebook page.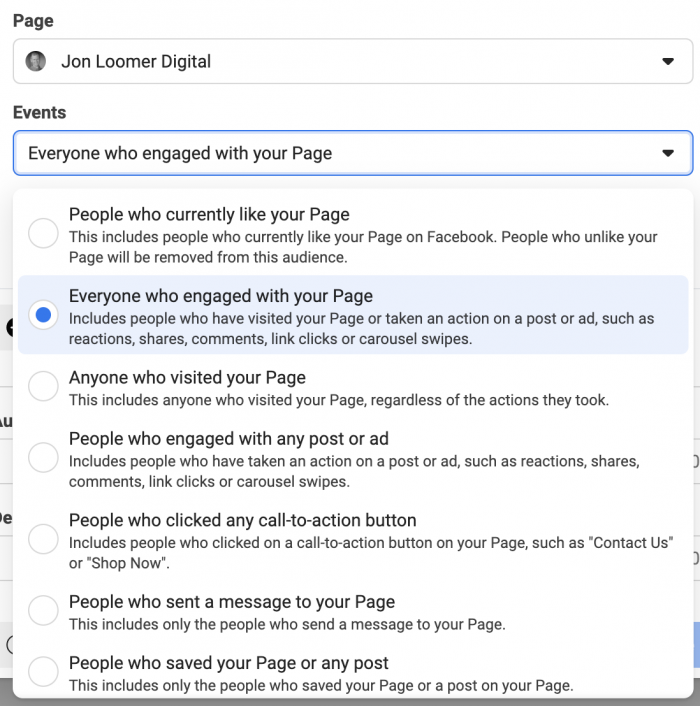 "Engagement" can be so many things. But having the ability to focus only on those who comment, react, or share is a nice step up.
Yeah. It's awesome. Let's do it while you still can…
Select Your Page in Facebook Analytics
Go to Facebook Analytics. You'll then need to select your Facebook page. You should see it within the "Pages" group of entities on that main page.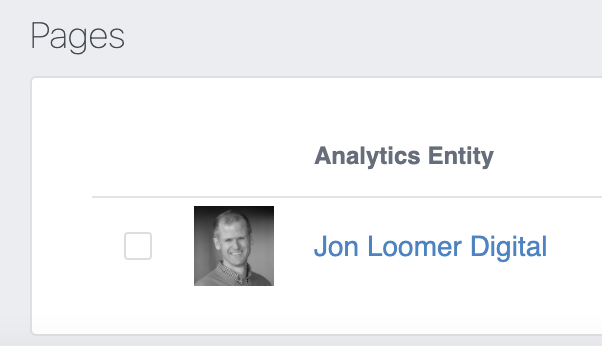 It's important that you ONLY select your Facebook page. If you get cute and include a pixel or other entity, this may not work.
Create a Filter
At the very top, click to "Add Filter."

Then click "Create new filter."

You are creating a filter to include people who satisfy a condition.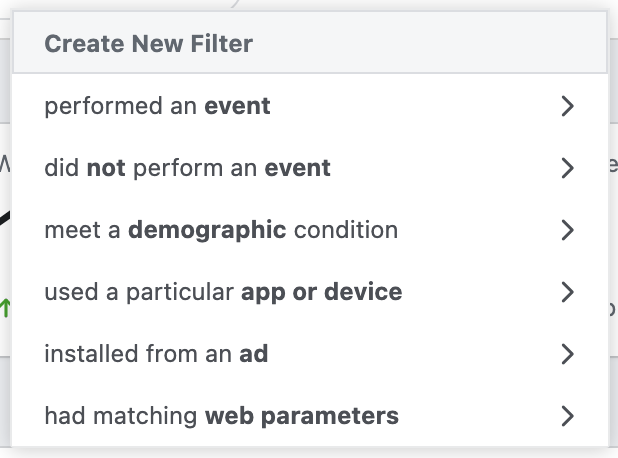 You should experiment with these various conditions. You may find something there I haven't tried before. But for the purpose of this post, we're going to focus on "performed an event."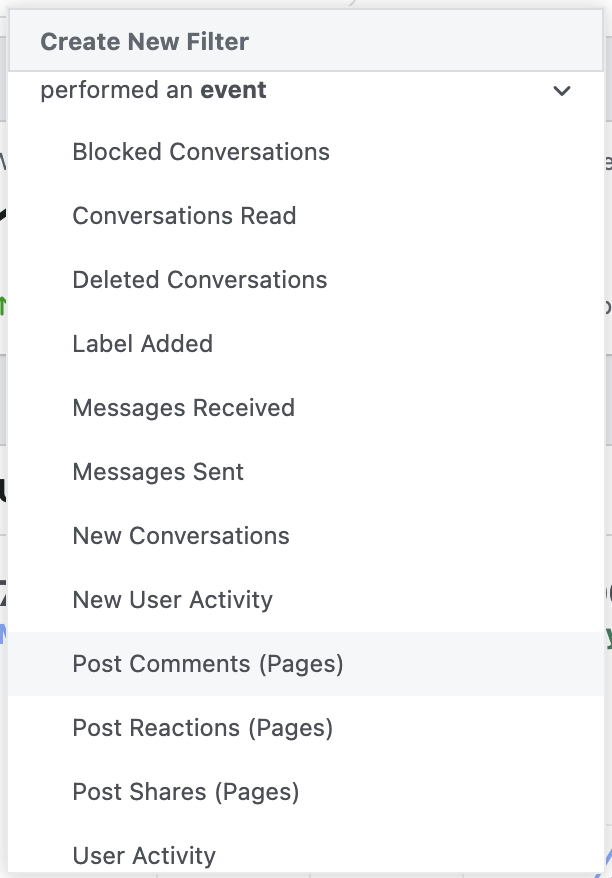 The three we care about for the purposes of this post are…
Post Comments (Pages)
Post Reactions (Pages)
Post Shares (Pages)
The time period you use for the filter itself won't matter. But feel free to try different lengths of time to get a sense of how large each audienceThis is the group of people who can potentially see your ads. You help influence this by adjusting age, gender, location, detailed targeting (interests and behaviors), custom audiences, and more. More will be.
Save the Filter
Before you can turn this filter into a custom audience, you first need to save it. Click the purple bar and select "Save Filter."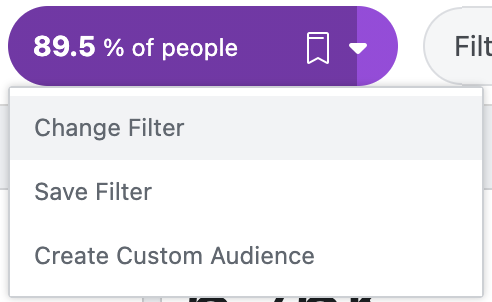 Name it whatever you want. You can use this filter later in your Facebook Analytics reports as well as for your custom audience (which we'll create next).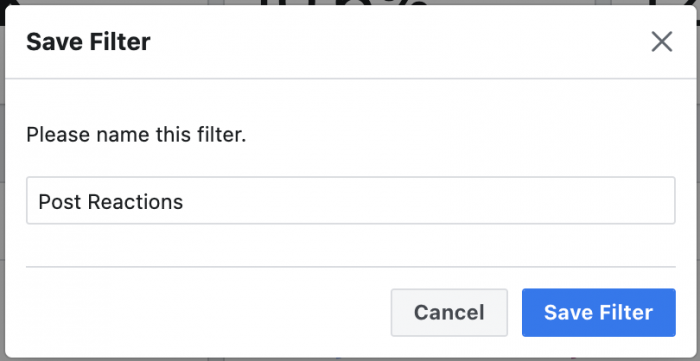 Create a Custom Audience
Now, the part that matters most and why you're reading this post. It's time to create a custom audience based on that filter.
Click that purple bar again and select "Create Custom Audience."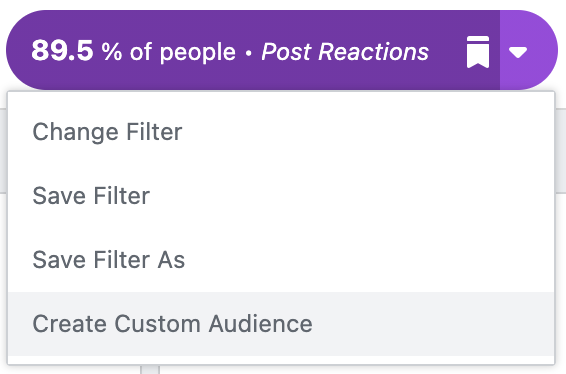 Select the filter that you previously created and saved.

As mentioned before, the time period you use for the filter doesn't matter for this purpose. When creating your custom audience, you'll be given a few options to choose from.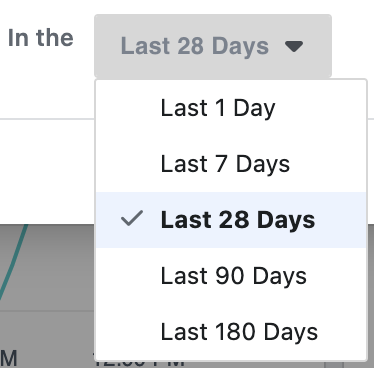 Unfortunately, you don't have full flexibility here. But select one of the options given.
Name your custom audience and click to create it.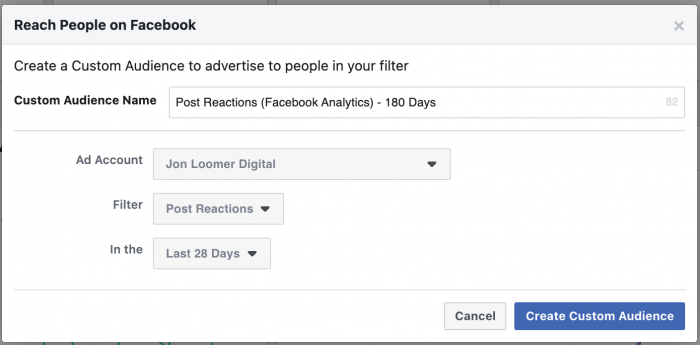 This custom audience will now appear within your main Audiences interface. You'll be able to use it as you would any other custom audience for targeting and exclusions.
What About Detailed Events?
I know what you're thinking because I was, too. You can create a filter based on specific type of reaction, like the "Love" reaction.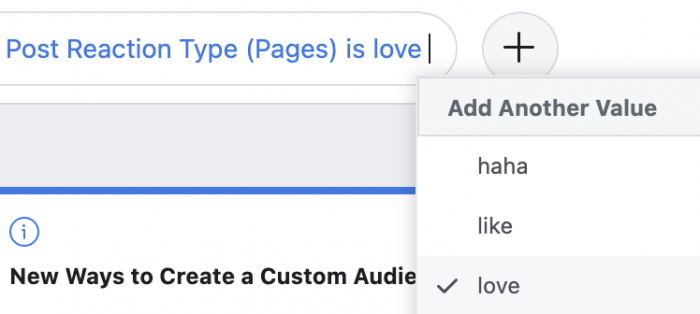 You can create a filter based on sharing a specific Facebook post.

There are a bunch of additional details that you can add to your filter. It's useful for running reports in Facebook Analytics. Unfortunately, you won't be able to create a custom audience from these filters…

These refinements will result in an error when you attempt to create a custom audience from such a filter (which is now grayed out).
Create Them All
Since Facebook Analytics is going away and it's not clear if you'll be able to create these audiences in the future, knock yourself out. Create them all.
Post Reactions (1, 7, 28, 90, and 180 days)
Post Comments (1, 7, 28, 90, and 180 days)
Post Shares (1, 7, 28, 90, and 180 days)
If you find any other useful audiences from the various filters you can create, feel free to build those as well.
I'm making the assumption that once Facebook Analytics disappears, the audiences you created from within it will still exist and work. While I can't think of any reason they'd stop working, we just don't know for sure. But it's better to create these audiences now and find out later than wish you had created them when you no longer can.
Use Cases
Use these audiences when you normally would normally use the main page engagementThe total number of actions users took on your Facebook Page and posts that were attributed to your ads. Page engagement can include liking your Page, reacting to a post, checking in to your location, clicking a link, and more. More custom audience. You'll typically use it as one of your warmer audiences for remarketing. I'd expect targeting such a group would result in more of those specific actions than normal.
In theory, these should be more valuable than the general engagement audience — particularly the Post Shares audience. Keep in mind, though, that the size of the audience will be significantly smaller. As a result, it may be useful for pages with greater activity. Also keep this in mind when setting budgets and choosing length of time.
Even if you can't use them for targeting, these provide more options for lookalike audienceLookalike audiences allow advertisers to reach people who are similar to an audience of people already close to you. Lookalike audiences are based on custom Audiences, which tend to include your current customers or people who have engaged with your business. More sources.
Your Turn
Have you used these audiences for targeting? What kind of results are you seeing?
Let me know in the comments below!