The fourth quarter is the most wonderful time of the year for direct-response Facebook advertisers. Consumers are actively online and looking to purchase. They intentionally want to buy gifts for family, friends, and even themselves.
In 2017, Facebook reported that 70% of millennials are influenced in their holiday buying by Facebook and/or Instagram. And indeed, based on the years I've been advertising on Facebook, CPMs (cost-per-thousand impressionsImpressions are the number of times your ads were displayed to your target audience. Impressions aren't counted if it is detected they came from bots. More) during this time typically rise, but CPAs (cost-per-acquisition) decline rapidly.
Q4 Phases
The days between Thanksgiving and Cyber Monday are when most consumers are looking for deals. Discounts and free shipping abound. Look at the spike of interactions on Black Friday in the graph below.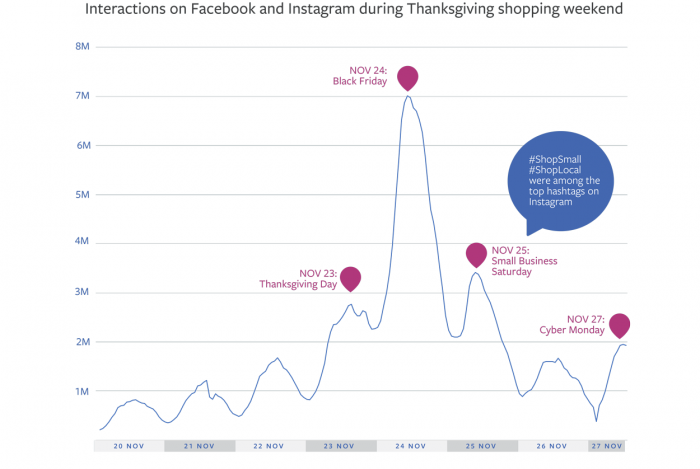 *Source: Facebook IQ Study
However, most advertisers forget that there are various profitable strategies that you can apply in the days and months before Thanksgiving week and after Cyber Monday. And if you do it right, you could maximize customer lifetime values and revenue while positioning yourself for success in the following year. It doesn't have to be held to just those five days, aka "Phase Two."
The "phases" strategy proves that warming consumers up to your company/offer before mid-November (Phase One), combined with targeting previous customers and re-marketing during Black Friday through Cyber Monday (Phase Two), and then continuing to re-market plus a small amount of prospecting post-Cyber Monday (Phase Three) can really be successful.
Utilizing multiple objectivesWhen you create a campaign, one of the first things you'll do is select an objective. The campaign objective is your ultimate goal. Your selection will impact options, including optimization and delivery. Options include Awareness, Traffic, Engagement, Leads, App Promotion, and Sales. More in Q4, especially in Phase One, can also help you spend horizontally, versus vertically. This tactic helps you reachReach measures the number of Accounts Center Accounts (formerly users) that saw your ads at least once. You can have one account reached with multiple impressions. More people in new ways and doesn't require you to only focus on "converters." Converters are only a small portion of the overall Facebook audienceThis is the group of people who can potentially see your ads. You help influence this by adjusting age, gender, location, detailed targeting (interests and behaviors), custom audiences, and more. More, so targeting potential and past customers with Page Post EngagementPost engagements include all of the actions that people took on your Facebook ad post. Examples include:
• Post Shares
• Post Reactions
• Post Saves
• Post Comment
• Page Likes
• Post Interactions
• 3-Seconds Video Plays
• Photo Views
• Link Clicks
More ads is a great first step in the horizontal methodology.
There's plenty of nuance to this approach so if you find this topic interesting, we'll be diving deep into these phases in my upcoming course with Jon!
What's Your Q4 Plan?
Even while considering these phases, many advertisers lack a comprehensive plan. You have potential customers, existing customers, your email list, your website Custom AudiencesA website custom audience matches people who visit your website with people on Facebook. You can then create ads to show to that audience. More, and more at your disposal for targeting.
But how do you use them all? You want to generate new creative assets, but what should you do first? These examples and more sum up why it's absolutely essential to have a solid plan going into Q4.
I'll be brutally honest: you can't just keep running the ads you've been running all year. You need ads that are specific to Q4 and to the offers you're putting out throughout the holidays. They should be different because consumer demands are different.
Next, we'll go over some creative and audience testing you should start NOW to help inform your Q4 plan.
Creative/Copy Tests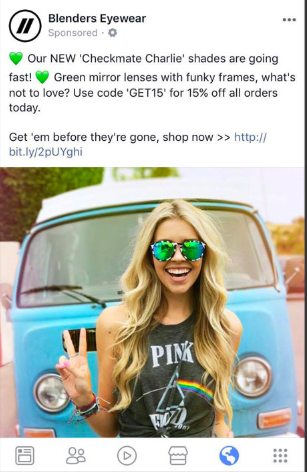 Since you'll be speaking to potential customers, previous customers, previous engagers, and previous website visitors all within Q4, ensuring they all don't see the exact same message is ideal.
You want general message alignment, yes, but speaking to different people in different parts of their customer journey will help to drive revenues and lifetime values higher.
Different people respond to different types of ads and ad sizes. Some may convert on a 1000×1000 photo post (to the right) while others might convert on a video carouselA carousel allows you to display two or more scrollable images or videos in the same ad, with the ability to link each to a different URL. More. This is why it's always important to test, test, test.
There are a few must-do creative tests you'll want to run before early November. Why? This testing will help inform the ads you create for Black Friday through Cyber Monday, thanks to a better understanding of what consumers are responding to.
At a minimum, you'll want to test the following with your ads:
Lifestyle vs. product-focused imagery
Bolder colors vs. neutral colors in your creative
User-generated content vs. traditional product imagery
Customer testimonials vs. product benefits in the copy
Having a clearer understanding of these creative and copy components before Black Friday can help optimize your ad spend and give you greater confidence in knowing what consumers are going to be interested in. They can guide image and copy decisions and make you more confident during some of the most important days of the year.
Audience Tests
Ask yourself this question: What audiences do I currently have in my toolbox that I could target during a sale?
Most advertisers and business owners will list out some of the following audiences:
Best/VIP Customer List
Customer Email List / Previous Purchaser FB event Custom AudienceYou can create an Event custom audience to target those who have engaged with your Facebook event with an ad. More
Email List
Previous Website Visitors
These audiences are all popular (as well as typically successful) because they are already familiar with you. If you have a smaller budgetA budget is an amount you're willing to spend on your Facebook campaigns or ad sets on a daily or lifetime basis. More, focusing on these audiences during the Black Friday – Cyber Monday timeframe will likely be enough to show some serious ROAS and revenue.
But what if your "galaxy" could be expanded for use in Phase Two? You shouldn't wait to target new customers as soon as Black Friday hits because every single major brand will be trying to do that — and they have the bucks to do it. And to be honest, you probably don't have the budget or time to compete with those insanely priced CPMs.
So, what's the solution?
Audience Tests: Examples
My solution is to target prospecting audiences, with a variety of objectives, between now and the week of Thanksgiving to expand your galaxy. An example of what I'm proposing is something like this…
Conversion CampaignThe campaign is the foundation of your Facebook ad. This is where you'll set an advertising objective, which defines what you want your ad to achieve. More
Ad SetAn ad set is a Facebook ads grouping where settings like targeting, scheduling, optimization, and placement are determined. More 1: 1% Purchaser Lookalike, 1% VIP Purchaser Lookalike

Variety of ads being tested here as mentioned above

Ad Set 2: 1% Past 60 Day FB/IG Engager Lookalike
Ad Set 3: 1% Lookalike of Top 25% Last 45 Day Website Custom Audience, 1% Lookalike of 2X Page Views Last 30 Days
Ad Set 4: Interest-based grouping of relevant interests
Page Post Engagement Campaign
Ad Set 1: 1% Purchaser Lookalike, 1% VIP Purchaser Lookalike
Ad Set 2: 1% Past 60 Day FB/IG Engager Lookalike
Ad Set 3: 1% Lookalike of Top 25% Last 45 Day Website Custom Audience, 1% Lookalike of 2X Page Views Last 30 Days
Ad Set 4: Previous Purchaser Target
Video Views Campaign
Lead Gen Campaign (purpose is to capture emails to grow your list for future use in Black Friday sales announcements)
30 Day Website Custom Audience Past Visitor, excluding email list
30 Day Engager Custom Audience, excluding email list
Messenger Campaign Driving To a Subscribe via a Chatbot (purpose is to capture Messenger audiences to grow your list for future use in Black Friday sales announcements)
30 Day Website Custom Audience Past Visitor, excluding email list
30 Day Engager Custom Audience, excluding email list
After the Tests…
Now, once you've run these tests, look at how you've expanded your galaxy well before Black Friday and at a lower cost! Here are your new audiences:
Messenger Broadcast list
Video Views to 75%
Lead Form open but not submit list
A bigger Top 25% Website Custom Audience Visitor pool
Previous Engagers
Fans
Dynamic Ad Pools are bigger
On top of…
Best/VIP Customer List
Customer List
Email List
Previous Website Visitors
PLUS you've made more people familiar with you and your brand, more potential customers have been to your site, and more people have engaged with your products. Seriously, triple win!
To be clear, I'm not suggesting you have to do all of these things in this exact sequence. The purpose of mentioning them is to simply provide options in utilizing multiple objectives which can help you grow your awareness and audiences as we go into a very competitive advertising time.
Learn More
This is just skimming the surface of what's possible — learn more about these testing strategies and more in the upcoming course we're doing all about Q4.
The two-part course will provide participants with a deep and thorough understanding of all the planning and execution strategies required for a successful holiday season. You'll learn the following:
Specific tactics you should start implementing in your ads right now
Setting up your ads in each phase of Q4 for maximum profit
Combating competition
How to scale effectively and efficiently
Hitting your perfect audience at the optimal time
Ensuring ad profitability, even during the most expensive time of the year
Sign up for the course here: https://www.jonloomer.com/q4-ftw/