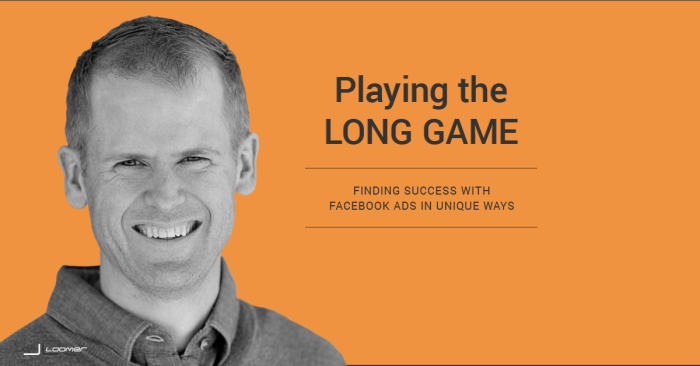 When it comes to defining success with Facebook ads — or with marketing in general — we typically focus on immediacy.
How much did we spend on that campaign?
How much revenue did it bring?
What was the ROI?
I refer to this as the SHORT GAME.
This is a mistake. While the short game can result in positive returns, it's also short-sighted. Bigger, sustained success is found when playing the LONG GAME.
[Tweet "Are you playing the short game with Facebook ads? Here's how to succeed with the long game…"]
The Short Game
The short game is the most common — and easiest — way to measure advertising success. We compare the amount we spend on a campaign to the direct revenue that resulted to determine whether it was worth our time.
The typical marketer thinks that promoting content that doesn't directly lead to a sale or opt-in is foolish and a waste of money. They hammer an audienceThis is the group of people who can potentially see your ads. You help influence this by adjusting age, gender, location, detailed targeting (interests and behaviors), custom audiences, and more. More — who may or may not know them — to get the conversion. The focus is on the right headline, call-to-action or image that leads to revenues.
It's all about right now.
Since the short game is focused on immediate revenues, it's also typically defined in terms like "pushy" or even "deceptive." We do anything and everything to get that immediate sale so that revenues exceed ad spend.
You can play the short game successfully. You can hammer people who don't know you, sell stuff and profit. But you are rarely building long-term relationships with such an approach, so it is an animal that constantly needs to be fed to stay profitable.
By playing the short game, you aren't investing in long-term success. You're only maximizing immediate revenues. You are leaving money — and more — on the table.
The Long Game
The long game focuses on a give and take relationship, not a TAKE AND TAKE, which defines the short game. Your ads aren't focused only on what needs to be done to manipulate your audience to buy or opt-in at this very moment.
When you play the short game, you may run a campaign reaching 100,000 people. Of those 100,000 people, you'll be happy to get 1,000 website clicks. And of those 1,000 website clicks, you may hope to get 10 sales (depending on the cost of the product, of course).
When taking this approach, you are essentially speed dating with your customer. While rarely having a serious, built-in relationship, you use the image and limited characters in your ad to sell your brand and entice your audience to buy now.
That said, there is a very large audience that may be interested in your related content. They may eventually be ready to buy, but they don't trust you yet. And these people are being neglected.
The marketer who plays the long game understands that not every potential customer is ready to buy RIGHT NOW. The long game sees value in those who aren't yet ready to buy or even provide an email address — but want to consume your content.
The long game is all about building TRUST, LONG-TERM RELATIONSHIPS and LONG-TERM CUSTOMERS.
While the short game is a quick burst, the long game is a foundation, a long-term commitment to quality and an investment in your business and your customer.
The long game comes in many forms, but it could look something like this…
Consistently drive an audience back to your website for helpful, educational, high-quality content that SERVES THE READER.
Over time, build TRUST and AUTHORITY. You know your topic. You are ethical. You are someone to go to for answers.
Offer something of value in exchange for an email address to those who have been consuming your free content.
SELL SOMETHING to the people who have been consuming your content or provided an email address.
Yes, the short game can lead to immediate sales. But often these are impulse buys.
By building trust, authority and value, you are nurturing long-term customers who beg you to create another product so that they can help support your business!
An Example of the Long Game
A staple in my strategy is spending money on Facebook ads that promote my blog posts. My priority is only to drive traffic — any conversion is a bonus. Such campaignsThe campaign is the foundation of your Facebook ad. This is where you'll set an advertising objective, which defines what you want your ad to achieve. More will almost always result in a negative ROI — at least when looking at immediate, direct revenue resulting from that campaign.
Some marketers think this approach is foolish. But a recent experiment I ran is a prime example of the long game in all of its glory.
I spent more than $3,000 over a two-month period to surface exclusive content to people who wanted to see it using Facebook ads. I shared 12 tips that were meant only to be helpful and educational, lacking any calls-to-actionA call-to-action is a button or link on your ad that suggests the action you want your audience to take. Examples: "Learn More" or "Sign Up." More or product mentions.
While some opt-ins and sales still resulted (there were banner ads on the sidebar of these articles, as is always the case on my website), if you were to look only at the direct revenue from those first 12 tips, some would have considered it a colossal waste of time and money — some even called it as such.
But the people participating — a mere 833 by the end — were eating up my content. They begged to see more, and they complained when they weren't seeing my most recent ad (can you believe that??).
After spending that $3k+ to serve helpful content, I then invited these participants to an exclusive webinar where I would share the results of what I found. On that webinar, I also offered them an exclusive discount on the Power Hitters Club — my private membership. After all, these were my ideal customers, and I wanted to do all I could to get them into the group.
The result: 38 new PHC members for an estimated value of more than $25,000.
This doesn't even account for the more than 1,500 email addresses accumulated through the experiment. The long game — a collection of 15 campaigns that individually were a waste of money — was a roaring success.
Learn More
While this critical webinar was only made available to those who made it through the 12 tips and registered, I have since shared the replay with Power Hitters Club members as well. If you are a PHC member, you can now watch the replay here!
Not part of the Power Hitters Club yet? Go here to get started!
Your Turn
What do you think of the long game? Have you found success with this approach?
Let me know in the comments below!