Last week, Facebook announced that they will be simplifying the ad creation process. Along the way, they'll eliminate more than half of their current ad options.
I had hoped to write a full explanation of this by now. But the problem is that the facts that are known are few. What Facebook announced is vague and ambiguous. And what others have editorialized is either regurgitated from Facebook or quite possibly completely inaccurate.
As such, the purpose of this post isn't to shed more light on the subject. It's not to regurgitate what is already known. But to emphasize the key points that are left unclear about this upcoming change.
Before we get to these questions, let me hop on my soapbox for a moment. I find it troubling that no one is asking these questions. No one is investigating these details. No one is providing any real insight.
It's a phenomena consistent with the cookie-cutter approach to marketing that so many are endorsing. Accept the words you've read. Don't ask questions. Don't customize for your needs. Complain when you don't get results.
Enough of that. Let's get to the questions I wish others would ask about the new Facebook ad creation process…
1. Which Ad Units Are Going Away?
Here is a portion of that Facebook announcement:
In the next six months, we plan to streamline the number of ad units from 27 to fewer than half of that while mapping all of our ads to the business objectivesThe campaign objective is the ultimate goal for your Facebook ad. Your selection will impact options, including optimization and delivery. More marketers care about…
And later…
This includes removing the Questions product for Pages because marketers can simply ask a question in a post and get answers in comments.

It also means removing the online Offer product because marketers have found that using a Page post link ad is a more effective way to drive people to deals on their websites.
That's all we really know about specific products. And it really doesn't tell us much of anything.
First, the Questions product isn't a Facebook ad unit. It's going away? Yeah, okay. That isn't shocking. But it really has nothing to do with this news.
Second, the fact that online Offers are going away sucks. I don't quite understand that. But on the flip side, online Offers don't represent a full product either. Offline Offers will remain.
So, what is actually going away? If you listen to Gizmodo, it's all of the Sponsored Stories.
From Gizmodo:
In fact, Facebook is getting rid of quite a few of its many ad formats. The current 27 flavors of marketing will be whittled down to a number about half that size. But the Sponsored Story, which made it seem to friends as though you were encouraging them to buy various cleaning products and/or hot singles in their area, is perhaps the most notable.
The author is downright giddy that these "obnoxious" ad units are going away. But if you read the announcement from Facebook, she appears to be jumping the gun here.
Include the best of sponsored stories in all ads. Previously, to get the best social context available, advertisers had to purchase sponsored stories in addition to ads. In the future, for example, when you create a Page post photo ad, we will automatically add social context to boost performance and eliminate the extra step of creating sponsored stories.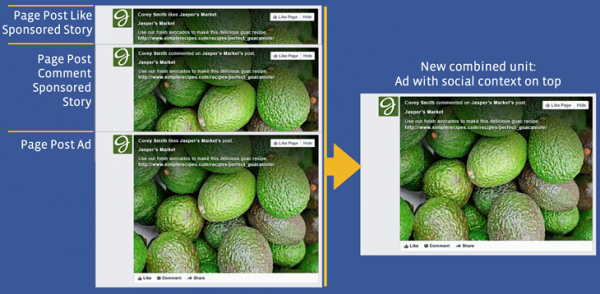 So now, all ads will have a social context. As a result, all ads would apparently behave like a Sponsored Story — or contain a Sponsored Story-like element.
In other words, I think that author from Gizmodo is going to be disappointed.
2. Are Ad Units Really Going Away?
The confusion in #1 leads me here. Let's say that Facebook is taking away the ability to individually purchase Sponsored Stories. Yet, all ads going forward will consist of a social element (your friend commented on, liked or shared a post; your friend liked a Page; your friend installed an app; your friend checked in to a location; your friend claimed an Offer; your friend is attending an event).
Are these ad units really going away? Or is the ability to select them simply going away?
I love Sponsored Stories. I find them to be powerful. If they completely go away, that may be a huge mistake. But if they are simply being absorbed into every ad unit going forward…
Probably not that big of a deal.
3. What Actually Changes?
Everything I've read talks about streamlining the ad creation process so that advertisers can focus on objectives rather than the overwhelming choice between 27 ad units.
But if you look at the self-serve ad tool today, the current ad creation flow is already focused on objectives…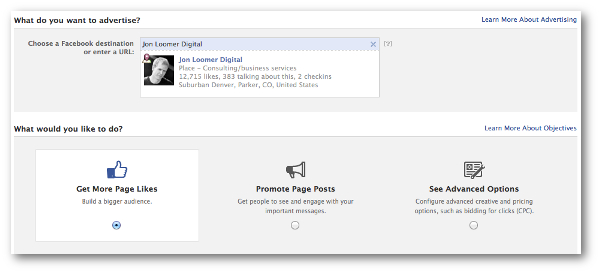 So what, exactly, changes here? Details, please…
4. How Does This Impact Power Editor?
This is the big one for me. The self-serve ad tool and Power Editor have long lived independently. The self-serve ad tool is simplified for the mainstream while Power Editor and the ads API are for the advanced marketer who likes all of the additional options to micro-manage their ad targeting.
Will these changes impact Power Editor? Because if they do, this could potentially be a very bad thing for the advertisers who spend the most money on Facebook ads.
I don't want to jump to conclusions here. But if advertising options are being streamlined across the board, it would seem that Facebook is catering to the lowest common denominator of advertisers. And the potential for alienating advanced advertisers could be huge.
Answers, Please!
The problem, of course, is that I don't know the answer to these questions. I can only speculate. As a result, I am hand-tied regarding how well I can prepare you for these changes.
How do you interpret Facebook's announcement? How do you expect advertising to change? Let me know in the comments below!