On June 19, Mashable wrote a story about how Facebook Mobile Ads Earn 2.5 Times More Than Desktop Ads. Sounded great, but…
I had no access to these ads. Or I didn't see how I could access them. Funny thing is that this wasn't the first time I had read reports about features available within Facebook ads that I hadn't seen. So what is the deal?
Finally, I figured out the missing link: Facebook Ads Power Editor.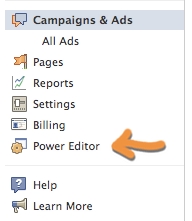 Not sure what I'm talking about? You're not alone. If you manage Facebook ads through Facebook.com, you may have seen the link to Power Editor on the left hand side. Or you probably ignored it.
Power Editor is a Chrome plugin that's been around for about a year. It's supposed to make it easier to edit Facebook ad campaignsThe campaign is the foundation of your Facebook ad. This is where you'll set an advertising objective, which defines what you want your ad to achieve. More and ads in bulk. I had tried it before and thought it was crap. But now there's reason to use it.
It turns out that some rather important features are available only within Power Editor and the Facebook Advertising API. If you had been creating ads on Facebook.com, you've been at a disadvantage. Here are the main things you can do within Power Editor and the Facebook Advertising API:
Advertise within the News Feed in addition to the right side bar;
Advertise within the News Feed only;
Advertise on mobile devices;
Have access to options of CPMCPM measures the cost per 1,000 impressions. It's a good metric to evaluate competition level and costs to reach your audience. More or Optimized CPM for Page Like ObjectivesThe campaign objective is the ultimate goal for your Facebook ad. Your selection will impact options, including optimization and delivery. More.

I've been freaking out about the new Facebook advertising with Optimized CPM because it appears to be letting in SPAM and I thought there was no longer a way to use the old CPM (not optimized) method. Turns out, it's still available. If you know how to get it.

I can't believe I've missed this. And since I missed it, I've gotta assume most advertisers (especially those advertising through Facebook.com) are missing it as well.
The big advantage to using Promoted Posts is that you can advertise within the News Feed. It turns out that you can advertise within the News Feed with other advertising units as well.
And Mobile!
Man, this changes everything. And if the Mashable story is true, we need to advertise more on Mobile. I at least want to test it out.
Stay tuned. My test is underway. I'll have a report along with a Power Editor tutorial coming soon…