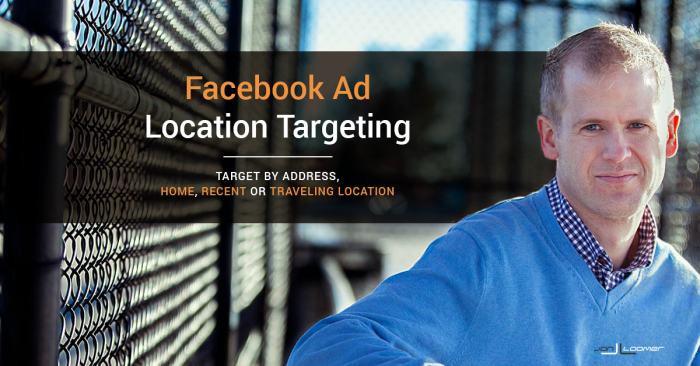 Facebook is always adding to the multitude of ways that advertisers can reachReach measures the number of Accounts Center Accounts (formerly users) that saw your ads at least once. You can have one account reached with multiple impressions. More their ideal audienceThis is the group of people who can potentially see your ads. You help influence this by adjusting age, gender, location, detailed targeting (interests and behaviors), custom audiences, and more. More. Thanks to the latest rollout to both Power Editor and the ad create tool, advertisers have several new ways to target based on geography.
[Tweet "Facebook advertisers can now target those living in, recently in or traveling in an area…"]
Target By Address
When selecting the geographic location of your audience, you'll notice a little update…

You've been able to target by country, state/province, city and zip for a while. But the addition is targeting around an address.
I've decided to target people around Miller Park in Milwaukee…

Note that I can use distances of 10, 25 and 50 miles, as well as entering a custom number.
This is essentially what you were otherwise able to do when running an awareness ad — targeting people within a certain radius around a business. But now you can choose to customize what precisely that address is.
Exclude By Address
You can also use address targeting for exclusion purposes.
Let's say, for example, that I want to target anyone in the United States but exclude those crazy people around Wrigley Field in Chicago. I'd do this…

Once again, I can exclude within different distances from that address.
Everyone In This Location
That's all nice. But the drop-down below gets interesting…

By default you'll be targeting "everyone in this location." That includes both people who live or were recently in the targeted area.
People Who Live In This Location
Maybe you don't want to reach anyone who is simply visiting the area. You only want people who permanently live there.

In this case you will be reaching anyone whose home is in the selected area — presumably determined by Facebook profile information.
People Recently In This Location
Maybe you don't want to target those living in the selected location, but instead you only want those who were recently there. You can do that now, too…

Facebook collects location data — whether you share it or not — which is undoubtedly the primary source of this information.
People Traveling In This Location
At first blush, you'd think that "People traveling in…" and "People recently in…" would be the same thing. But there is an important difference.
Facebook knows where you live and they know your current location. They also know that your current location is more than 100 miles from your home.
There is likely cross-over between the two — those who are 100 miles away from home are also included in the "People recently in…" targeting. However, we're simply zeroing in on those who are in a location that is far from home.
Notes and Early Bugs
First, it's not clear how far these features have rolled out or if it's available beyond the United States (new features often are not). Please let me know if these are options that you are seeing.
Note that I can tell you from my own testing that there are the expected early bugs. There are issues with saving my selections of "People who live in," "People recently in" and "People traveling in." When I save and re-enter to edit the audience, it reverts to the default.
This is a new feature, though, so bugs aren't much of a surprise.
Ways This Targeting Could Be Used
I wrote a blog post for Power Hitters Club members covering specific ways each of these location targeting methods might be used going forward. Could be a great way for you to generate ideas!
Not a member of the PHC? In addition to exclusive weekly blog posts, you'll get weekly webinars, a private Facebook group, rewards program and steep discounts only available to members. Go here to learn more!
Your Turn
Do you have these targeting options yet? How might you use them?
Let me know in the comments below!