According to a report from Brittany Darwell of InsideFacebook.com, Facebook advertisers will now be allowed to customize the titles of ads promoting pages, events and applications.
The change is not yet available to all within the self-serve ad tool, Power Editor or API (as of publication of this post, I do not yet have access), but Darwell reports that the Ads API documentation has been updated to reflect this change. I don't regularly check this page, so I can't confirm the documentation change.
What it Means

Up until now, you could create a custom title (up to 25 characters) for ads that directed people off of Facebook. Here's an example…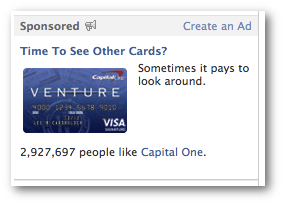 But if you wanted to create an ad that promoted your page, event or application, you could not customize the title. It was always the name of that Facebook property. Like this…
Now advertisers will be allowed to edit these 25 characters.
Why it Matters
First of all, this helps anyone who set up a Facebook page with more than 25 characters. Such a page was not built for advertising since the name would be cut off within the title of the ad. These people can now finally avoid the "…" at the end of their title.
But this is much more than that. Ads to properties on Facebook are generally less expensive than those that direct users off of Facebook. But if you had identical landing pages on and off Facebook — one that allowed you to customize a title for a little more money and one that did not — this often became a difficult choice.
Now you aren't forced to jam all of the benefits of your page, event or application — plus a call to actionA call-to-action is a button or link on your ad that suggests the action you want your audience to take. Examples: "Learn More" or "Sign Up." More — into the 90 character description. This allows advertisers the ability to get more creative, potentially using the title as a call to action or attention grabber that leads users to read the description.
Small change? Maybe. But as any good marketer knows, the headline is often what makes or breaks a piece of content.
Are you happy about this change?