It's definitely that time of year. You've done so much brainstorming, preparing, and worrying about your Q4 campaignsThe campaign is the foundation of your Facebook ad. This is where you'll set an advertising objective, which defines what you want your ad to achieve. More and now you feel fried. You wake up every morning poised for disaster.
Perhaps one or all of these thoughts races through your head: "something doesn't seem to be working as well as it was last week," "accounts aren't spending what they should be right now," or "my campaigns are tanking, the client is going to fire us." 
But wait… as Michael Scott from Dunder Mifflin would say, are we really at threat level midnight?!
In all honesty, probably not, but that doesn't mean your campaigns couldn't use some tweaking and fine-tuning. Every account needs a 100,000-mile tune-up. NOW is the time to make sure all the hard work you've done to prepare for a successful Q4 isn't lost thanks to overthinking, disorganization, and pulling random levers just to see what works and what doesn't.
Remember: YOU GOT THIS.
What it really comes down to is understanding where and when to begin optimizing. What's the most pressing issue? Or are there multiple things at play? Is it your audienceThis is the group of people who can potentially see your ads. You help influence this by adjusting age, gender, location, detailed targeting (interests and behaviors), custom audiences, and more. More, your creative, your bids or your website?
In truth, it could be a combination of a few different problem areas. Facebook has been more volatile lately, and for many advertisers, it's difficult to pinpoint what's causing the mixed results.
To get clear answers moving forward, you need to institute a tried-and-true system of optimizationThe Performance Goal is chosen within the ad set and determines optimization and delivery. How you optimize impacts who sees your ad. Meta will show your ad to people most likely to perform your desired action. More and organization. Learn about my recommended system in our upcoming class!
Definitions
Most Facebook advertisers have their own system of optimization and organization, but in my experience, "system" is a loosely defined term. For example, optimization to one advertiser I spoke to recently was "turning ad setsAn ad set is a Facebook ads grouping where settings like targeting, scheduling, optimization, and placement are determined. More up or down", where to me, optimization is the definition below.
Optimization: Increasing yield (results) and cutting waste. Optimization is a continued refinement of your currently active ads. It's slightly different than overall account scalingScaling is the process of increasing your budget or focus to get more results from an effective campaign or ad set. Advertisers often speak of vertical scaling (increasing your budget) or horizontal scaling (increasing your targeting audience) to achieve these results. More in that it's more tweaking and tuning what is currently active to run more smoothly.
Account organization also has different definitions depending on the advertiser. One advertiser I know recently said, "my audiences are named properly in the audiences area, so I feel pretty organized." This technically isn't wrong, but I prefer the more overarching definition below.
Organization: Instituting orderly systems and processes so you don't get confused and lost while running Facebook and Instagram ads. Examples include using better naming conventions, relying on a go-to build template, and much more.
Your System
If you've never defined your optimization/organization system, NOW is the time.
Facebook is much more competitive than it was last year and exponentially harder to work within. In order to stay sane, you need a clear, dedicated system. This system should help you stay on track for what you should be doing every day, week, and month to improve your account performance. The days of scattershot optimization and tweaks are over.
For my system, I start by thinking through the following ground rules…
Generally, my ground rules surround:
What are the pitch(es) I'm making and where?
Who am I showing ads to?
Where am I placing ads?
What types of ads am I running?
What bidding methodologies am I using?
How much am I spending and do I want to spend more?
By going through and recording my answers to these questions on a more regular basis, I am able to come up with new ideas, thanks to fresh thinking.
What about you? What questions are you routinely asking yourself about your account performance? Or are you keeping things on auto-pilot? Why or why not?
My System
To put these ground rules into practice, I developed a straightforward list of DAILY-WEEKLY-MONTHLY optimization metrics that I think work well, regardless of account size. I build these out as reports that I pull down via the Customize Columns area and then I save them. Here are the exact steps I follow:
First, I select customize columns.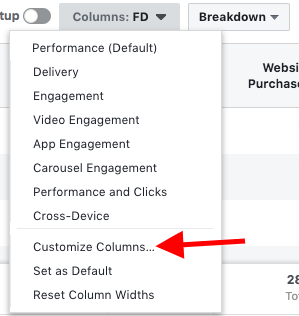 Then I select the metrics I want to track.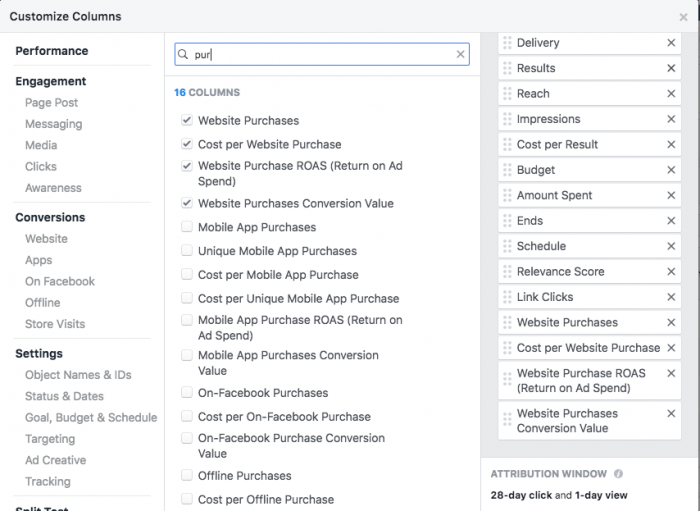 Then, once it's done, I save it and name it.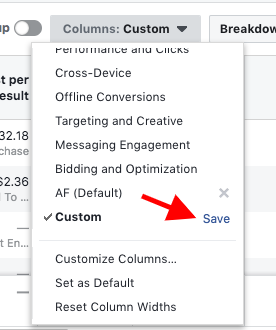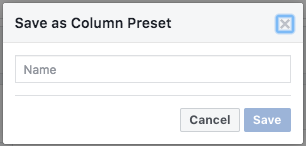 Is this rocket science? No. But has it been helpful in my account optimization system? Yes, absolutely. 
I use this system for all my ad accounts, with each one utilizing a daily, weekly, and monthly list to identify further optimization areas.
My Daily Optimizations
Here's how I approach DAILY account optimization and what I'm keeping an eye on:
Amount spent
Results
ReachReach measures the number of Accounts Center Accounts (formerly users) that saw your ads at least once. You can have one account reached with multiple impressions. More
Cost Per Result
BudgetA budget is an amount you're willing to spend on your Facebook campaigns or ad sets on a daily or lifetime basis. More
Website Purchases
Cost Per Website Purchase
Website Purchase Conversion Value
Website Purchase ROAS (return on ad spend)
Link ClicksThe link click metric measures all clicks on links that drive users to properties on and off of Facebook. More
Cost per Link ClickFacebook reports on CPC (All) and CPC (Link Click). The first refers to all clicks and the second on all internal and outbound links. More
CTR (Link)
I pull out these metrics and save them as a daily report, which I then run for each client. I compare yesterday versus today using the date picker.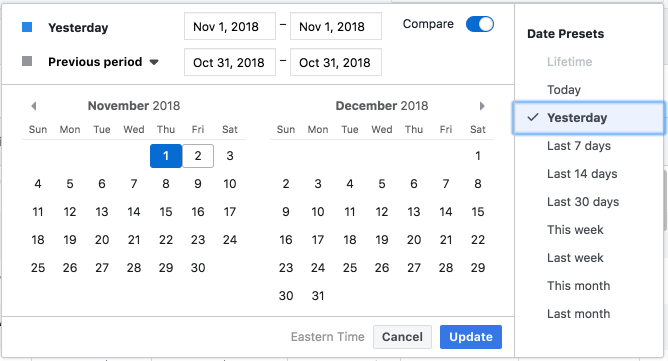 Here are the account optimization questions I ask myself on a DAILY basis:
Is my CPA going up/down?
Is my CTR going up/down?
Is my CPC going up/down?
Do any of the ad sets show signs of fatigue?
It's basically a quick checkup on big picture campaign components. Am I successfully bringing in more traffic at a reasonable cost and is that traffic producing revenue? After I do my daily optimizations, I dive into weekly optimizations.
My Weekly Optimizations
Now, here's how I approach WEEKLY account optimization. Notice the additional levers I'm pulling? I'm keeping an eye on all these issues:
Reach
Cost Per Result
Website Purchases
Cost Per Purchase
Website Purchase Conversion Value
Website Purchase ROAS
Link Clicks
Cost Per Link Click
CTR (Link)
CPMCPM measures the cost per 1,000 impressions. It's a good metric to evaluate competition level and costs to reach your audience. More
Relevance Score
First time impression ratio check on ad sets
Here are the questions I'm asking myself on a WEEKLY basis:
Am I driving more conversionsA conversion is counted whenever a website visitor performs an action that fires a standard event, custom event, or custom conversion. Examples of conversions include purchases, leads, content views, add to cart, and registrations. More / leads at the same or different cost?
Is my CPA going up/down?
Is my Relevance Score going up/down?
Do any of the ad sets show signs of fatigue?
Am I seeing a lot of latent conversions not previously counted over the last 7 days?
My Monthly Optimizations
Lastly, here's how I approach MONTHLY account optimization. See all the items I'm reviewing in-depth?
Website Purchases
Cost Per Purchase
Website Purchase Conversion Value
Website Purchase ROAS
Link Clicks
Landing Page ViewsLanding Page View is a Facebook ads metric that represents when people land on your destination URL after clicking a link in your ad. More
Cost Per Link Click
CTR (Link)
CPM
Relevance Score
First time impression ratio check on ad sets
Check on creative, bidding, placement or audience gaps that need to be filled
Latent conversions month over month
A/B bidding check to see comparisons
Now, here are the questions I'm asking myself on a MONTHLY basis:
Am I driving more conversions at the same or different cost?
Am I driving more/same amount of traffic at the same/different cost?
Is my CPA going up/down?
What's wearing out?
What's new that needs to be tested?
What worked this month and what didn't?
What "gaps" have shown that we can run tests on tests can next month?
System Sneak Peek
This is just a sneak peek at the optimization/organization system I use to keep my accounts running smoothly. Over the past month, I interviewed over a dozen Facebook advertising pros including reps at big ad agencies, in-house marketers, and other consultants — all of whom work in different verticals with diverse client needs — to hear from them on what EXACTLY they're doing on the account optimization and organization front.
To hear from the pros and get all their helpful tips and techniques, be sure to sign up for our upcoming class!
Your Turn
What systems do you use for account optimization and organization?
Let me know in the comments below!