[NOTE: This post continues a series exploring the topic of entrepreneurship. While my focus has and will continue to be on Facebook ads, I have plenty to share about what I've learned while building my business.]
I'm often asked about how I promote my products. Since my new 4-week training program about the Facebook pixel just started this week, I thought I'd share how I used email to increase sign-ups.
General Approach
There will be disagreement with my approach. Some will think that it's too soft, or that I left money on the table. Understand that this core disagreement is based on a fundamental difference of opinion.
As part of my core values, I focus on value first, sales later. I don't enjoy selling — or at least, I detest pushy selling. I care more about building a long-term relationship with people who will buy later to squeezing every last dollar out of my audienceThis is the group of people who can potentially see your ads. You help influence this by adjusting age, gender, location, detailed targeting (interests and behaviors), custom audiences, and more. More for a current promotion (potentially at the expense of sales later).
Side note: My business managerEvery organization should have their own Business Manager to organize their assets (pages, ad accounts, pixels, and more), and then provide appropriate access to those assets to partners. More, John Robinson, pushed me to market this more. I refused. It's not my style. Know when to say no to your trusted advisors.
So, yes, I want to sell this training program. But you, as a hypothetical potentical customer, may not be ready to buy right now. You might not be a good fit for it. And I do not want to push away these groups of people.
Also understand that my training program isn't a one-shot deal. I will likely host this same program nine times in 2017. So I need to consider that this won't be the final time I'll be promoting this program (or another program, my memberships or one-on-ones).
My goal is to be sure that those who are ready and are a good fit are given every opportunity to learn about and buy this program — without alienating them and losing a customer later.
The Hidden Steps
For those who attempt to replicate this approach, it's important to understand that I didn't start from scratch with Step 1 listed below. The reality is that there are years of work hidden beneath it.
What I mean by that is it's easy for me to get inexpensive, high-quality registrations for a webinar. It won't be for most marketers who haven't put in the groundwork.
I did not go after a cold audience to fill this training program. I pulled from my email list (about 100,000 people after a recent list cleanse), my website traffic (about 200,000 unique visitors per month) and social media channels (well over 100,000 on Facebook).
These three things didn't pop out of nowhere. It took time, work and investment to build a highly engaged and relevant audience of people who will be interested in my content, webinars and products.
That doesn't mean that you shouldn't follow my steps below. But it does mean that you need to prioritize the hidden steps as well to make sure that when you follow steps 1-5 in the future, your results will continue to improve in quality and volume.
What are the hidden steps? Too much for this blog post, but everything involved with writing content, driving traffic, building an email list and building a social media audience.
1. Free Webinar
I've found that the free webinar is a good way to introduce people to a new product. While I do get sales on the webinar itself, I try to be sure that webinar has quality information first. The focus isn't on the product.
Many of the sales actually come from those who register for the webinar, but later. I have your email address. You may remember me talking about that product. Well, here's your last chance to buy…
I created a free webinar called Keys to Success: Facebook Advertiser Webinar. I know, boring name. But I'm a boring-webinar-name-kind-of-marketer.
The content of the webinar focuses on the things that I believe are most important to successful Facebook ad campaignsThe campaign is the foundation of your Facebook ad. This is where you'll set an advertising objective, which defines what you want your ad to achieve. More. What I found by creating that content is that a recurring theme for many of these items was the Facebook pixelThe Facebook pixel helps advertisers track events that occur on their website and reach people who performed those events with ads. More.
You need the pixel to target properly. You need the pixel to track properly. You need the pixel to optimize properly. On and on and on.
So the webinar would become a good jumping off point to a 4-week training program about the Facebook pixel.
I scheduled my first "Keys to Success" webinar for January 30. I will eventually host one on a nearly monthly basis (again, this is one factor in not wanting to over-market).
Email #1: Announce Free Webinar
The funnel for my 4-week training program began here. I sent this email to 96,595 people…

The purpose of the email was to announce the background behind the webinar, what it would be about, what you would learn and when it would occur.
This is a partial screen grab. Don't get too focused on the copy and content of each of my emails. I would never proclaim to be a master of email copy. The main thing is to understand the overall structure I'm using.
Email #2: Blog Post Promotion
Three days prior to the webinar, I wrote a blog post about how I promoted that webinar with Facebook ads. That email was sent to 97,652 people.
This was, of course, an easy lead-in to promote my webinar.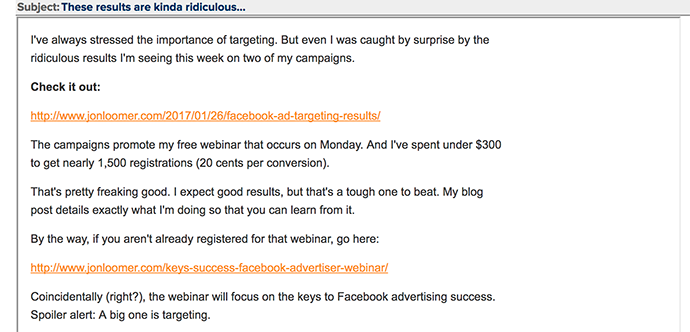 This is my favorite way to promote something — as a lead-in, rather than a dedicated email about the webinar itself.
Email #3: Webinar Replay
I ended up maxing out GoToWebinar registrations at 5,000 people. In fact, I didn't know of this limit, and some people who registered weren't able to attend (my bad!). So the total audience of this email was 5,180 people.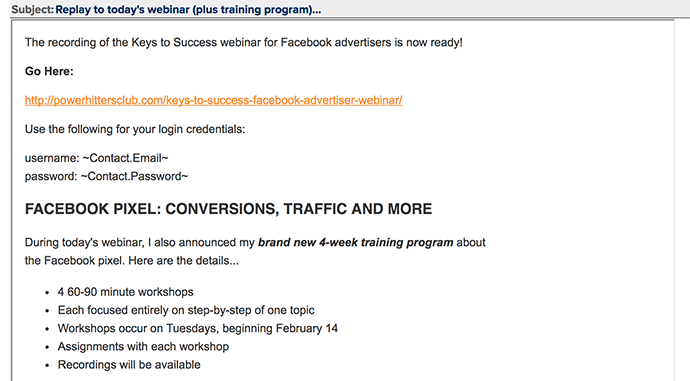 This email focused first on access to the webinar replay before jumping to the details of the related training program. The email included everything you needed to know about what it would cover, what you would learn and when.
This email admittedly did not include the price. This was not intentional. Price would be found when clicking the link.
And by the way, those who clicked the link to the landing page would be tagged in Infusionsoft so that I could email them later.
2. Training Program Launch Announcement
Now it was time to announce my training program publicly.
Email #4: Announce Training Program
A day after my free webinar, I sent four different emails to four different groups announcing my training program. I wouldn't want to reachReach measures the number of Accounts Center Accounts (formerly users) that saw your ads at least once. You can have one account reached with multiple impressions. More anyone who already signed up for the program or who was a member of PHC – Elite (they would get access to the replays as part of their membership).
I modified the copy ever-so-slightly based on different audiences.
For registrants of that free webinar (5,177)…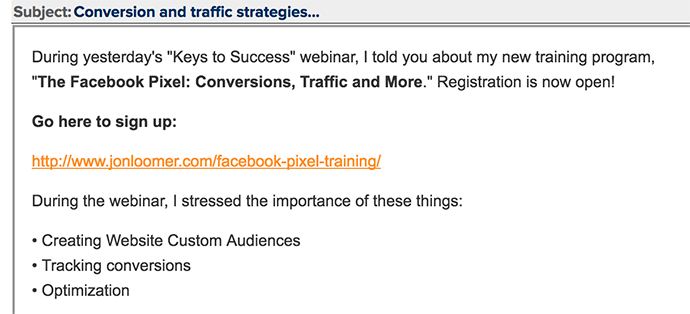 For people who participated in prior 4-week training programs from 2016 (253)…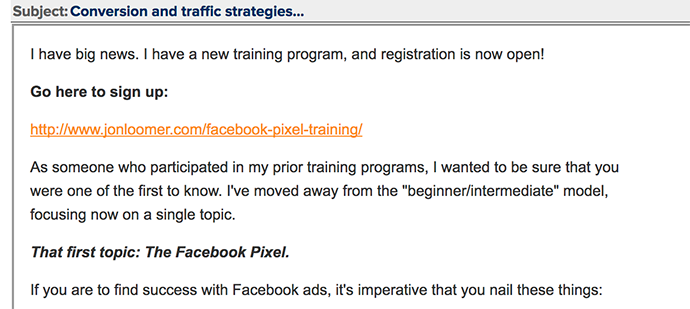 For people who participated in my prior free webinar program (21,564)…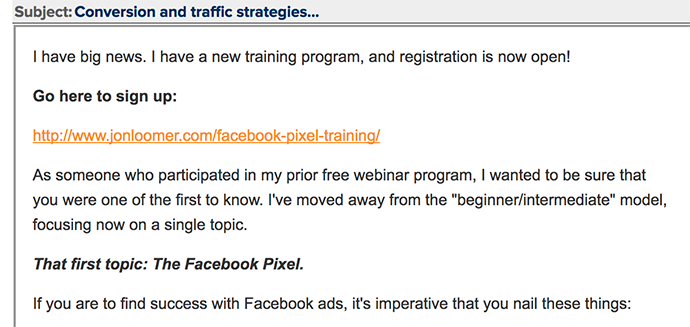 And then everyone else (70,408)…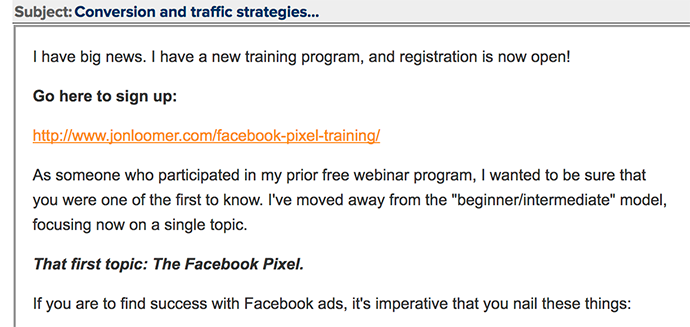 In all, this was 97,402 people. There was no overlap. I also excluded anyone who was a PHC – Elite member (as mentioned, they get replays as part of their membership) and anyone who already signed up.
3. Large Group 1-Week Reminder
This is about my limit for dedicated emails promoting a product to close to my entire list.
Email #5: 1 Week Left
One week before the start of my training program…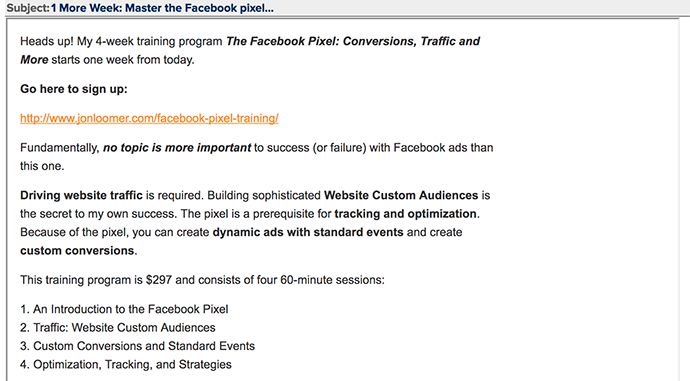 This was sent to 98,155 people who hadn't yet signed up for the program or PHC – Elite. This will be the final time I email about this program to my list in bulk.
4. Blog Post Promotion
As mentioned earlier, this is my favorite way to promote something. When you lead with helpful information as opposed to "BUY MY STUFF," it's an approach that makes me more comfortable.
Email #6: Importance of the Facebook Pixel
Four days prior to the start of my training program about the Facebook pixel, I wrote a blog post about… yep, the Facebook pixel. That, of course, was the perfect lead-in for my training program.
I sent an email to the 97,990 people who weren't yet signed up or members of PHC – Elite…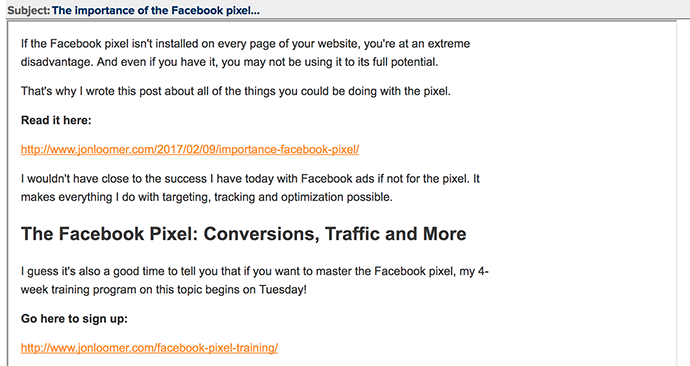 I tagged anyone who clicked the link to this blog post in Infusionsoft because while they may not be specifically interested in the training program, they did express interest in the topic.
5. Final Reminders to Small Group
As mentioned above, I was done emailing my entire list about this program. I sent you a few messages already. If you didn't click a link to at least show interest, I'm done trying with you for now (again, remember that this program will run in future months as well, so there will be more opportunities).
Email #7: 1 Day Reminder
One day prior to the start of the 4-week training program, I sent a reminder to the 4,834 people who satisfied these requirements:
Clicked a link to the 4-week training program in a prior email, AND/OR
Clicked a link to the blog post about the Facebook pixel
NOT a registrant to the 4-week training program
NOT a member of PHC – Elite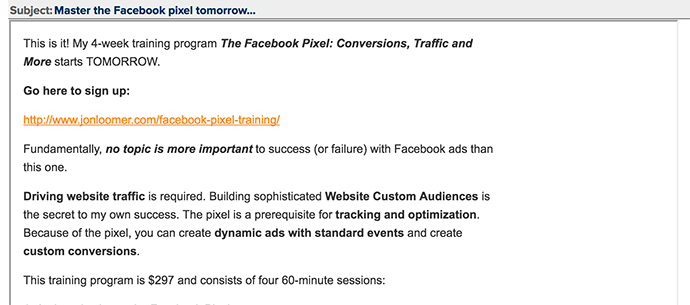 Email #8: Training Starts Today
And on the day the program started — about 10 hours from the first webinar — I sent this email to that same group of people (now 4,856 people thanks to more people clicking on links in old emails)…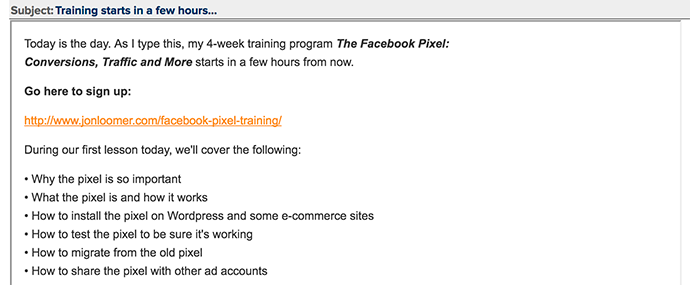 Other Promotion
I also made a mention of the program to my Facebook audience with an organic carouselA carousel allows you to display two or more scrollable images or videos in the same ad, with the ability to link each to a different URL. More post…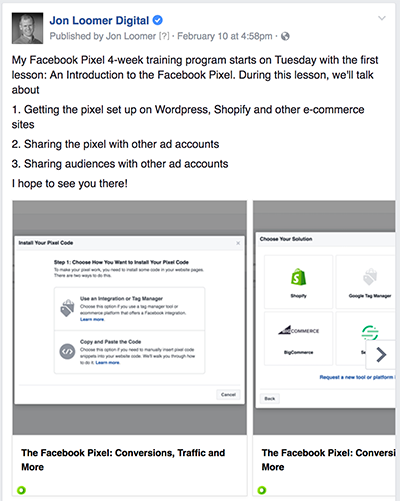 I did create a Facebook campaign promoting the program, but it only targeted those who registered for the free webinar…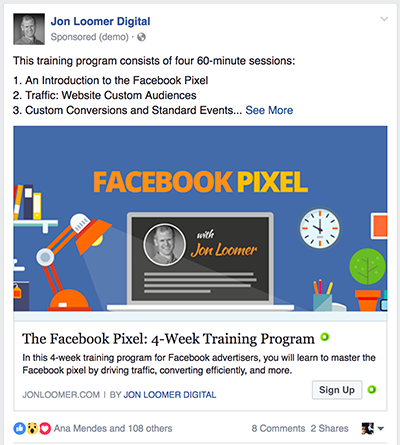 The bulk of my ad spend was actually on the free webinar, rather than the training program itself. I find that to be most efficient, allowing my email marketing to do more of the heavy lifting.
Results
So in all, I sent eight emails that fall into these buckets:
Dedicated email to my entire list promoting the free webinar (1)
Email promoting blog post that mentioned my free webinar (1)
Email promoting blog post that mentioned my training program (1)
Dedicated email to my entire list promoting my training program (2)
Email to webinar registrants or other small group promoting my training program (3)
While it's possible you may have received up to eight emails from me regarding the webinar or training program, most people received only one about the webinar and two about the training program. We funneled from there.
I'm not a big fan of talking about revenue. I think it's tacky. But you, at least, probably want to know how many people signed up.
I have 185 students in February's training program. On the surface, that may seem small considering how many people I messaged. But the final funnel was closer to 5,000 people.
Additionally, I must stress that this is a recurring program. I need to play the long-game strategically as opposed to ambushing my list to get the most possible sales today.
Future Promotion
Since this is the first time I've run this training program, promotion was actually heavier than it will be in the future. I will not send another dedicated email about the program to my entire list.
Going forward, my focus will be on:
Getting 5,000 signups for the monthly free webinar
Emailing those who signed up for the current or previous month's webinar
Including soft-sell copy in emails promoting blog posts
Facebook ads targeting those who registered for the free webinars
My marketing focus also shifts to Facebook ads for doing the heavy lifting on filling the free webinar.
By putting promotion of this program in the background, I can then shift to promote another training program when it's announced. Or push my memberships. Or one-on-ones.
It's a juggling act, particularly for someone like me who respects your inbox and doesn't want to overmarket.
Your Turn
What's your email approach for promoting your products?
Let me know in the comments below!
TEST
Free Webinar for Entrepreneurs
I host a free webinar for entrepreneurs. It focuses on lessons I learned while starting my business. You can learn more about the details of the webinar here, or simply register below…