You may want to create a Facebook ad campaignThe campaign is the foundation of your Facebook ad. This is where you'll set an advertising objective, which defines what you want your ad to achieve. More that has the goal of driving phone calls. There are many applications for this, but examples include calling in an order or making a call to discuss services with a salesperson. Direct "Call Ads" have weaknesses that Call Extension Facebook Ads help solve.
In this post, let's discuss how these are different from Call Ads, and how you can set up your own Call Extension Facebook Ad today.
Compared to Call Ads
Your standard Call Ad consists of a "Call Now" call-to-actionA call-to-action is a button or link on your ad that suggests the action you want your audience to take. Examples: "Learn More" or "Sign Up." More button.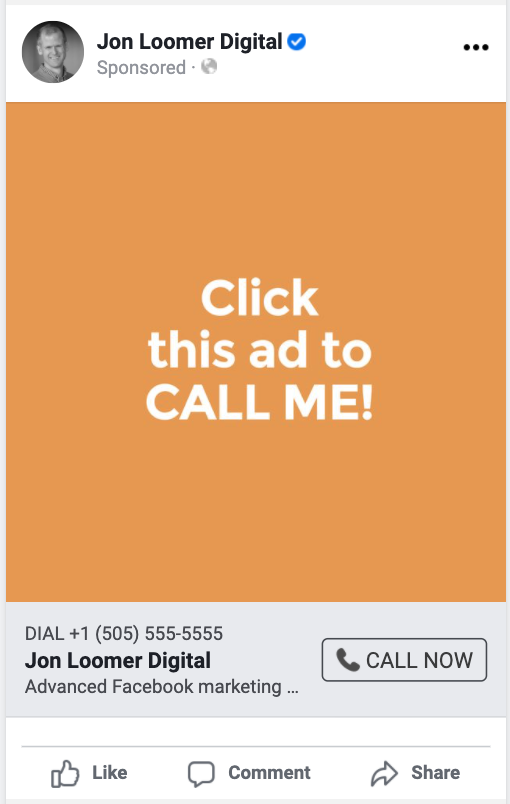 If someone clicks on the ad or button, it will open up a dialog to begin a phone call.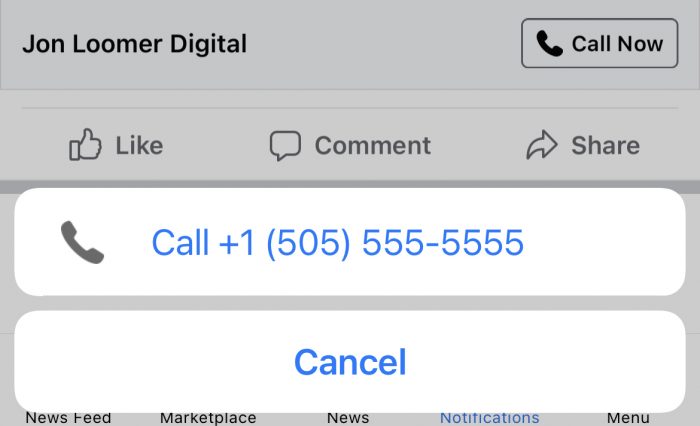 After clicking, the user doesn't need to execute the call.
Call ads can be created using Traffic, Leads, or Sales objectivesWhen you create a campaign, one of the first things you'll do is select an objective. The campaign objective is your ultimate goal. Your selection will impact options, including optimization and delivery. Options include Awareness, Traffic, Engagement, Leads, App Promotion, and Sales. More, and appear within the Facebook news feed, Facebook Marketplace, and Instagram news feed.
The Problem with Call Ads
When you run a Call Ad, the goal is only to execute that phone call. There are no other options for the user.
Additionally, the only context for making a phone call is the content within the ad. That puts a lot of pressure on your ability to motivate a phone call within a single ad unit.
How Call Extension Facebook Ads are Different
Call Extension Facebook Ads work much differently. It looks like a typical link ad in the news feed…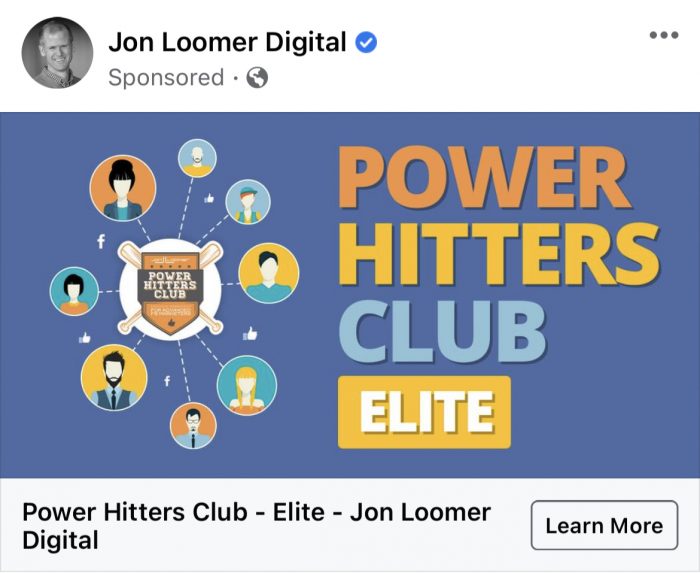 It even functions like a typical link ad in most respects. Click on it, and it will open a link…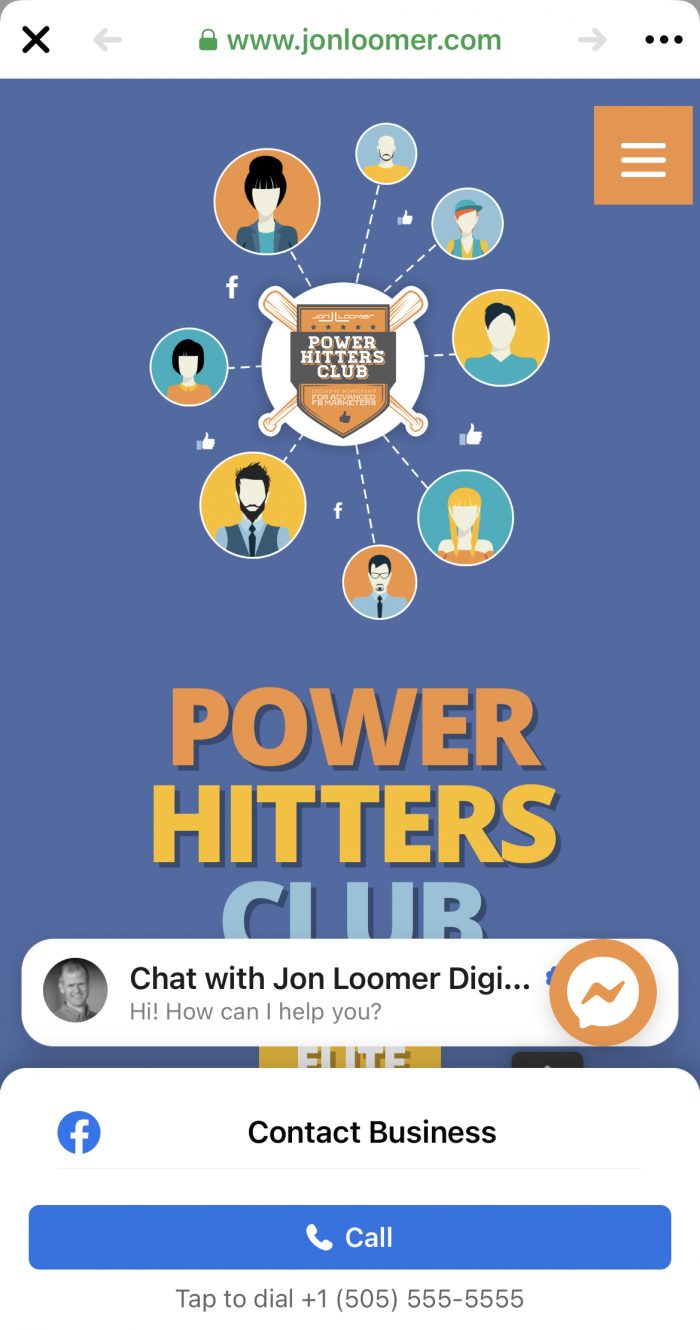 The difference, however, is that there is a fixed "Call" button at the bottom of the screen.
The Benefit of Call Extension Facebook Ads
The phone call is no longer the goal. You're hoping that the user buys or performs some other conversion. But the "Call" button is at the bottom JUST IN CASE they may need it.
This is a great customer service tool. The Call Extension gives your salespeople a chance to answer any questions that may need to be answered first. So this extension closes sales that may not have occurred with a standard link ad.
How to Create a Call Extension Facebook Ad
First, use the Traffic objective.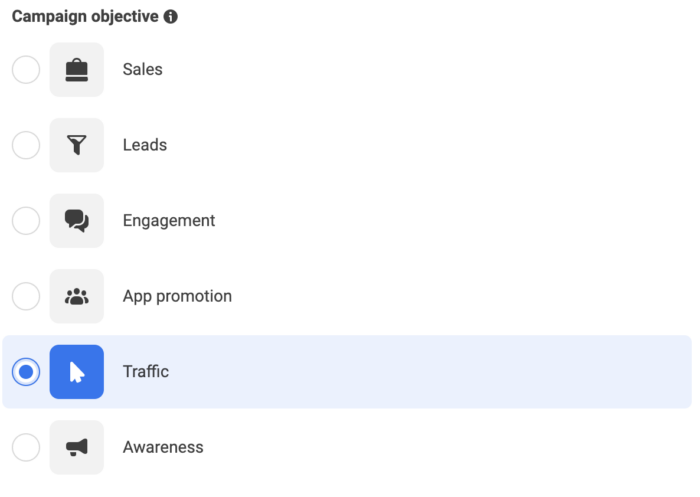 Create your ad as you typically would. Select the "Website" destination and provide the URL for where you want to send people.
Check the box to "Show call extension on your website" and provide the phone number that a user can call.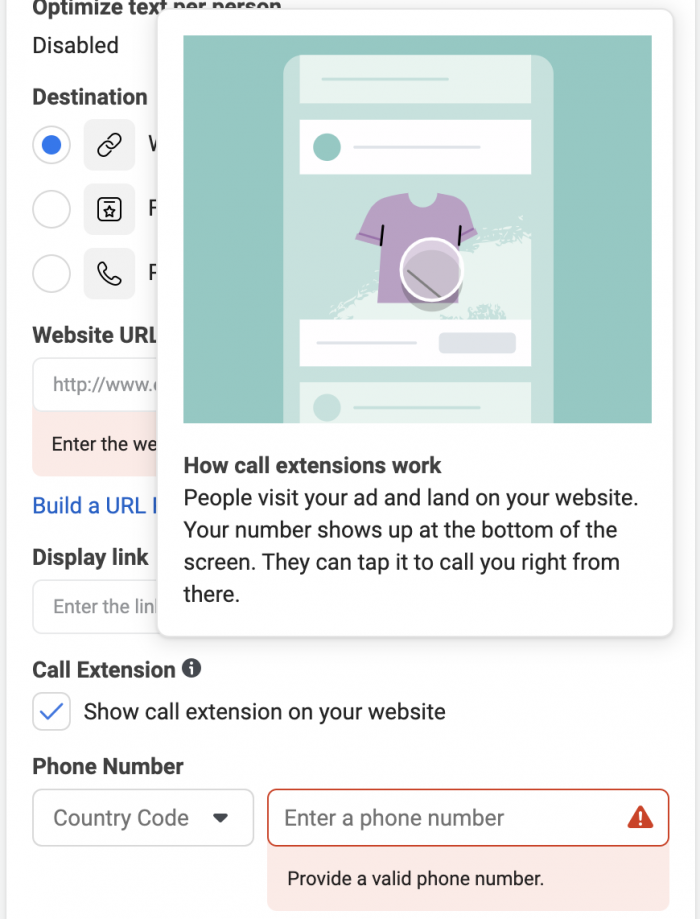 Note that you can use any placements that you'd normally use for Traffic and ConversionsA conversion is counted whenever a website visitor performs an action that fires a standard event, custom event, or custom conversion. Examples of conversions include purchases, leads, content views, add to cart, and registrations. More ads. However, the call extension will only appear where applicable.
Video Tutorial
Your Turn
Have you ever created a Call Extension Facebook Ad? How did you use it? Or how might you in the future?
Let me know in the comments below!