This interview with Facebook marketing coach and strategist Andrea Vahl is the fourth in an ongoing series. I will continue to search for the Holy Grail of Facebook business success by tapping into where the industry's elite have been, what makes them tick and how they got to where they are today.
This one was fun. My first three interviewees (Jim Belosic, Mari Smith and Amy Porterfield) chose a written interview. Andrea was willing to experiment a bit and dive in with a video.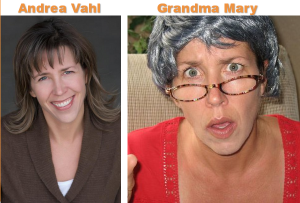 Of course, an experiment also leads to technical difficulties. My computer wasn't thrilled about recording video, so it started humming at about the three minute mark. I guess I need a sponsor to get me a new microphone and some slick equipment!
So, who is Andrea? She's awesome, that's who she is. She is the Community Manager for SocialMediaExaminer.com, she co-wrote Facebook Marketing All-in-One for Dummies and she is the genius behind Grandma Mary. You can also find her on AndreaVahl.com or on the Grandma Mary Show Facebook Page.
Make sure to watch the video above. We cover the following (and more)…
On 10 years in comedy improv: What led her there and why she loves it so much.
How Grandma Mary came about.
Why she decided to reveal her true identity after originally hiding behind Grandma Mary.
What attracted her to social media in general and how that led her to using it for business.
Public speaking
Creating an online business that actually makes money.
What it was like to write a book (co-authored Facebook Marketing All-in-One for Dummies)
Her role with Social Media Examiner
Facebook ReachReach measures the number of Accounts Center accounts (formerly users) that saw your ads at least once. You can have one account reached with multiple impressions. More and EdgeRank
On using marketing techniques that "work" while maintaining your voice