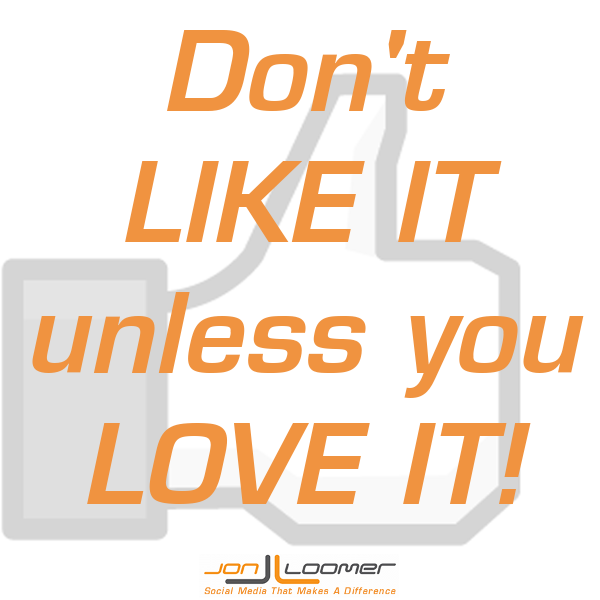 It's no secret that I'm a grumpy marketer. I hate fake and inauthentic. People who cut corners drive me crazy. Whiners don't get my sympathy. And I don't always play by the rules by copying techniques because "they work."
Well, my old man side came out again on Friday, and I'd love to get your input…
You're probably familiar with a practice called Fan Page Friday, or something along those lines. It's when a Page writes a status update, asking everyone to share their Facebook Pages.
Of course, it's an engagement magnet. People love it. Everyone shares their Pages. The host Page gets a boost in engagement and possible EdgeRank while the Fans undoubtedly get a bunch of Likes as a result. Everyone wins.
But I've gotta wonder… Does it help?
Here's the status update I wrote on Friday, shortly before screaming at the neighbor kids to "Get off my lawn!"
I don't participate in Fan Page Friday and efforts like it because I firmly believe that it does more harm than good. It at least appears to me that people are willingly inviting Fans who will have no interest in their Page in an effort to increase a superficial number. This inevitably leads to people complaining about Reach and Engagement.

Do I need to loosen up? Am I being too harsh?
We are obsessed with the wrong numbers. Evidence of this is anyone who buys Likes or freaks out about a drop in Reach without looking at the other data. These numbers are superficial and mean close to nothing.
I don't need to convince you (or most of you) that buying Likes is wrong. It leads to no additional engagement. It inflates your numbers. It lowers the percentage of engagement which undoubtedly kills your EdgeRank, limiting Reach to actual Fans. And it makes it difficult to assess what is true and what isn't.
Tagging Sessions and other things like them are no different than buying likes. If you aren't familiar with them, these are underground communities that get you a ton of Likes in exchange for you blindly Liking a bunch of junk you probably don't care about.
So Fan Page Friday isn't quite that bad, but isn't it the next step?
Now, understand that in most cases this is not the intention of the person hosting Fan Page Friday. I know and respect a ton of people who do this. The thought is that it's a networking opportunity and that people will Like Pages that interest them.
But is that what happens? I'm not convinced. I'm grumpy and old and pretty certain everyone's constantly looking for a way to cheat.
Where are my prunes?
And look, I get it. I remember the early days of my Facebook Page clearly. Growing is hard. Talking to yourself sucks. And we're not patient. Like everyone else, I was looking for ways to change that quickly.
But I wish I knew then what I know now. The people who make up your "Fans" will determine whether you succeed or fail on Facebook. If they don't care about you or your content, you are toast.
You're toast, but at least you have a bunch of Fans who don't care about your stuff!
No matter how much I scream about it, we focus on empty Likes. Meanwhile, those people either ignore us or hide us. The number of people who engage drops. We freak about our disappearing Reach. And we point fingers at Facebook for forcing us to pay to reach them.
That's right, pay to reach people who don't care about your content in the first place because you didn't take the right steps to cultivate the right audience.
Yes, grumpy and harsh. And maybe over the top. I love Bingo. And slot machines.
I could be completely wrong about Fan Page Friday. I've actually been wrong before. I was thrilled that my friends Andrea Vahl and Ching Ya, who both participate in Fan Page Friday, piped in with the value that they think it provides. They nearly convinced me.
But if they did that, I'd have nothing to write about. And I'm stubborn.
A nice follow-up is that I conducted a video interview with Andrea yesterday, and we discussed this topic. I'll publish it on… FAN PAGE FRIDAY! You won't want to miss it.
What do you think? Do you participate in Fan Page Friday? Do you find that it helps?
Either way, I simply ask you to do one thing…
Don't LIKE it unless you LOVE it!