Meta dropped a surprise launch of Threads by Instagram on Wednesday, July 5. The week that followed was a whirlwind, bringing in more than 100 Million users in the first five days.

Now what?
Let's take a closer look at…
The app's initial functionality
The features that are coming
What about the EU?
What marketing looks like
The advertising timeline
How I'm using Threads
Oh, and don't forget to find me on Threads @jonloomer.
Initial Functionality
Threads is Meta's Twitter competitor, so core functionality won't be original. It's a text-first app with a focus on short-form writing and the creation of Threads using multiple entries in a single post.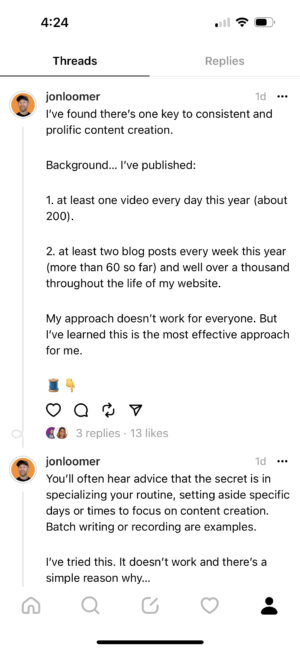 Like Twitter, Threads isn't text only, of course. You can share images, videos, and links there, too. But text tends to be the star.
The initial version of Threads is minimalist. Whether this was by design or because the launch was moved up to take advantage of ongoing chaos at Twitter isn't clear. But the basic functionality may have also helped keep it mostly bug-free during a huge initial launch.
The feed is algorithmic, with no option to view posts chronologically or only from people you follow. No edit option. No DMs. No desktop version (beyond viewing). No search or hashtags.
Since it's early, there's also no third-party API or even integration with Meta's own tools like Business Suite. I'd imagine that neither will be a priority until the app becomes more stable and development slows down.
Features Coming
While basic functionality may be appealing to a point, users won't tolerate the continued absence of some of these features. Luckily, Meta's Adam Mosseri highlighted a few features we should expect to see soon…
1. Following Feed
Right now, there's no way to view a version of the feed that only includes the people and brands you follow. Instead, it's an algorithm-driven feed that includes content from accounts you follow and a mishmash of other stuff.
Whether intentional or not, it actually made some sense that the original launch didn't include access to a Following Feed. The last thing you want is to log in for the first time and see crickets. A curated feed immediately gives you content to engage with and accounts to follow.
But that is unlikely to be acceptable for long. And a Following Feed is on its way.
2. Edit Button
While there's an edit button for Facebook and Instagram, this functionality would actually help set Threads apart from Twitter. While you can technically edit Tweets, you have to pay $8 per month for it.
So, this may not be an enormous need, but it would also go far to separate Threads from its primary competitor.
3. Post Search
Probably the most important feature of all when it comes to engagement and growth is post search. It's not a real-time app if you can't search for the topics people are talking about.
I haven't seen Meta specifically address hashtags, but these two are closely connected. You can't really have useful hashtags without post search. Whether hashtags are included when post search is made available is unclear, but it likely won't be far behind.
What About the EU?
Meta launched Threads everywhere except the European Union due to the Digital Markets Act (DMA) which attempts to protect users from "gatekeeper" apps.
This is surely a priority for Meta, who will need to negotiate with legislators to get this hurdle sorted out. What that timeline looks like is unclear.
Some creative users in the EU have found workarounds, of course. Most won't. And until the app is made easily available to all, the growth of Threads will be slowed. Not only will users in certain countries not get to sign up, but users who are on the app may want to connect with those people on Threads.
This hurdle is also what makes the initial growth of Threads so impressive — it was without the inclusion of these European countries.
Marketing on Threads
No, I'm not going to break down your marketing strategy on Threads. And really, your initial strategy should probably be no strategy at all.
If you get on Threads in the beginning, take advantage of being an early adopter. You are likely to see more growth and engagement in a new app than an established one. Put in the work, and you may just become a big(ger) fish than on other apps.
I won't tell you not to market. And really, we're always marketing when we're speaking for a brand. But Threads, so far, is a very conversational app.
Be curious. Ask questions. Share stories. Get creative. Connect with others.
Your primary goals in these early days of the app should break down like this:
Create consistent, interesting, helpful, engaging, or entertaining content
Connect with others
GROW
Every sales pitch will likely slow your growth. It doesn't mean you shouldn't sell, but you should understand that balance.
There will be a time to sell. Hold off as long as you can.
Advertising Timeline
If you're an advertiser, you're surely salivating at the possibility of adding Threads as a Meta ads placementA placement is a location where your ad is shown. Examples include Facebook's mobile Feed, Messenger, Instagram feed, Audience Network, right-hand column, and more. More. Once that happens, significantly more inventory is opened up. More inventory leads to lower costs. Lower costs will make it easier to run profitable ads.
A new app also gives Meta additional data points to understand user behavior. Leveraging activities across multiple popular apps could make ads optimizationThe Performance Goal is chosen within the ad set and determines optimization and delivery. How you optimize impacts who sees your ad. Meta will show your ad to people most likely to perform your desired action. More even more effective.
Unfortunately, we may need to wait a while. Early response from Meta is that we shouldn't expect a monetization strategy soon or even this year. Mark Zuckerberg has even suggested that monetization won't happen until the app hits 1 Billion users, which would be consistent with Meta's approach.

This is necessary for a few reasons…
First, an ad-free app is one that is more fun to use. It's likely to grow more rapidly without ads in the way.
Second, it gives Meta options. Most of Meta's stand-alone apps haven't survived. Instead, they're used as a training ground to figure out what works. The most useful features are folded into the main apps. While that seems unlikely here, it's at least a possibility until monetization happens.
The initial growth of Threads has been unprecedented, but we shouldn't expect it to reachReach measures the number of Accounts Center Accounts (formerly users) that saw your ads at least once. You can have one account reached with multiple impressions. More 1 Billion anytime soon. New users are trending down closer to 1 Million per day, which puts it on a longer pace to that threshold.
An agreement that includes users from the European Union would help. As would new features and a big promotional blitz. But right now, it doesn't seem as though advertising is right around the corner.
How I'm Using Threads
I'll admit that I was looking forward to this launch. I abandoned Twitter when the chaos began in October of 2022. But I was a long-time user and there was a time when it was one of the primary apps I used to consume and share.
So, I jumped into Threads eagerly…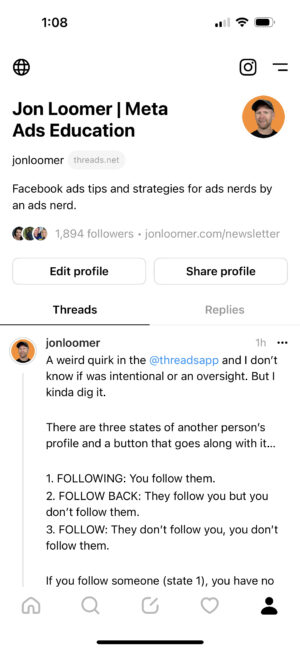 I've experimented with lots of different approaches with Threads, but I'm mostly using it differently from how I once used Twitter. It actually reminds me a bit of the early days of Facebook when everyone overshared. I feel like I might even be doing that to a point.
But that's the beauty of a text-first social network. It's low barrier. You don't need to record a video or take the perfect selfie. Just write what's on your mind and ask questions.
I've been doing that. In some cases, it's taking an initial idea from a video and turning it into a thread. Others, I take inspiration and just roll with it. This has been a training ground for me where I'll find what people care about and I may turn it into a blog post or video.
I'm not selling anything, but that's pretty consistent with how I use social media generally. I share to teach, tell a story, or learn what people are doing and thinking about.
Unlike other platforms, I've also used Threads to cover a wider range of topics than I normally would. I've "threaded" about Facebook ads, entrepreneurship, content creation, and even a trip I was on to Wisconsin.
Threads has allowed me to get a little more personal than where I've gone with other apps.
Watch Video
Here's a video I created about my initial impressionsImpressions are the number of times your ads were displayed to your target audience. Impressions aren't counted if it is detected they came from bots. More of Threads…
Your Turn
Are you using Threads? What do you think?
Let me know in the comments below!