Now that you've decided that you can benefit from having a Facebook page, let's put it together. In future tutorials, we'll go into details about implementation of some of these things, but today we will give an overview of the basic anatomy of a Facebook page.
The Name

Take your time. If you have multiple locations or expect to set up multiple pages, you'll need to plan ahead so that there is a consistent naming convention.

Don't use abbreviations or acronyms. Be descriptive while being as brief as you can be. This is your brand. Make sure that if people search for you, you're easy to find. But the name cannot be confusing or vague. Don't get cute.

Facebook actually allows you to change your page as long as you have fewer than 100 fans. So you can change it in the early going, but you'll need to think about this and commit from the start. Pick a name that you plan to keep.
Vanity URL

I just built and opened up my Facebook page, and the URL is currently http://www.facebook.com/pages/Jon-Loomer/177748728980718. Imagine trying to put that on fliers or receipts or posters. Yeah, not gonna work.

Go to facebook.com/username to create a user-friendly URL. Forget what I said about your page's name. Now you want to make it brief and easy. Acronyms would be perfect here. You want to make it something that's easy to remember and makes sense for your brand. But once you set it, you can't change it. So think it through.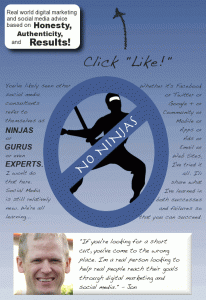 Welcome Page

When someone is directed to your page for the first time, they shouldn't be sent to your wall. They should get a nice "welcome" with more about your brand and what users can expect if they become a fan.

It's up to you what you want to feature, but you always need a good call to actionA call-to-action is a button or link on your ad that suggests the action you want your audience to take. Examples: "Learn More" or "Sign Up." More. And in most cases, it's a simple "Click 'Like!'" with an arrow to the like button at the top of the page.

How you create your welcome page depends on your technical abilities. A very popular app is Static HTML: iFrame tabs. While you don't have control over the icon of the app and you won't host the content, all you need to do is provide the HTML. Or it could be as simple as an image file.

I like to have a little more control, so I created a page that is hosted on this site and I created my own app. I'll go into more details later, but I see the traffic numbers and I'm able to create my own icon.
Profile Photo

Your profile photo is what people will see first when they come to your page, and it's what they'll see every time you make an update. So choose carefully. Of course, you can change this, but you don't want to change it too often.

The photo itself can be as big as 180 x 540 pixels. That's really big. But Starbucks is an example of a page that uses a pretty big photo. If it's cool and engaging, roll with it. But don't make it big for the sake of being big.

Of course, make sure you edit your thumbnail. The thumbnail itself is only 50 x 50 pixels, and if you don't have a square photo the auto-crop version probably won't be ideal. Just make sure you go to Edit Profile > Profile Picture > Edit Thumbnail to capture the best possible square area so that when you make an update, your fans see a photo that reflects your brand.
Business Information

When you create your page, this should be a priority. You can provide information like when your company was founded, address, details about your company, description, mission, awards, products, email, phone and website. Not all fields may apply to you, but make sure you complete those that do.

This is where people will learn more about you. Feel free to brag. Proof read. What you say here will reflect on you, your brand and your page.
Photos and Videos

Your page needs to be more than just status updates. And providing links with thumbnails is nice, but it's not enough. Research shows photos and videos get the most interaction of any type of content on Facebook.

Take pictures of your store and your employees. Take behind the scenes video. Give people something to look at to get to know a different side of your brand. You can also encourage your fans to upload their own photos or videos reflecting their own experiences with your company.
Third Party and Custom Apps

If you ever have a need to display something you currently can't on your Facebook page, chances are that there's an app for it. Don't overdo it, but if the app adds value and is consistent with your brand and messaging, use it. One example is Payvment, which is a really good e-commerce app. If you have stuff to sell, it's not a bad option.

If you want to spend some money, you can always build a Facebook app or hire someone to do it. Once again, it should be something that enhances your brand and the experience on your page. If you're a non-profit, maybe it's a way for fans to donate from your page to the cause and share that experience with their friends.
Fans

Yeah, you need to get fans. As of writing this blog post, I haven't yet invited my friends. But I'm about to blast them all. They won't know what hit 'em.

But beyond your friends, use your company email list and message your customers about your new page. Or at least put a link to your page in the template of every email. Make sure there are noticeable buttons on your website or blog to your page.

In the beginning, your fans will be your core audience. They're your most loyal customers. With their help, your message will be spread to their friends.
And then…

Finally, you're going to need a strategy and you're going to need engagement. But we'll get to that later!

Have you created a Facebook page? Have any tips? Share it below!