One of the reasons Facebook advertising is so effective is due to the ability to finely target your ideal audience. Partner Categories is an example of this!
Ready? Let's go!
What You Are Going to Learn Today
Today's lesson is Partner Categories. We're going to focus on the following:
What Partner Categories Are
Some Examples of Partner Categories
How to Use Partner Categories
The Lesson
What Partner Categories Are
Partner Categories is a feature currently available only in the US that allows advertisers to target users on Facebook based on their buying histories and lifestyles reported away from Facebook.
Facebook partnered with three data mining companies (Acxiom, Datalogix and Epsilon). These companies have mounds of data collected through surveys, credit card applications, purchases and more on what people have bought, what they do for a living, how much money they make and a whole lot more.
The data from these companies is sent to Facebook, which can then match up email addresses and other information to allow advertisers to target users in a very unique way. This feature is only available within Power Editor at the moment.
Some Examples of Partner Categories
There are currently more than 500 Partner Categories, and Facebook is looking to add more.
Acxiom offers categories that fall within five different groups:
Demographic: Home (type, value, owner/renter), Household Size
Financials: Investing, Spending Methods, Credit Card Use
Job Role: Administration, Clerical, Crafstman, Farmer, Financial Professional, Homemaker, etc.
Purchase: Retail, Specialty, Upscale
Vehicle: Likelihood to Buy Based on Brand and Type
An example of an Axciom category you can target is users who have a home market value of at least $1,000,000.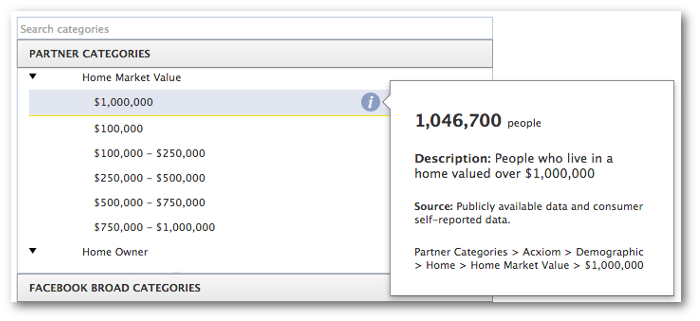 Datalogix offers categories that fall within six different groups:
Auto Powered by Polk: Parts Buyer, Own/Lease, Body, Make, Price, Age
CPG: Baking Supplies, Beverage Buyers, Cereal Buyers, Children's Food Buyers, Pet Food Buyers, etc.
Demographics: Business and Personal Travel, Hobbies and Interests
Lifestyles: Affluent Baby Boomers, Auto Enthusiast, Corporate Execs, Fashionistas, Foodies, etc.
Retail: Children's Products, Fitness Buyers, Home & Garden Buyers, Outdoor Sports Buyers, etc.
Subscription Services: Auto Insurance Online, Mortgage Online, Online Higher Education, etc.
An example of a Datalogix category you can target is users who are heavy baby food and product buyers.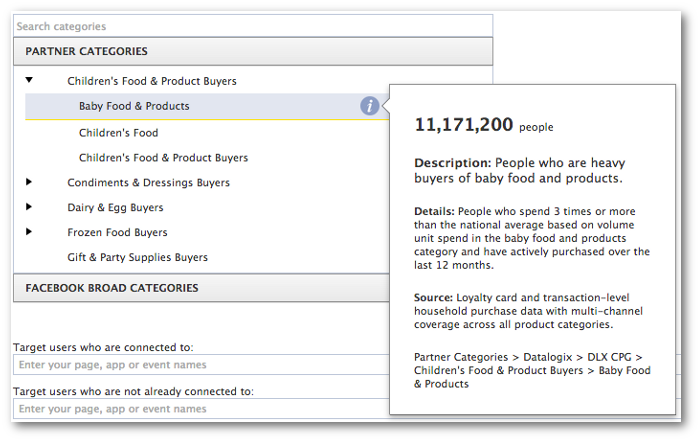 And Epsilon offers categories that fall within five different groups:
Business: Home Office, Work for a Corporation or Small Office
Demographics/Occupation: Clerical, Health Care, Lawyers, Physician, Sales, Retired, etc.
Financials: Auto Lone Present
Lifestyles & Interests: Donate to Charities, Donate to Political Causes, Insurance Buyer, Investor, etc.
Purchase Transactions: Online Buyer, Retail Spend
An example of an Epsilon category you can target is users who have proven to be above average online buyers.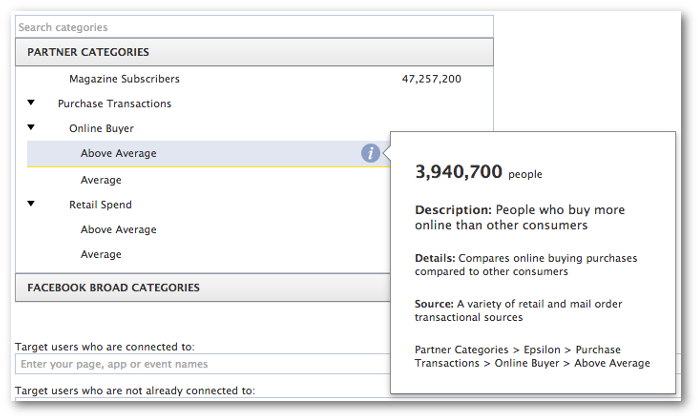 How to Use Partner Categories
Partner Categories are accessed within the Audience section of ad creation within Power Editor. It is included with Broad Categories, under Precise Interests.

Note that you can select as many Partner Categories as you want at a time, but you can only choose categories from a single partner per ad. In other words, you can't choose one category from Epsilon, one from Datalogix and one from Acxiom. But you could choose 10 from Datalogix.
Any categories you choose will further limit your audience following other targeting you are doing. For example, let's say that you choose the following targeting prior to Partner Categories:
In the United States
Men
Aged 25-35
Milwaukee Brewers is a Precise Interest
Currently, the size of that potential audience is 164,000 people. However, if you add a Partner Category to limit this audience to those who are magazine subscribers (over 47 Million people total within that group), your targeting is then cut down to 50,000.
You also have the ability to target "ANY" or "ALL" categories selected. Once you add a second category, a drop-down appears.

Using the categories shown above (Magazine Subscribers and Above Average Online Buyers) with broad targeting (anyone in the United States), the number of people targeted differs as follows:
Target people who fall into "ANY" of the two groups: 48,000,000
Target people who fall into "ALL" of the two groups: 1,740,000
While I recommend that you look through every category available to get a sense of what you can use, you can also simply start typing in a keyword within the Partner Categories field and Facebook will show you some possible fits. Note that they also pull up Broad Categories.
Your Assignment
Action Items:
Create a list of qualities that define your ideal customer
Go through Partner Categories available and find those that apply
Build out an ideal customer profile using Partner Categories
Need personal one-on-one help from Jon?
Set up a training session!