[View the Results of this Experiment here]
Join me in a Facebook experiment…
I'm slightly annoyed. You see, we keep hearing stats like 16% of Facebook fans see your posts. But… What does that actually mean?
I'm skeptical. The reason I'm skeptical is that a lot of fast-reacting people make assumptions that this means Facebook is hiding your posts from 84% of your fans with their mysterious algorithm.
When I write a post, all of my fans should see it, dangit!
But, wait a minute…
About half of all users are on Facebook on any given day. So immediately, we can cut the number of fans who see your post down to 50%.
And while Facebook users are on the social network for an incredible eight hours per month, that's only 16 minutes per day. Was your post created during those 16 minutes? Did they scroll down to find stuff they missed?
Of course, the reason that so many are quick to point to Facebook's algorithm is that there is some truth to the complaints that Facebook picks and chooses what goes into News Feeds. We've been told that if you have low EdgeRank, your posts will be seen by fewer fans.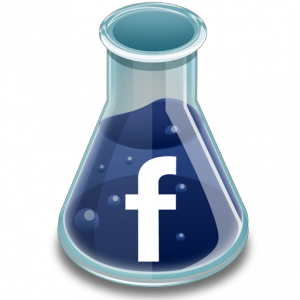 But I'm incredibly skeptical regarding just how much EdgeRank contributes to that 16%. It would seem to me that reaching 16% of your fans with a single post is actually a decent percentage when you account for all of the reasons that they could miss it.
The biggest source of confusion is that Facebook does nothing to dispel the rumors, and I think there's a reason behind it: Revenue. Facebook is totally fine with people believing that their Page posts aren't being seen by as many people as they should due to Evil EdgeRank because they hope it will lead you to buying more advertising.
As a result, I'm left scratching my head, not sure what exactly to believe.
This requires an experiment.
The 16% Facebook Experiment

This won't be scientific. But I want to see what we can figure out with a little experiment.

On Wednesday, May 2 at 9:30 AM EST, I will write the following status update:
ALERT! This is my experiment! Click Like if you see this update. Please comment if you saw it in your News Feed or if you had to come to my Page to see it. Thanks!
That's stupid, you say. How will the people who didn't see your status update comment that they didn't see it?
That's why I'm writing this blog post, smart guy. I want as many people to be on the lookout as possible. So please do the following:
Like my Facebook Page if you don't already
Go to your News Feed at a few minutes before 9:30 AM EST on Wednesday, May 2
Make sure that your News Feed is sorted by Most Recent instead of Top Stories
Wait…
If my status update appears in your News Feed, please comment as follows:
I saw this status update in my News Feed!
It doesn't have to be word for word. But it will help to know. If you wait a few minutes past 9:30 AM (you may want to give me a few extra minutes, just in case) and you still don't see my status update, refresh just to be sure. If it's still not visible, go to my Facebook Page and see if the update is there. If you can confirm that the update is there but not in your News Feed, comment as follows:
This status update was not in my News Feed!
There are certainly weaknesses in this experiment. I can't separate individuals who weren't actually participating, but saw the update in their News Feeds. But more than anything, I just want to see if the inability of my fans to see my updates is all that widespread.
Another reason this isn't scientific is that we don't know what goes into the algorithm. Maybe I have great EdgeRank (I am incredibly awesome). Maybe the fact that many people will (hopefully) be commenting on the status update will actually inflate the results since so many more people will then see it in their Tickers.
So maybe this won't tell me anything. But I guess what I want more than anything is confirmation that more than a handful of people participating could not see my status update in their News Feeds. Until then, I'm not all that angry about what Facebook chooses and doesn't choose to show.
Are You Participating in My Experiment?

Let me know in the comments below or on my Facebook Page! It will help to have a baseline expectation for how many people will be involved.

Thanks!