If you haven't already, make sure you check out my new video Timeline: The History of Facebook in Less than 90 Seconds. The video was put together by Andy Greenhaw and is a dizzying trip through Facebook changes from 2004-2012.
What's amazing about this video is that it only highlights the major changes. When I put together the research for the video, I created a six-page document that detailed Facebook changes since the social network's humble beginnings. But for the sake of entertainment, we cut out most of it from the final product.
Now you get to see what was left on the cutting room floor. I used the Facebook Blog as my source for most of these changes, and I link to the specific blog entry where possible.
So here is the detailed history of Facebook changes. The transformation is amazing.
Are there any major changes missing? Please let me know so that I can update my list!
2004
February: Launched as TheFacebook.com, limited only to Harvard students
March: Expanded to Stanford, Columbia and Yale
No photos, wall, news feed, events or pages yet
Reached 1M users
2005
Purchased facebook.com domain for $200k and dropped "the"
Introduced Photos
September: High school version launched
2006
January: Friend Details (how you know your friends)
February: High School and College Facebook Merged
March: Redesigned Groups and Events
Spring: Expanded to include work networks
Spring: Facebook Mobile Texts
Spring: My Messages Page launched
Spring: Browse launched
Spring: Mobile Photo Uploads
Spring: My Photos page upgraded
Summer: Search functionality added for former classmates and coworkers
Summer: Global Groups and Events
August 15: Facebook Development Platform Launched
August 22: Facebook Notes
Late August: Mobile Web
September 5: News Feed and Mini-Feed launched
September 8: New privacy controls
September: Added spam prevention systems
September 26: Opened to all 13 and up with valid email address
October 27: Share links to articles, photos and videos
October 31: Share Button
November 15: News Feed Preferences
Fall: Privacy controls for when you poke, message and add friends
December: Profile picture photo album, keeps history of your profile photos
2007
January 10: Mobile Web (again) announced for mobile friendly Facebook
January 10: Mobile Uploads
January 10: Mobile Texts
January 17: List screen names for IM clients in contact info of profiles
January 24: Redesign of My Privacy page
February 7: Give virtual gifts
March: Group Update Information and create Events from Groups
March 14: Photo Sorting and Organizing
March 15: Export photos directly from iPhoto to Facebook albums
April 11: Navigation and profile simplification
April 11: My Messages and My Shares changed to Inbox
April 11: Network Pages launched
April 20: Added "[user] is…" before each status update
April 20: Friends' three most recent updates on the home page
April 20: See all friends' updates at once
April 20: RSS feed of friends' updates
April 20: Subscribe to a friend's updates via SMS
April 20: Update status from your phone by sending an SMS to Facebook
April 24: Gift Shop accessible to blind via screen-reader
May 14: Marketplace completely rolled out (classifieds)
May 24: Facebook Platform launched
June 22: Facebook Video Launched (tagging, FB video player, video messaging, mobile integration)
July: Post Attachments to the Wall
July 10: 30 Million Users
August 15: Facebook for iPhone Mobile Site
August 20: Send Facebook Messages to Facebook User or email address
September 5: Public Search Listings
November 6: Facebook Pages for Businesses launched
November 6: Social Ads launched, making advertising relevant
November 6: Share activities taken off of Facebook (Beacon)
November 9: Publish your activities on Facebook Pages to News Feeds
December: Make a tagged photo your profile photo
December 5: Beacon made opt-in
December 19: Friend Lists launched
2008
2009
2010
2011
January 5: 600 Million Users
January 19: Facebook for Feature Phones Application
April 25: Improvements to Facebook Groups
April 26: Expansion of Deals to Deals on Facebook
May 30: 700 Million Users
July 6: Video Calling and Other Improvements to Facebook Chat
August 11: Improvements to Games including Games Ticker
August 23: More Controls to See Who You are Sharing With
August 26: Bigger, Faster Photos
September 13: Improved Friend Lists, including Smart Lists and Notifications
September 14: Subscribe Button to Subscribe to Non-Friends' public content, allow non-friends to subscribe to your public content, and better control what content you see from your friends
September 20: Top Stories on News Feed
September 20: The Ticker
September 22: 800 Million Users
September 22: Facebook Timeline for Profiles
October 10: Facebook for iPad
October 19: Facebook Messenger Mobile Application
November 10: Recent Stories Filter
December 7: Updated Facebook for Android Application
December 8: Facebook Subscribe Button for Websites
December 15: Timeline Available on Mobile
2012
January 12: Listen to Music with your Friends
January 18: Apps for Timeline launched, allowing frictionless sharing
February 1: IPO Filing
February 29: Facebook Timeline for Pages
March 3: Facebook Interest Lists
2005
2006
2007
2008
2009
2010
2011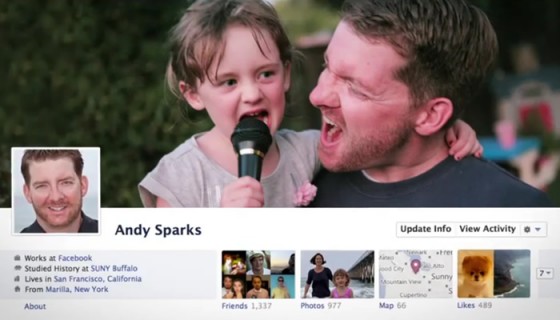 2012