Maybe it's the weathering associated with parenthood. Maybe it's the years of ups and downs, heartache and celebration. But I'll come out and admit it…
I'm a big, emotional sap these days.
Seriously. Remember Bat Kid? I cried like a baby watching the coverage. Uncontrollably. And this isn't all that uncommon.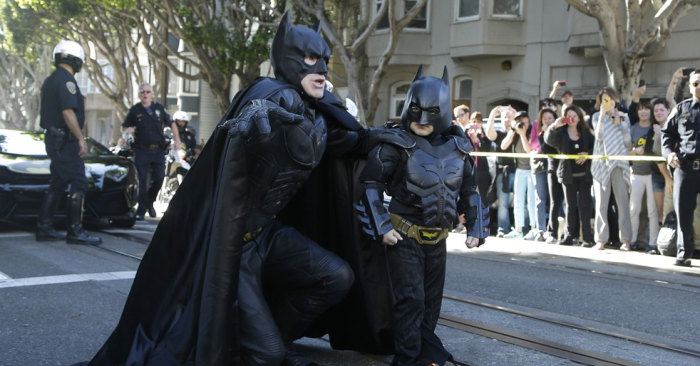 So now that the world knows just how sappy and emotional I can be, the following post shouldn't be such a shock to the system. There are dozens — hundreds even — of people who I need to thank for making my life better.
I remember the hole I was in like it was yesterday. Jobless. Income-less. Confidence-less.
Where I am today evolved very slowly, over time. But I can't help but stop, smile and think: "Holy crap. How did this happen?"
As I reflect on 2013, I have a pretty good idea how it happened. It had a whole lot to do with the people who propped me up, showed confidence in me and were willing to take a chance.
Even if you aren't named below, it was because of you.
And while I have some specific thank yous to make, I didn't want this post to be completely self-serving. That's boring.
I've come to realize that there's a lesson here. You can't do it on your own. You need a community of people to make things happen. And I've pinpointed several groups that are critical to executing the hustle.
1. Mentors and Self-less Leaders
You've never done this before. You question your own ability. You are your own enemy. You need the words of wisdom from someone who has been there before.
Over the past year, I have been amazed by the number of people who have reached out to help, wanting nothing in return. I kept waiting for the catch. Why would they help little old me?
But I've come to realize something: They know that part of the reason they are successful now is because someone further up the ladder once did the same for them. And the words of wisdom I've received from these people are invaluable.
They paid it forward, and I hope to do the same.
I've been incredibly lucky to have someone close by to guide me from the beginning. Thank you to John Robinson, whom I loosely refer to as my business coach, but who also happens to be my wife's cousin and my friend. He helped me focus when I had none. Helped keep perspective when I was beating myself up. And helped me navigate the complete unknown world of entrepreneurship.
If you're new to starting a business, it's critical you have someone like John. Thank you for keeping me on track, John!
During the past couple of years, two bloggers I've looked up to most are Marcus Sheridan and Heidi Cohen. They seemed to have it all figured out. I watched what they did closely and fantasized about the day when I could churn out quality content at the rate they do.
But they've both been much more than inspiration for me. Marcus was there to help guide me when the lights first started shining brighter. And Heidi's been my sounding board as I pinball through new obstacles I've never faced before. They are both amazing, giving people, and I can't thank them enough.
If you aspire to do something you've never done before, you need mentors who have done it! Catherine Hedden and David Gumpel of Films About Me spent an afternoon helping me set up my first ever video studio. Travis Houston donated time and emails helping me get the right camera — and getting it set up properly.
I'm still figuring out video. But because of people like Catherine, David and Travis, I'm on my way!
I only know people like them because I have friends like Mari Smith and Amy Porterfield who helped connect me. A year ago, I viewed Mari and Amy as celebrities. Now I consider them friends who have been as important as anyone to my development.
Earlier this year, Mari invited me to speak to her community about Power Editor. That same day, I launched my Power Editor training course. That experience was a big reason why the course launched successfully.
What more can I say about Amy? I regularly hear from people who were sent to me through her. And she sent me beer. How cool is that??
Mike Stelzner has taught me an important lesson with a simple question: "How else can I help you?" For a guy who is so busy — and I always feel guilty taking any of his time — he's incredibly patient and willing to help.
You're going to see Emeric Ernoult's name throughout this post. He was one of my first sponsors. He sponsored my trip to Social Media Marketing World in San Diego last spring. And he's one of my biggest advocates, always pushing people my way. Emeric believed in me before others did, and I truly appreciate that.
And finally, a big thanks to Dennis Yu. There aren't many people I know personally who are more knowledgable on Facebook ads than I am, but Dennis is one of them. When I have questions, he's always willing to answer. And he's one of those people who is so good at responding to anyone and everyone that I'm inspired to be better.
The Lesson: Sometimes, these people will find you. Other times, you need to take some initiative. But don't force their help. Introduce yourself. Respect their time. Mingle where they mingle. You'd be amazed by how helpful many of these people will be.
2. Content Contributors
You can't do it all yourself. Take some pressure off by inviting others. And you may be surprised by how these new relationships expand your reach and your business.
My website may be self-branded, but the extra voices that have graced these pages are what I think make it special. If you are starting your own blog, look to include the opinions of others. Their different perspective will not only give you content ideas, but your readers and listeners will thank you for it.
Looking back, it's amazing the guests I've had on the Social Media Pubcast.
It's only a Pubcast because, in an early episode, Mike Maghsoudi and I spontaneously grabbed beers while we talked. The rest was history.
A big thank you to Pubcast guests Andrew Foxwell, Blake Jamieson, Chad Wittman, Amy Porterfield, Marcus Sheridan, Brian Carter, Jason Miller, Heidi Cohen, Mari Smith, Jeff Korhan, Danny Brown, Jamie Turner, Josh Parkinson, John Haydon, Ian Cleary, Andrea Vahl, Dennis Yu, Ryan Hanley, Jeff Ferguson, Emeric Ernoult and David Foster. Oh, and I certainly can't forget five-year-old JJ. Cheers to you!
I run in a tight circle (a "circle of trust!"), so it's no surprise that many of these same people wrote guest posts for me as well. A big thanks to Andrew, Emeric, Andrea, Brian, Blake, Jason, Heidi, Jamie, Chad, Dennis, Ian, Danny, Ryan, Mike, Amy and John again; as well as Mike Gingerich, Jay Baer, Jim Belosic, Amanda Webb and Juliette Rule for showing up on these pages as guest bloggers.
I'm amazed looking at this list now. What an incredible group of people I'm proud to call peers and friends!
The Lesson: If you're like me, your goal is to be the go-to resource in your niche. When you set such a goal, burnout is a real risk. So it's important to have these special people contribute and save you from yourself!
3. Podcast Hosts and Bloggers
Your content can't share itself. And while you can rely on the sheer greatness to naturally spawn spontaneous sharing, I'd recommend relationships that help spread your message and build authority.
Social Media Examiner led my coming out party this year. First it was the Top 10 Social Media Blogs of 2013 in January. And then Mike Stelzner invited me onto his podcast soon after. Think I was nervous? You're darn right I was!
Mike also invited me to speak in his virtual conference, Social Media Success Summit. And I am honored to be listed among the speakers at the mother of all social media marketing conferences in March, Social Media Marketing World. Thank you so much for believing that I can stand on the same stage as some of the brightest minds in the industry.
A special thanks to Cindy King at Social Media Examiner for being patient with me while I consistently pushed the limits on deadlines. It only took extra long because I had to make sure my posts were extra deserving of being published to that huge audience!
I know I was on several podcasts during the past year, but I'm bound to leave someone off of this list. Thanks to Ryan Hanley, Mike Gingerich, Mike Brooks, Andrea Vahl and Rich Brooks (coming soon!) for allowing me to reach your audiences.
I'm also grateful to the bloggers who consistently built up my ego by repeatedly sharing my content. That includes Justin Lafferty of InsideFacebook.com and AllFacebook.com, Scott Ayers of PostPlanner and my good friends from the ShortStack and AgoraPulse blogs.
You are all awesome!
The Lesson: Appreciate those who help spread your message. There is no guarantee they will do it again!
4. Partners
Did I mention you can't do it on your own? Until you hit your stride, this is the case more than ever.
When my website first started getting serious traffic, I knew I had to take advantage of it and monetize. So before I could start selling my own products, I relied heavily on website sponsors. It was my bridge.
Thanks to Jim Belosic of ShortStack for taking a risk and believing in me by leading the way and becoming my first sponsor. And thanks to Adam Collins of Social Strategizer, Andrew Samuelson of BigLike, Charlie Ardagh of Trackalyse, Emeric Ernoult of AgoraPulse, Mike Maghsoudi of PostRocket, Ruth Sheahan of Cementing Relationships, Scott Linklater of Fans2Page and Josh Parkinson of PostPlanner (my lone remaining sponsor) for working with me.
And while I haven't yet figured out how to properly monetize my podcast, thank you to Jo Barnes and Mike Gingerich of TabSite for experimenting with a sponsorship model!
The Lesson: If you haven't yet created a product, establish strategic relationships with brands that sell products to your target audience.
5. A Team
A successful business can't be done alone. It does not scale. Don't try fooling yourself into believing it does.
I may not officially have employees yet, but I'm no longer running Jon Loomer Digital, LLC completely solo. You'd be insane to do it all yourself. And you'd never reach your full potential.
Thanks to Nick Rich for hosting my site for about a year and a half now and dealing with bot attacks and my unlimited, unreasonable requests.
Thanks to Lea Heckley for being the greatest freaking designer on the planet and helping my ads and Facebook tabs look professionally awesome.
Thanks to Jewel Fryer for managing a client's Facebook Page and bringing engagement to a far higher clip than I see on my own Page.
And thanks to Dan Jost for taking time off from rocking the stage to take a little off of my plate by editing the Pubcast every week. Pop a bottle, Dan!
And finally, thanks to April Woodcock for showing me that — after nearly jumping off of a cliff — I can do awesome things with Infusionsoft.
These people are amazing!
The Lesson: Pay people who can specialize in things that are your weaknesses. Not only will it improve your product, but it will free you up to focus on what you do best!
6. Friends and Family
Even with all of this support, it's close to impossible to succeed without the love that close friends and family bring.
I can't list you all here. But a special thanks to my wife for riding the wave the past two years. You could have easily said "enough is enough" and kicked my butt onto the street to find a job working for the man. You were patient, despite the stresses. Thanks for also being my accountant and CEO.
To my kids: My little dudes. You are why I do what I do. [I'm not going to cry.] It's because I love coaching your teams too much to sacrifice that. It's because I love being able to randomly go out front and play catch during a work day. It's because I know that every minute I waste in traffic could have been spent watching you grow.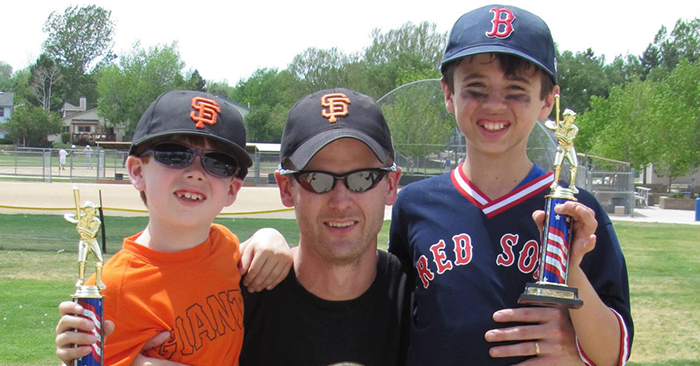 We did it, fellas!
The Lesson: Know what's important. Have a "big why" that motivates you to succeed. It must be more than money!
7. And a Big Thanks to YOU!
I thought about listing the people who left the most comments on my blog or my Facebook Page, but the truth is that this is just scratching the surface. I APPRECIATE YOU MORE THAN YOU CAN EVER KNOW!
Without a community of people who invest time in you, you aren't building anything sustainable. I'm hoping I'm building something that will stand the test of time!
Two years ago, I'd write a blog post knowing that it would be unlikely to get a single comment. In fact, I'd be happy if I'd get non-bots to visit.
But now… You're here. Reading this post. And that's incredibly humbling to me.
Thank you. Whether you're in the US and celebrating Thanksgiving this week or somewhere on the opposite side of the world (which in itself is insane to me!), thank you for every click, comment and second you've invested in me.