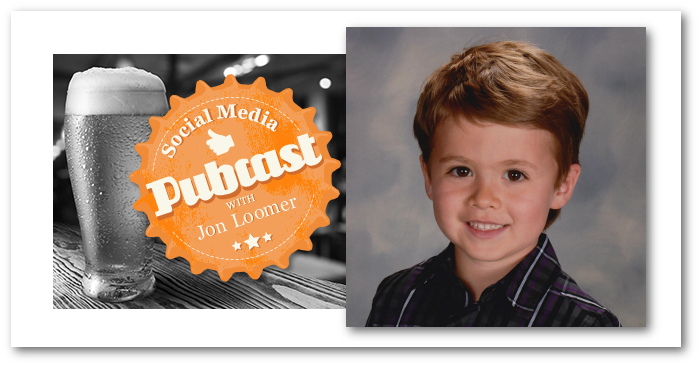 Pop a juice box!
No disrespect to the many amazing guests I have had on The Social Media Pubcast, but this week's guest beats them all. I was honored to have JJ Loomer on the show. JJ is the five-year-old CEO of JJ Loomer Wizibido.
Here's a picture of our interview taken by some paparazzi through the window…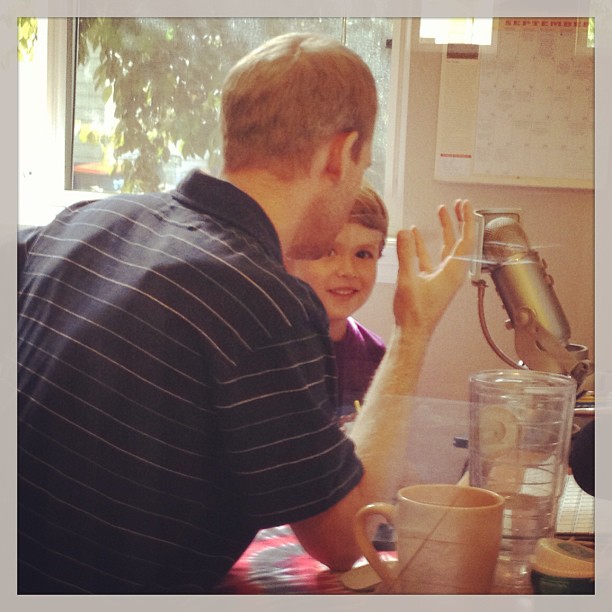 JJ sipped a Capri Sun Pacific Cooler while he spun tales of his rise from jobless one day to running his own business with two clients the very next.
The nature of his business:
"I got my laptop"
"I read"
"I check out my iPod and something"
Here is that one-of-a-kind green, paper laptop of his…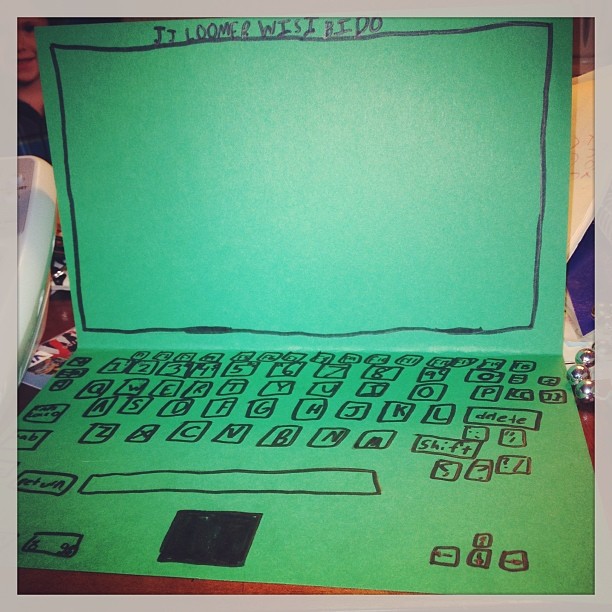 Asked why he started his own company, he said "I like the work." Gotta love a guy who's passionate about his job! That's why we do what we do.
If the cuteness isn't too much for you yet, make sure you watch his Valentines Day greeting from "Jon Loomer Wizibido."
Make sure to check out JJ's Facebook Page here.
The Show After the Show
My interview with JJ was rather short — he's a busy man! — so that left me solo the rest of the way.
This week, I left my beer choice in your hands. Thanks to your votes, I worked on a Sam Adams Octoberfest in this episode (once JJ left the room, of course).
Not many votes, but we'll work on that!
We're approaching two very big milestones for my business: 3,000,000 page views for JonLoomer.com and 20,000 Likes for my Facebook Page. Granted, I'm not a big believer in big, round numbers, but it's still fun!
So to start, I offer you a little "thank you" in appreciation of every page view you have provided this site and for following along on Facebook. You'll have to listen to find out what that thank you is!
The Challenge: Grow to 20,000 Likes
Throughout the rest of the episode, I focused on Growth and Contests. This is something I also covered yesterday when I wrote Increasing Facebook Likes: You're Building a Number, Not a Business. But this episode was where I first started thinking this topic through.
I often have people ask me how to grow quickly. Maybe it's to get to 20,000 or 200,000 Likes. That type of challenge, of course, is backwards.
Here are the four steps I recommend…
Step 1: Know Your Value Proposition
STEP 2: Start Executing on that Value Proposition
Step 3: Attract with Ads
Step 4: Contests?
I have competing feelings on contests. Of course, the rules on contests have changed, which complicates the matter a bit more.
Pop a Bottle!
That's it! A really good episode this week.
So pop a bottle! Sit back, throw on those headphones and enjoy…
Go to https://www.jonloomer.com/awesome to tell your friends that the Pubcast is AWESOME!