I've agonized over my Facebook Timeline since the new format was announced on February 29. Since then, I've written 24 (24!!) blog posts about Facebook Timeline for Pages. Okay, this is number 25.
After a while, it became a bit silly. Why haven't you converted to Timeline yet? the imaginary people asked.
I just wanted it to be perfect. The truth is that it won't be perfect, and I need to accept that.
Still, I think it looks pretty good. I've had some help with my Timeline as well. Let's go through the things I did with Jon Loomer Digital on Facebook.
New Logo
First of all, I have a new logo — as chosen by the people. This was a critical piece since it was central to the branding of my Cover Photo and apps.

Big Thanks: Thank you to Nate Gorman for designing several options for me to choose from!
Profile and Cover Photo
I struggled all month with these two. A change to my profile photo has long been overdue. Several readers have given me a hard time about it. But I see a profile photo as not living independently — you have to see it in context with the rest of your brand. Therefore, it was necessary to wait.
I toyed with making my Cover Photo a mock Timeline entry, but that just ended up being visually confusing. I thought about getting creative and making my profile photo interact with the cover photo, but that's gotten so popular that it's hardly creative anymore.
I had several ideas that simply didn't get very far. I ended up meeting with an awesome photographer who hooked me up with several photos that I could choose from. I had to overrule my wife to select a profile photo, and I used another of the pictures as the basis for my cover photo.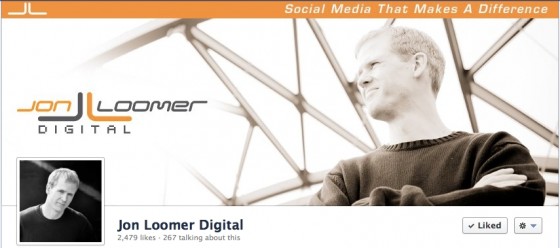 Big Thanks: Thank you to Jenny Marvin of JM PhotoArt for being so easy to work with. It wasn't easy finding my favorite photos to use because there were so many to choose from. Also, thanks again to Nate Gorman for not letting me push a cover photo live without first correcting my poor design skills.
Applications
A few days ago, I wrote about how I would choose my Timeline applications and featured apps. That process is more or less complete now, though there remain one or two more that I'll create.
In each and every case, I used ShortStack to create my apps. Wow, what a great tool!
Following are my featured apps:
Facebook Tutorials: Pulled in recent blog tutorials via RSS
Email Newsletter: Details on what to expect and a form to sign up
Free App Icons: Video and info about the icons and a form to get them

I used the free app icons that Nate created as a foundation for these icons (yes, I used my brilliant design skills to make some tweaks).
I'll probably replace the Tutorials app in the featured area with one that introduces me and the company and what you can expect on the page. This likely involves creating a video.
I also created four more apps:
Pinterest: My boards and latest pins on Pinterest
Video Tutorials: All of my YouTube videos in one place
RSS Feed: List of latest posts and a form to subscribe
Follow Me: All of the ways to connect with me on other networks
In addition to creating an app introducing me and my company, I also plan on creating an app detailing my services and an app detailing a soon-to-be-released eBook about Facebook Timeline.
In terms of branding, I did a few things for the sake of consistency:
Made all apps orange, consistent with my logo
Created a custom small icon with my "JL" logo
Applied an orange bar with my JL logo consistent with my Cover Photo across the top of all apps

Big Thanks: I have to thank Nate Gorman one more time here for providing the icons and other branding inspirations. I also should thank ShortStack for stepping me through a demo of their great tool.
Work in Progress
Reading this, it looks pretty easy. But man. It took a lot of thought and planning. I'm thrilled to finally be "done!" Of course, this will be a constant tweak and evolution, but it's good to be live.
Have you flipped the switch on Timeline? Share your link in the comments below!