Through all of the talk of cover photos and page tabs and pinning, it seems most reports on the new Facebook Timeline for Pages gloss over one very important new feature: Private Messaging.
Up until now, if a fan wanted to contact you directly, they'd have to do one of the following:
Post on your wall
Contact your personal Facebook profile
Go through your website
Find some other way to hunt you down
But now there's a nice little button under your cover photo…

Click that Message button, and a private message dialog comes up so that you can contact that page directly: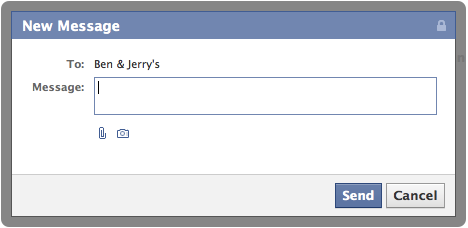 Now, I know what you're thinking. "But what if I don't want fans contacting me? I don't have time for this!" Well, first of all, chill. Second, you could actually prevent that.
Just go to your Admin Panel > Manage > Edit Page > Manage Permissions.

Just uncheck the box (which is checked by default) to show the "Message" button.
The Rules of Private Messaging for Pages
Anyone worried that they are going to get spammed by pages can relax. Pages can't initiate the contact. A fan has to message them first. The page then can't send more than two messages until the fan then responds again.
The Potential Drawbacks of Private Messaging to Fans
Could a page abuse that and message everyone who was eligible with a sales pitch? Potentially, though that's not clear yet (and I assume they'd all have to be individual messages). But the motivation for that has to be small since I'm sure that page would be reported in a heartbeat.
The Potential Drawbacks of Private Messaging to Pages
I guess if you're a big brand, you could get inundated by private messages. You'd hear from angry customers, non-customers (that functionality is available to everyone, even non-fans), people trying to sell you something, spammers, etc. And if spammers aren't controlled, it's entirely possible that all pages will be targeted, even the small to medium sized brands. Hopefully Facebook knows that and is ready to prevent it.
The Potential Benefits of Private Messaging to Fans
Maybe you have a private matter that you want to discuss with a brand and don't want to post it on their wall. Even if it's not private, this is a much more intimate and personal way of communicating. That's good for the fan, particularly if you're having a hard time being heard on an active Timeline.
The Potential Benefits of Private Messaging to Pages
Sure, you could get blasted with messages. And sure, you might get a bunch of angry people messaging you when PR goes south. But would you rather have those people posting on your Timeline or contacting you privately?
Previously, the inability to contact fans directly tied the hands of page administrators. Now if someone posts an angry message on the Timeline, the administrator needs to kindly ask, "Would you please send me a private message? I would love to take care of this for you."
PR aside, the personal relationship goes both ways. This is great for the brand. Being able to provide personal service creates stronger loyalty.
Other Buried Features
If you click on the arrow by the Message button, you'll actually get four more options:
Report Page
Share
Send Feedback
Add to My Page's Favorites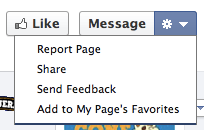 I guess the first one isn't good for pages. But being able to share the page or add it to your page's favorites — in a much more logical and easily found location — is certainly an improvement.
What Do You Think?
Have you messaged brands privately yet? Will you? Will you allow fans to message you? Let me know your thoughts in the comments below?