Great, so you're previewing Timeline for your Facebook Page. Now what?
Well, one of the things you should look to do is edit what is currently on your Timeline. Editing Timeline is easy. Let's take a look at the many ways you can alter what currently appears when fans come to your Page.
Highlight Posts on Timeline

Hover over an item on your Timeline and one of the options will be a Star. Hover over that and a tooltip will come up that says "Highlight."

Click on that and it will make that post spread across two columns. Click it again, and it will go back to one column. This is particularly useful for any post that you want to… well, highlight.
Pin to Top

Interesting label, isn't it? Facebook may be "borrowing" a bit from Pinterest here, but it's language that is being accepted into our daily lives. So I'll let it go.

When you hover over a post on your Timeline, an edit icon will also come up. Click on that and a drop-down will appear. The first item is Pin to Top.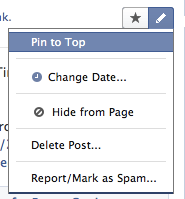 If you select "Pin to Top" the post will then stick to the top of your Timeline. These posts are flagged with a yellow bookmark-like-thing:
This is especially useful for anyone who posts frequently and doesn't want important information to get buried in their Timeline. A "pinned" post will stay at the top for up to seven days. Of course, you can always unpin it by going through the same steps, and it will go right back to where it was.
Something I figured out is that you can't both Pin and Highlight a post. In other words, you can't keep a two-column post at the top for extra emphasis.
Other Options

From that same drop-down menu, you can also Change Date, Hide from Page, Delete Post, or Report/Mark as Spam.

Changing the date would typically only apply for important events you've put into your Timeline after the fact. You can always go back and correct the dates.

Hiding and Deleting are different. You can make it so only certain "important" items appear on your Timeline. This will especially be the case in the past. If Facebook's policies for personal Timelines hold true for Page Timelines, you will begin seeing fewer posts in your Timeline from the past. They are still available, and you can add them back to your Timeline if you prefer.
Activity Log

Go into your Admin Panel, then from the Manage drop-down you can select Use Activity Log.

You should recognize this feature from your personal Timeline. You can filter your posts by year or any of the following categories:
All
Info Updates
Photos
Spam
Video
Your Posts
Comments
Posts by Others
Questions
Notes
Events
It's a fun way to filter back through old content. And of course, only you can see this view.
To the right hand side of each post will be an icon that will indicate whether the post is Allowed on Page (open circle) or Hidden from Page (circle with a line through it).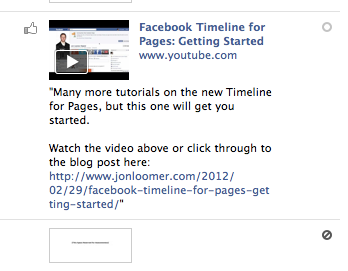 If you click on this icon, you can toggle whether it appears on your Page or not.
What Do You Think?
So what do you think of these options? Do you like being able to pin or highlight posts? Tell me how you're using these editing features in the comments below!