One of the nice things about Facebook Timeline for Pages is that you can tell your company's story. Up until now, you've simply shared links and updates that get buried and disappear into oblivion in a matter of days, if not hours.
Facebook Timeline for Pages gives you the ability to add Milestones to the past. You could feature things like:
When the company was founded
When the company made its first dollar
Company switches to a new logo
Company opened a new location
Company went public
Company switched ownership
On and on. But try to focus not entirely on the company, but what the world was like during these times (especially if you're going far back into the past).
What's fun when you tell stories of the past is including imagery. I'd love to look through and see the different commercial campaignsThe campaign is the foundation of your Facebook ad. This is where you'll set an advertising objective, which defines what you want your ad to achieve. More for McDonald's, the different logos for Apple or the different slogans for the NBA. Oh, and sports leagues? Highlighting historic games, accomplishments and players could be amazing!
Coca-Cola Timeline

Not surprisingly, Coca-Cola does a great job utilizing Milestones for their Facebook Timeline. They've entered items in their Timeline that go back to 1892, all that include a story and an engaging image.

Here's the Coca-Cola Milestone entry for 1953: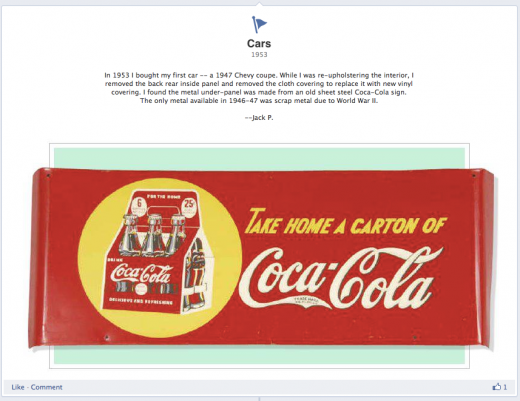 You could spend hours (or at least several minutes) reading through Coca-Cola's Timeline. Lots of good, clean, nostalgic fun!
How to Add a Milestone

Adding a Life Event to your personal Timeline provides so many options that it's overwhelming. Are you adding a story about a new job? Relationship? Home? There are dozens of options.

But adding a Milestone to Facebook Timeline for Pages is simple. There's only one option: Milestone.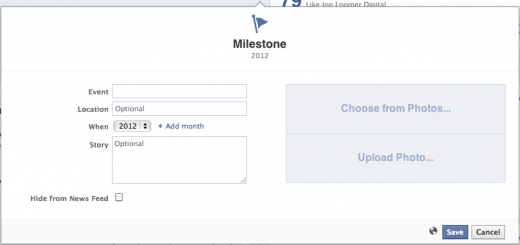 Just enter the Event, Location (optional), Date (could be just the year), Story (optional) and choose or upload a photo. Please choose a photo! This is what makes adding such a Milestone interesting!
You can also check the box if you choose to hide your Milestone from your fans' News Feeds, but I'm not sure why you would do that. Why add the Milestone at all if you don't want them to see it?
Another way to add a new Milestone is by going down your Timeline and clicking on the line itself (a "+" will appear).

It's really very easy!
I also encourage you to "Highlight" big events, particularly if you have a high quality photo, and make it stretch across the two columns.
What are some examples of Milestones that you've added or that you have seen others add that you liked? Share them below!