The most popular post on this site is my Reference of Dimensions for Facebook Timeline For Pages. So when any changes are made that I don't know about, I can expect to hear from you!
I had been hearing rumblings of an issue with the profile photo size, but I confirmed that the dimensions themselves hadn't changed. I then heard from Erwin Meester of Sociaal Lokaal in the Netherlands who explained the problem.
First, here is Erwin's image showing the issue. You'll see that Pages that created interactive designs between their profile and cover photos suddenly noticed something was off…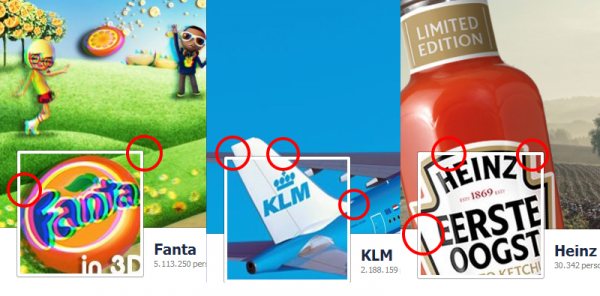 The issue dumbfounded me since my measurements tell me that the dimensions of the profile photo remain the same (still 160×160). But for whatever reason, Facebook now crops even square photos by default.
If anyone has an explanation for this, let me know. But Facebook decided to not only scale my 500×500 profile photo, but crop it in. This didn't impact my design, but it obviously would screw up the creative designs of many others.
The Solution
The solution is ridiculously simple.
Hover over your profile photo
Click "Edit Profile Picture"
Click "Edit Thumbnail"
Check the box for "Scale to fit."
Makes no sense whatsoever. This is your profile photo, not your thumbnail. And it already scaled to a point since the original photo size was 500×500. But this seems to fix the problem.
If you have any issues, see my video at the top.