NOTE: I will be updating this in real time. So continue checking/refreshing as it will not be completed until later today.
Facebook has made it's big announcement, and it's Graph Search.
Graph Search:
Graph Search is a new way for you to find people, photos, places and interests that are most relevant to you on Facebook.
Some links…
Sign up for the beta and learn more about Graph Search
Under the Hood: Building Graph Search Beta
How privacy works with Graph Search…
More on privacy…
Individual search results pull from what a person can see elsewhere on Facebook
Different people see different search results like how different people see different stories
Non-friends will not find content you have produced for friends only
Consider updating the About section of your profile that gives some private info that may now surface more often
Also take a second look at Activity Log since these things could again start surfacing more often
Learn more about Graph Search and privacy here.
Random Notes
Three pillars of the Facebook ecosystem:
News Feed
Timeline
Graph Search
Difference between Graph Search and Web Search:
Graph Search and web search are very different. Web search is designed to take a set of keywords (for example: "hip hop") and provide the best possible results that match those keywords. With Graph Search you combine phrases (for example: "my friends in New York who like Jay-Z") to get that set of people, places, photos or other content that's been shared on Facebook. We believe they have very different uses.

Another big difference from web search is that every piece of content on Facebook has its own audienceThis is the group of people who can potentially see your ads. You help influence this by adjusting age, gender, location, detailed targeting (interests and behaviors), custom audiences, and more. More, and most content isn't public. We've built Graph Search from the start with privacy in mind, and it respects the privacy and audience of each piece of content on Facebook. It makes finding new things much easier, but you can only see what you could already view elsewhere on Facebook.
Uses of Graph Search:
Find all of the photos you've liked
Find photos of your family
Find all of your friends who live in a particular city you're visiting
Find friends who live in X city who like do do Y
What movie should I see?
What bands might I like based on my friends' interests?
Dentists that my friends like
Friends of friends who are interested in ballroom dancing
Search will start only with the following:
People
Photos
Places
Pages for businesses
More on this:
People: "friends who live in my city," "people from my hometown who like hiking," "friends of friends who have been to Yosemite National Park," "software engineers who live in San Francisco and like skiing," "people who like things I like," "people who like tennis and live nearby"

Photos: "photos I like," "photos of my family," "photos of my friends before 1999," "photos of my friends taken in New York," "photos of the Eiffel Tower"

Places: "restaurants in San Francisco," "cities visited by my family," "Indian restaurants liked by my friends from India," "tourist attractions in Italy visited by my friends," "restaurants in New York liked by chefs," "countries my friends have visited"

Interests: "music my friends like," "movies liked by people who like movies I like," "languages my friends speak," "strategy games played by friends of my friends," "movies liked by people who are film directors," "books read by CEOs"
– Results will be very customized according to your interests, privacy settings and your social graph (friends).
– Currently in beta, limited to a few hundred thousand people today. No timetable on rollout.
– No integration with mobile yet. On the roadmap, but could be a while.
– Currently only available in English
– Posts and Open Graph actions (listen) not yet available
Impact on Business

– Local search

– Relevant advertising (Sponsored Results folded in)

Things brands need to do to benefit:
Check to make sure your page name, category, vanity URL and info in the About section are accurate.
Update your physical address to make sure you appear when someone searches for a specific location.
Attract relevant fans and share quality content
Some Images

These images come from Facebook…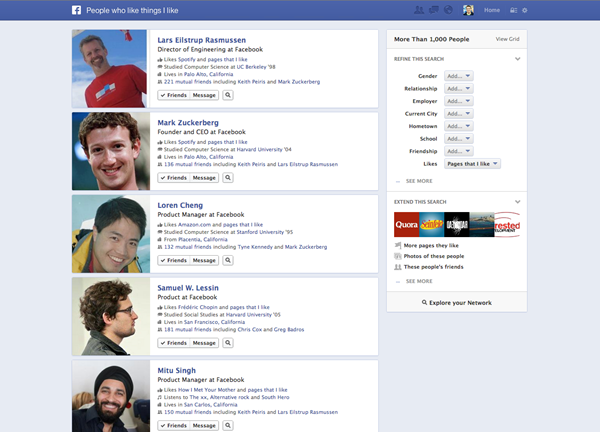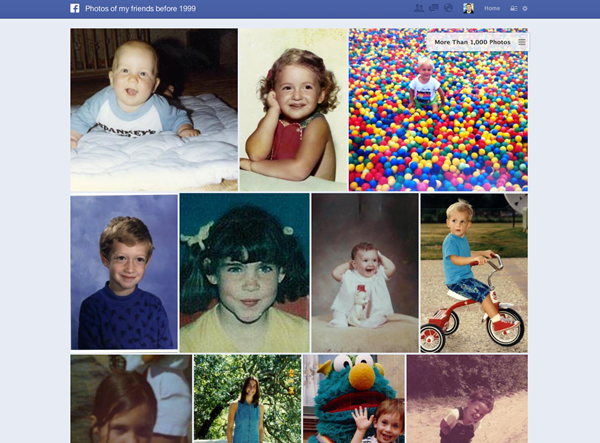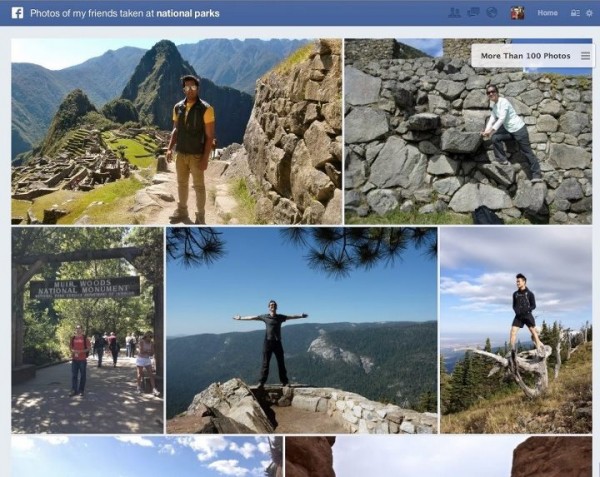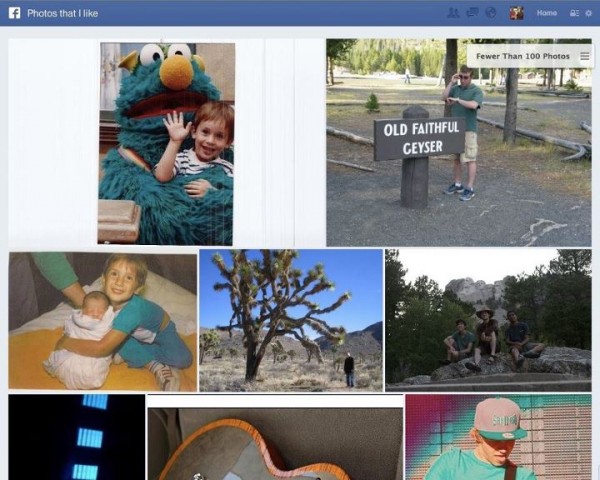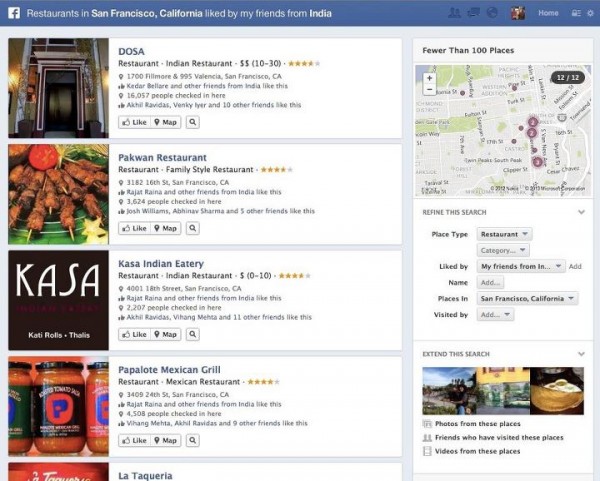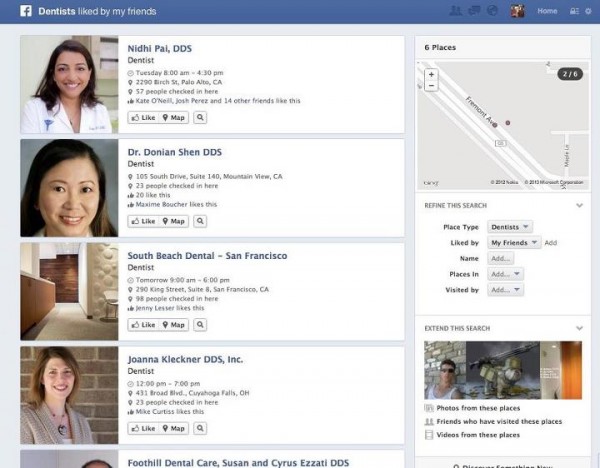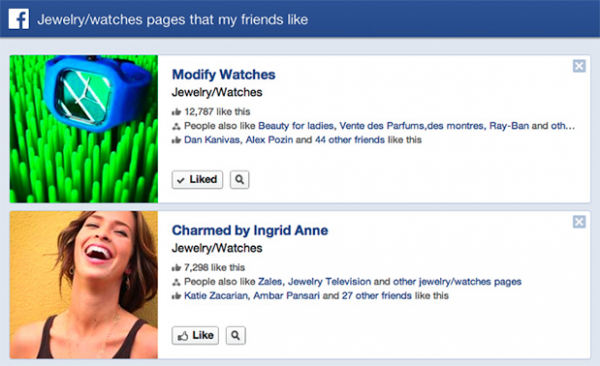 Quotes
Graph Search will appear as a bigger search bar at the top of each page. When you search for something, that search not only determines the set of results you get, but also serves as a title for the page. You can edit the title – and in doing so create your own custom view of the content you and your friends have shared on Facebook.
What They're Saying
Facebook's Graph Search For Journalists – AllFacebook.com
The new search enables journalists to do richer searches when trying to find experts for stories. For example, say you're doing a story on a specific company, and you're looking to interview someone who works at the company's New York office, you could do this by searching for, "People who work at ACME Inc. in New York," to find potential employees to reachReach measures the number of Accounts Center accounts (formerly users) that saw your ads at least once. You can have one account reached with multiple impressions. More out to. You could even make the search more specific to find people who work at the company with specific titles, for example. This could make it easier to find potential sources and experts to reach out to for stories you're working on. – Journalist Vadim Lavrusik via AllFacebook
Facebook Graph Search Could Be Its Greatest Innovation – Mashable
Facebook's Graph Search will be a game changer on so many levels — and could be just the thing the social network needs to reach even greater heights. – Lance Ulanoff, Mashable
Facebook Takes On Google, But Private, Personalized, Social Search Has No Clear Winner Yet – TechCrunch
While building a graph around what our friends and network is doing is an obvious no-brainer for Facebook, it's not necessarily the "next new thing" for search. At launch, it's just a better Facebook. – Sarah Perez, TechCrunch
Facebook's Graph Search: What It Means for Businesses – Mashable
Overall rankings will be based on top search suggestions including people, Pages, apps, places, groups and suggested searches. The results are also based on data shared by a business and connectionsWithin your ad set, you can further narrow targeting by adding a connection to a page, app, or event that you control. More of the person searching. – Todd Wasserman, Mashable
How The New Facebook Search Is Different & Unique From Google Search – Search Engine Land
Need a good plumber? An electrician? Someone to do your taxes? A doctor? A dentist? These are all typically questions that are great to ask friends. You trust friends. With Facebook Graph Search, there's the promise of asking all your friends this at once without actually having to ask them. You can just search and discover professionals like this that they like. – Danny Sullivan, Search Engine Land
Facebook announces Graph Search, a new way to find people, photos, places and things on the social network – InsideFacebook
Rather than indexing the web, Facebook has focused on making it easier to navigate and discover content within the social network. And instead of using keywords, users will combine phrases, such as "photos of me in 2006," "my friends in San Francisco who like The Lord of the Rings" or "restaurants in New York liked by people who like Top Chef." – Brittany Darwell, InsideFacebook
Facebook Announces Its Third Pillar "Graph Search" That Gives You Answers, Not Links Like Google – TechCrunch
But with Graph Search you can query "Movie my friends like," which brings up the movies liked by most of my friends. A "People also liked" suggestion section shows movies also liked by the people that liked a result. So for "The Dark Knight Rises," you get suggestions to check out "Batman: The Dark Knight," and "Transformers." – TechCrunch
Facebook Graph Search Puts Spotlight on Sponsored Results – Mashable
It's unclear whether another ad unit will replace Sponsored Results. A rep for the company declined to comment. Debra Aho Williamson, an analyst at eMarketer, says she believes Facebook will roll out another search ad unit. She sees two possibilities: Search ads on the right-hand column, and ads that show up in the top, rather than in the second tier, of search results. – Todd Wasserman, Mashable
The Ecommerce Potential for Facebook Graph Search – Get Elastic
Facebook ads let you target by interest keyword. Discover keywords by searching "Brands that people who like [your brand]" also like," and target your ads to users who like those brands (or interests, music, TV shows). – Linda Bustos
Facebook Graph Search Is Boring: We Need A Unified Search AI – ReadWrite
We won't really be in the future until it works like this: We've got our own AI assistants who know us intimately but protect our information. We can ask them questions, and they will use every data source to find the right answer for us, not merely the best one available on a proprietary service. – Jon Mitchell, ReadWrite
Graph Search Ads Could Be A Goldmine For Facebook – TechCrunch
Zuckerberg said the goal of Graph Search is to give you answers, not links. Graph Search could eventually let brands make sure you see their answers. Facebook's next challenge will be striking a balance between its algorithms and its advertisers. Otherwise Graph Search could lead the world astray. – Josh Constine, TechCrunch
How marketers can use Facebook's Graph Search to understand consumers – InsideFacebook
There are infinite permutations that could help businesses determine what type of content to share with fans, what new audience to reach out to, what type of music would resonate with consumers in a commercial, who might serve as a good celebrity endorser and more. The social network also offers suggestions for related pages and searches, which could lead marketers and advertisers to discover additional insights. – Brittany Darwell, InsideFacebook
Facebook Fires Back At Yelp, Google With Graph Search – AllFacebook
Facebook Debuts Graph Search, A Natural Language Powered Social Search Engine – ReadWrite
Facebook Unveils a Smarter Search Engine – Mashable
Here Is The Ex-Googler Dream Team That Led Facebook's New Graph Search Tool – TechCrunch
Hands On With Facebook's Graph Search – Mashable