The Embedded Facebook Posts feature is now available to everyone.
Simply click the drop-down arrow at the top right of the post and then select "Embed Post."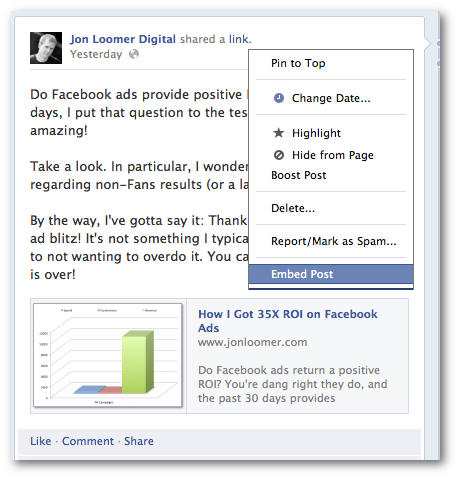 Then Facebook will give you the embed code.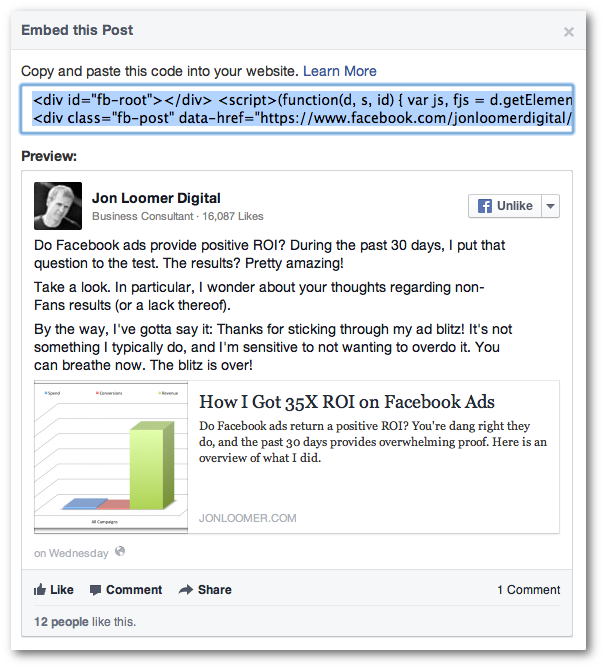 Copy that and paste it into your blog post or website. The result is something that looks like this:
You can like the Page or the post directly in the embedded post. If you want to comment or view the comments, it will open up a new window that drives you to the post's permalink. By clicking share, it will open up the typical share dialog to easily share to your Timeline or Page.
Rules and Restrictions
Here are a few things to keep in mind:
1) Only public posts can be embedded. So you can embed posts from any Page or from a personal profile as long as that post was public.
2) This does not go around privacy settings. If a person shares something as public and you embed it, the post will only be visible while it's public. If the post's privacy is changed or the post is deleted, it will look like this: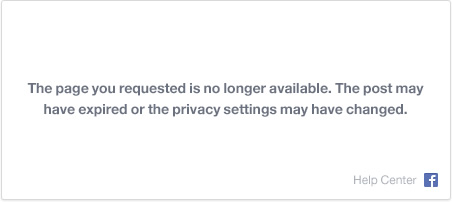 3) The size can't be customized. We're used to be being able to do this with YouTube or Vimeo videos, but it's not available for embedded posts. At least so far.
That width has, however, been reduced when viewed from a mobile device. So that's good!
How Will Embedded Posts Help Marketers?
This remains to be seen. But certainly, you'll be able to get greater exposure to your Page and posts by embedding them onto your website, assuming you get good traffic.
How does that impact Facebook Insights? Does each view count towards ReachReach measures the number of Accounts Center Accounts (formerly users) that saw your ads at least once. You can have one account reached with multiple impressions. More? I'm not sure, but I'm about to find out. Clearly, it can impact engagement.
I can't say I have a million bright ideas that spring to mind about how I could use this. I think it will be interesting for anyone who wants to quickly share posts by others in a blog post. But beyond that, I'm currently short on creativity.
Do you have any ideas for how this can be used? Let me know in the comments below!