[The following is a guest post from Chad Wittman of EdgeRank Checker.]
EdgeRank governs the most important real estate within social marketing. Understanding the algorithm has become an absolute must-know. Confusion has surrounded the topic ever since it was announced.
Understandably so, Facebook keeps the inner workings of EdgeRank top secret, similar to Google's PageRank algorithm. It's important for marketers to understand what is impacting their content, but Facebook must also protect their investment.
Assuming you already understand the basic details surrounding the algorithm, we'll dive right into the details, but in case you need to brush up on EdgeRank here's a handy graphic:
Every object within Facebook has an EdgeRank score, relative to each individual fan. There are a wide variety of factors that are taken into consideration when examining each of the three main components. Understanding what Facebook can and can't track helps provide perspective on what is monitored.
Let's take a speculative look at what each component may be built upon:
Affinity
Relationship status
Engagement history
Timeline visits
Chat history
Mutual friends
Family relationship
Shared groups
Mutual photos tagged
Weight
Likes
Comments
Shares
Clicks
Negative feedback total
Content type
URL analysis
Keyword analysis
User/Brand's "authority"
User/Brand's "quality"
Time
Age of edge
Last interaction
Many of these suggestions are 100% speculative, but by all means technically possible.
Facebook may be doing an even more elaborate analysis such as real-time topic analysis, overall activity indicators, and even demographic tracking. Many of these elements could greatly improve the news feed experience.
What Has Changed Lately?
Facebook recently made a significant change to how they weigh Negative Feedback. Now when an object receives Negative Feedback, the impact will more severely hurt the performance of the particular post.
Pages that receive constant Negative Feedback, even historically, will also be negatively impacted. These changes have greatly affected brands whose post content receives high levels of Negative Feedback.
We even came across a Facebook Page that was receiving over 20% Negative Feedback per post, per fan! This Page was quickly losing effectiveness on Facebook.
Fans can report Negative Feedback by hovering over a post in the news feed, and clicking the arrow that appears in the upper right of the object: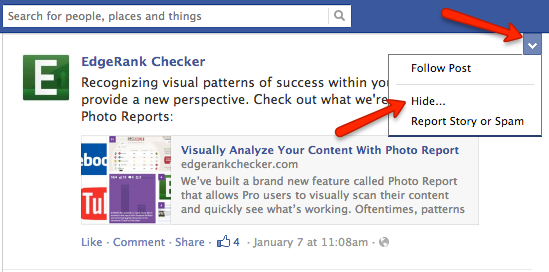 When examining Negative Feedback in the API, we see five types of Negative Feedback. We believe that the five different types breakdownBreakdown is a way to get insights into your ad performance related to time, delivery, action, or dynamic creative element. More into the following severity:
xbutton > hide > hide all > spam > unlike
The good news is that only about 16% of Negative Feedback is "hide all" (which effectively removes your ability to ever Organically Reach that fan).
In more good news, we found that the median Negative Feedback per post per person Reached is 0.03%. The Page categories that received the most Negative Feedback median was around 0.10% (or nearly 3x the amount of Negative Feedback).
Only One Component

Negative Feedback is only one component (albeit a newly, more important component) of the equation. It is important to focus on what will build the EdgeRank of the object.

Building the EdgeRank of an object boils down to driving engagement. Brands are starting to figure out what works with their audience and providing content that meets their needs.

The trick is maximizing this effect by perfecting timing and content. Great content can perform great, but can perform even better with excellent timing.

Some studies have shown that while a post may receive little engagement, it doesn't mean it's not valued across the fan-base. It's also been suggested (and some data has shown) that the length of being a fan is impacting objects' visibility in the news feed. As of now, these concepts remain theories until more data can support the claims.

I recommend testing a wide variety of times of day for your audience and also monitoring your competition's timing to see if there are any strategical insights you can gain.

Looking to the future, I expect understanding when your target demographic is online will be a huge component of success. Facebook will most likely provide a shortcut to this opportunity by leveraging Paid Media, but the brands that are able to do it Organically will have a significant advantage.
The Future

Facebook continues to tweak the EdgeRank algorithm and include new objects into the news feed such as GraphRank. GraphRank is an algorithm that governs which Apps (think Spotify, Washington Post, etc.) are displayed within the news feed.

You can expect more algorithms and more object types to appear in the feed. In the foreseeable future, Facebook Pages will continue to dominate how brands leverage Facebook. As long as Facebook Pages are being leveraged, EdgeRank will govern these brands' organic success.

Follow Chad Here…

EdgeRank Checker Blog
EdgeRank Checker on Facebook
@EdgeRankChecker on Twitter
@ChadWittman on Twitter