Targeting strategy is an important aspect of finding Facebook advertising success. Which group of people do you target? How do you find those who are most likely to act on your ads? One solution is Audience InsightsAudience Insights is a tool that helps you learn more about an audience compared to the general Facebook population. More.
These are the powerful things that you can discover with AudienceThis is the group of people who can potentially see your ads. You help influence this by adjusting age, gender, location, detailed targeting (interests and behaviors), custom audiences, and more. More Insights. When you learn more about prospective targeting groups, you can apply this information to further refine your messaging and ad targeting.
Look, Audience Insights is a relic. It's been around since 2014. Facebook has barely changed it since it was first released, other than taking some functionality away due to privacy concerns. Yet, there are still some valuable insights to be found.
In this post, we're going to walk through a tour of Audience Insights: What you can do, what you can't, and how you can apply what you learn.
Access Audience Insights
First, find Audience Insights under Analyze and Report in your Business Tools menu.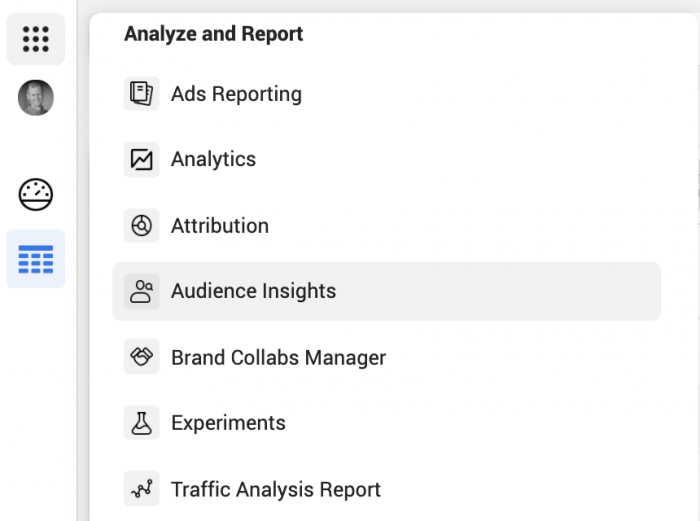 Facebook will first prompt you to choose from "Everyone on Facebook" or "People connected to your page."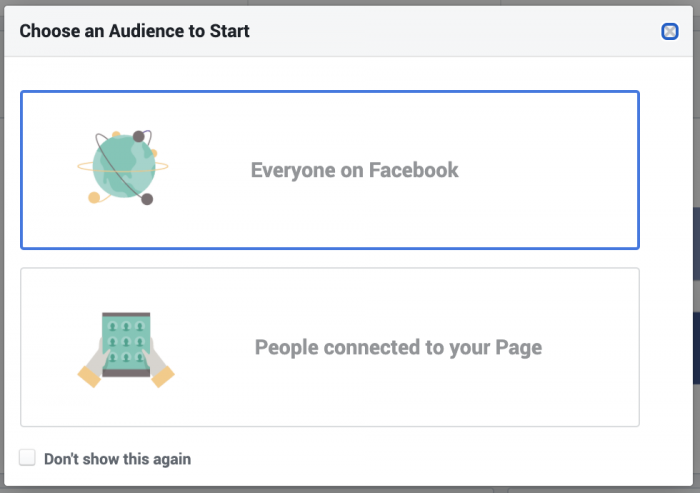 This is just a starting point. You can close this out.
Filter Your Audience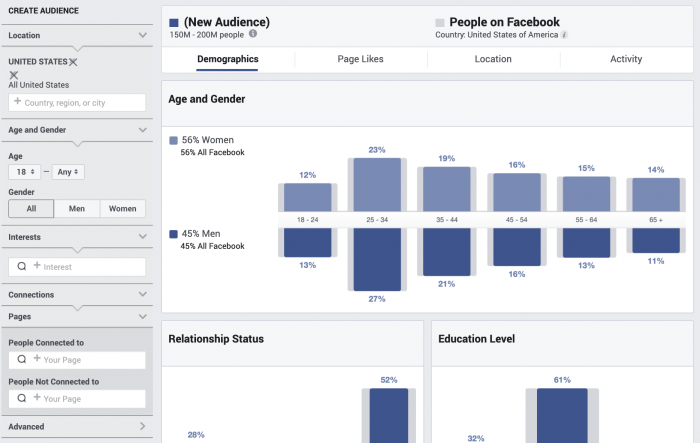 There's a lot going on here. Everything you see on the right will adjust based on what you do on the left. My default view is everyone on Facebook in the United States. But I'll want to filter my audience to something I might target.
You can filter your audience on the left hand side based on the following:
Location
Age and Gender
Interests
Page Connections
Advanced (Demographics and Behaviors)
For experimental purposes, I'm going to select some interests that I've used before in targeting. My goal is to learn what I can about these audiences to determine whether they are in line with my target market.
As a result, I'm going to remove all countries so that I can get a sense of what countries these people are from. I'm also going to leave ages wide open.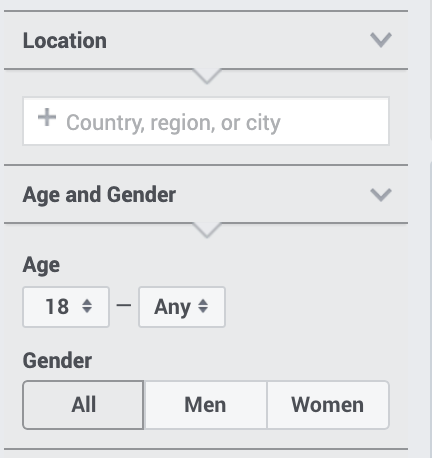 I'm going to pick a single interest so that I can isolate it from other targeting options. You need to pick something of a reasonable size or you won't get results. I'm going with Social Media Examiner (there are two of them, but one is 300k+ people).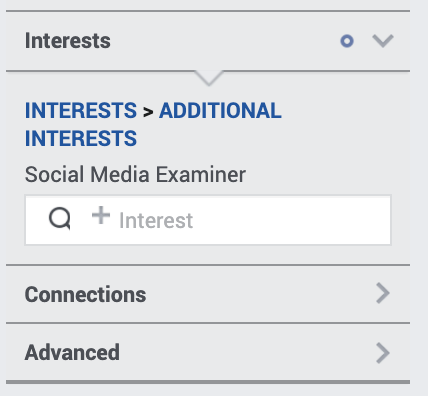 I won't add connections since that will make the audience smaller. And I won't add any advanced items either since I want to get the clearest sense of what goes into this single audience.
Within the main body of Audience Insights, you can view your results in four main categories:
Demographics
Page Likes
Location
Activity

At the top, you can see that there are 300K – 350K people in my new audience (this is the audience I filtererd on the left).
Now, let's go through each of the four categories…
Demographics
View the composition of your audience based on age and gender…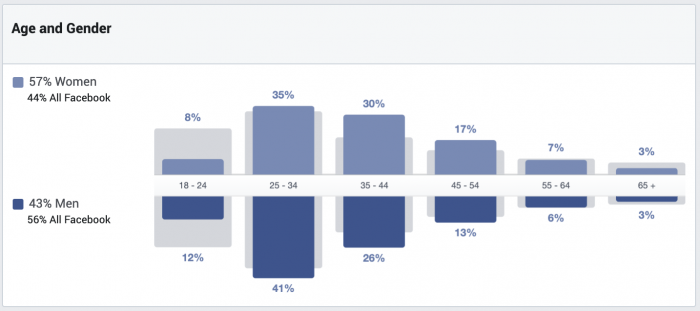 As you can see, my target audience (in blue) has a higher concentration than the general Facebook population (in gray) of ages 25-54.
Relationship status…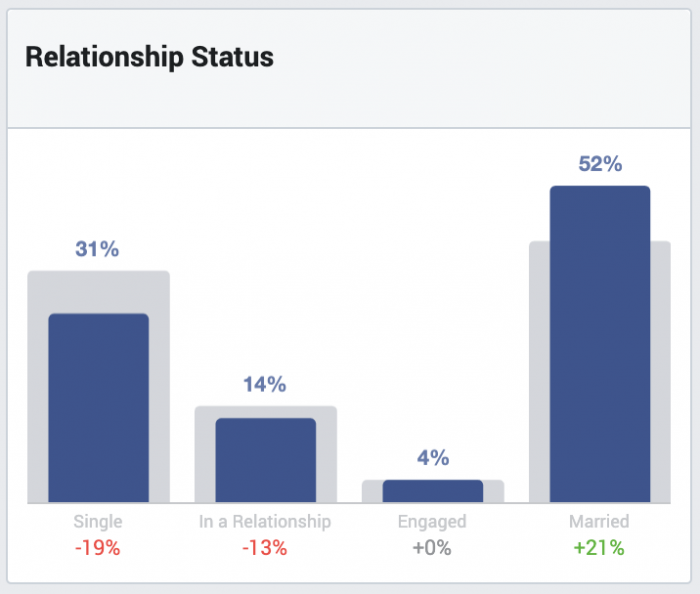 My target audience is more likely to be married than the general Facebook population.
Education level…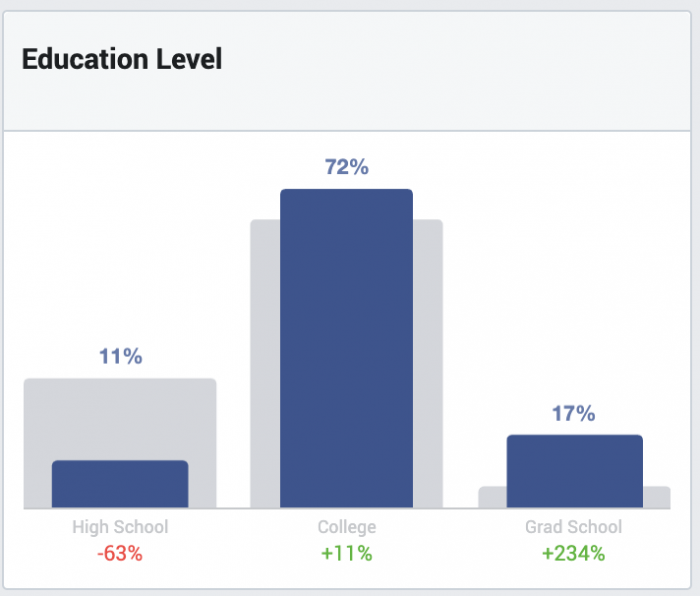 This audience is far more educated than the typical Facebook user.
And job title…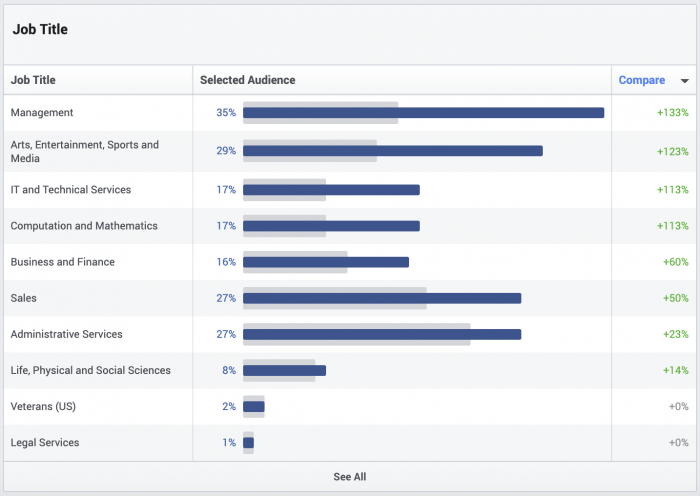 Probably not too surprisingly, this audience is more likely to be in management, IT, business, and sales.
Page Likes
View the composition of your audience based on the top categories of pages liked…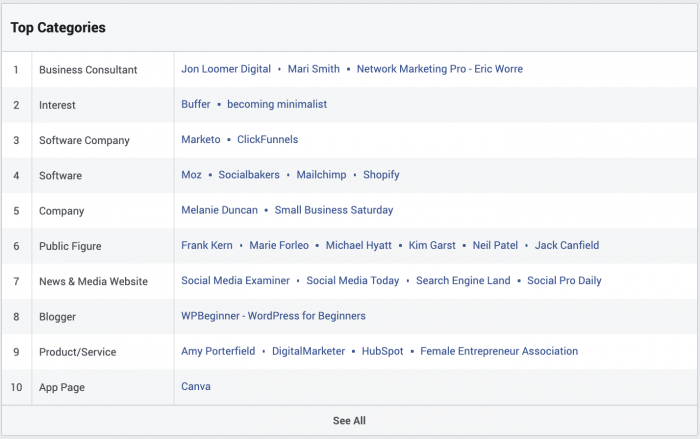 Certainly encouraging to see my page mentioned right away. But there are others, too, that would be consistent with my target audience (Mari Smith, Social Media Today, Amy Porterfield, and DigitalMarketer to name a few).
But we can also break it down in order by page…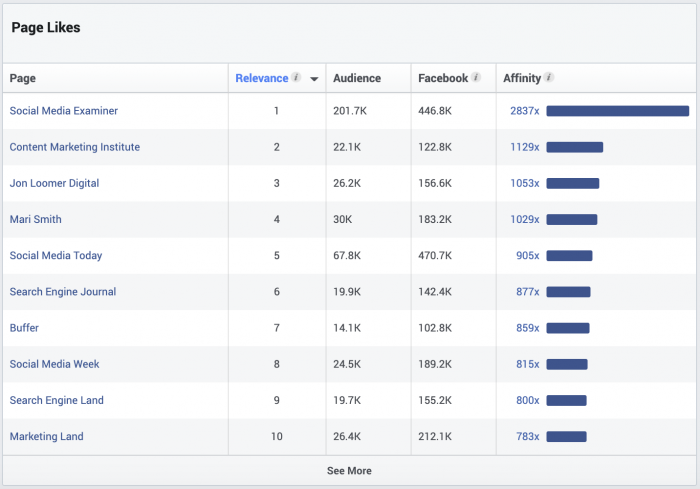 There I am again! Third after Social Media Examiner (obviously) and Content Marketing Institute. Note that these are listed in order of affinity, not by number of people in this audience who like that page. Affinity is "how likely your audience is to like a given page compared to everyone on Facebook."
These pages can provide some good intel on potential interests to try in targeting.
Location
Within location, you can view the top cities, countries, and language. Let's look at countries, but in order of the highest population rather than affinity…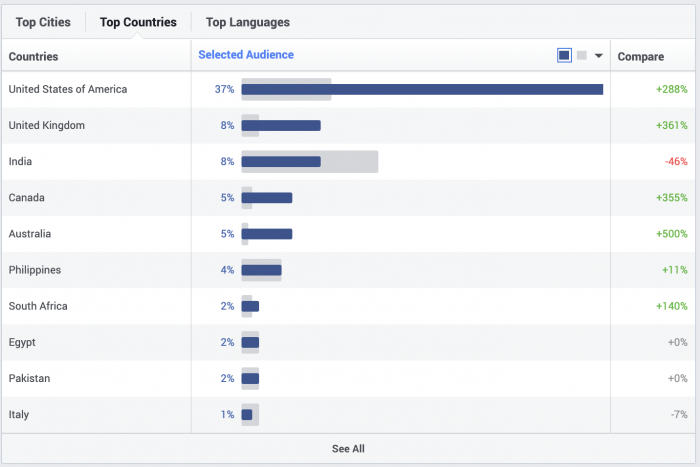 This breakdownBreakdown is a way to get insights into your ad performance related to time, delivery, action, or dynamic creative element. More is consistent with my own audience.
Activity
Finally, let's take a look at this audience's activity on Facebook, compared to the average user. Let's start with the frequencyCalculated as (Impressions/Reach), Frequency is a Facebook ads metric that measures the average number of times users have seen your ad. More of activities…

The lifetime pages liked seems insanely low, though it's also irrelevant these days. Certainly good that this audience is much more active related to comments, post likes, post shares, and ads clicked during the past 30 days. And the 35 ads clicked during the past 30 days is kind of funny, considering most people will swear they don't click ads. But also a good sign for my prospective audience!
You can also break down by devices used…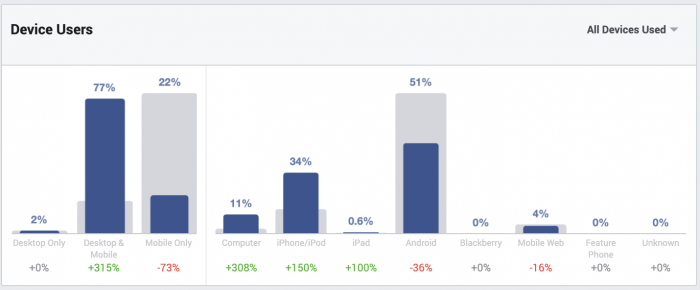 Interestingly, this audience is much more desktop-heavy than the typical Facebook user. This may be because they're office people (management and IT), but it's also consistent with what I see related to traffic on my website. This audience is also much more likely to use Apple products, which could mean they spend more.
What's Gone?
I first used Audience Insights in 2014. It's actually changed very little since then, other than the things that went away.
You can no longer break down audiences closer to you like website custom audiencesA website custom audience matches people who visit your website with people on Facebook. You can then create ads to show to that audience. More or email custom audiencesA customer list custom audience is created by uploading a customer list that Facebook matches with users so you can target them with ads. More. You can't even break down lookalike audiences. That's really disappointing since that was one of the most valuable use cases of this tool.
Facebook also took away Household and Financial data. In all of these cases, it was due to privacy concerns.
Now What?
First, it's clear that the Social Media Examiner interest is solid and something I should experiment with. But, the things I learned from it gave me ideas of other interests to try.
I also went in and broke down the following interests based on the page likes info:
Jon Loomer Digital (interest)
Mari Smith
Amy Porterfield
Social Media Today
I then went in and broke down my own page under connections. It's all a matter of experimenting, digging, and researching to come up with new targeting ideas.
Your Turn
It's unfortunate that Facebook hasn't done anything to build this tool up since it was first released. That said, there's still some gold nuggets that can be found here.
Have you experimented with Audience Insights?
Let me know in the comments below!