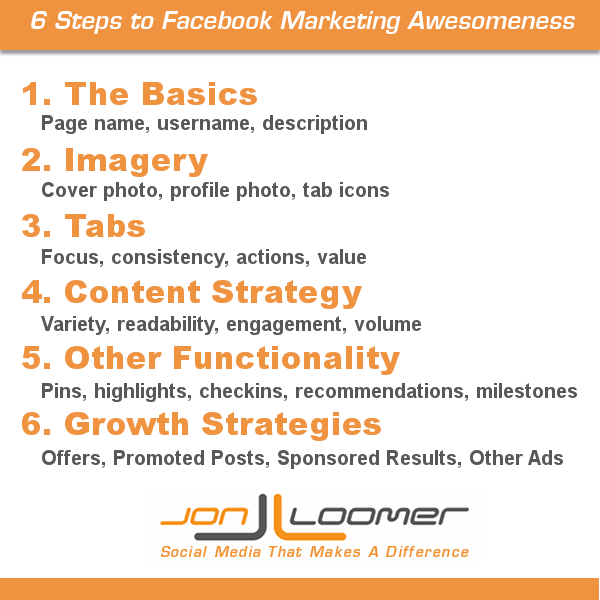 I have reviewed a couple dozen Facebook Pages during the past month, and I find that my recommendations stick to a common theme. I thought it would be helpful to share my thought process with you in a blog post.
I have a very structured approach to reviewing Facebook Pages. After reading through a completed two-page questionnaire that provides background on your company and current efforts, I focus my attention on six main categories. That approach is detailed below.
Want me to review your Facebook Page? The Facebook Page Strategic Review Gold Package consists of the following:
30-minute recorded screen-share video as I review your Page and provide recommendations
1-page document highlighting the main takeaways
Personalized list of helpful links that will aid in implementation
1 45-minute One-on-One Coaching Call to design a strategy and put it into action
Want your Facebook Page to be awesome? Do these six things…
1. Basics
The four "basic" things I look at are…
Page Name
Username
Brief "About"
Long "About"
Is your Page name less than 25 characters so that it won't be cut off in ads? Is it consistent with your other properties? Will people find it easily? Is it spelled correctly? Does it use abbreviations unnecessarily?
Do you have a username? Is it easy to spell and remember? Is it consistent with other social media usernames that you own?
Have you filled out the "About" section under your profile photo? Is it complete, or does it cut off mid sentence? Do you embed a link at the end of it?
Have you adequately completed the long "About" section that is indexed by search engines? Have you provided details of your services? Do you include relevant keywords? Do you embed links to your website where possible?
2. Imagery
You never get a second chance to make a first impression, right? It's not always fair, but how your Facebook Page looks will often determine whether a visitor becomes a Fan or checks out.
I focus on three main areas:
Cover Photo
Profile Photo
Tab icons
Is your cover photo high quality? Does it tell a story? Does it add background to who you are and what you do? Is it clear from this photo what makes you unique?
Is your profile photo close up? Is it square? Is it cropped unnaturally? Is the branding consistent between your profile photo and cover photo?
Do you carry over the branding of your profile and cover photos into your tab icons? Is there a common theme or color scheme? Do you use third party app icons? Do you customize the mini icons that appear when you expand to view all tabs?
3. Tabs
After the cover photo, profile photo, title and brief description, this is the next area that visitors will look. Do you take advantage of this real estate?
Here, I look at…
Focus
Consistency with Company Goals
Driving Actions
Value and Effectiveness
Do you try to accomplish 10 different things in one tab? Do you focus on accomplishing one goal?
Do the top three tabs act as the navigation bar of your website? Are you funneling visitors into areas that are company priorities?
Are you asking visitors to do anything on these tabs once they visit? Are you driving sales, increasing conversions or building a subscription list?
Are you giving visitors what they want? If there is something specific that someone will want to find or know when they visit your Page, will they immediately find it here? Does it work?
4. Content Strategy
This one covers all of the main content types that you share on your Page…
Variety
Readability
Engagement
Consistency
Volume
Value
Are you only sharing links to your blog posts every day? Are you mixing in photos, status updates and videos? Are photos ideal sizes for your Timeline?
Do you write one long paragraph? Is it easy to read? Do you use proper punctuation and spelling?
Does your content beg for engagement? Do you ask questions or use calls to actionA call-to-action is a button or link on your ad that suggests the action you want your audience to take. Examples: "Learn More" or "Sign Up." More?
Do you post often enough? Too often? Do you post on a schedule or use themes?
Does your content provide value? Is it boring? Is it interesting? Are you only promoting yourself?
5. Other Functionality
Next I take a look at whether you utilize any of the following pieces of functionality (these are self explanatory)…
Highlights
Pin to the Top
Recommendations
Checkins
Milestones
Events
6. Advanced Tactics and Growth Strategies
Finally, I take what I know of your business and current activities and make some recommendations for ways to grow. Depending on your business, this list may include…
Offers
Promoted Posts
Sponsored Results
Sponsored Stories
Basic Ads
Custom Audiences
Other Promotion Off of Facebook
Do you have a product or service? Do you have a website? Can you offer discounts?
Do you have enough Likes to qualify for Promoted Posts? Could you benefit from them?
Do you have competitors who are already successful on Facebook? Could you steal some of their Likes in search?
Do you have an engaged audience that you can leverage?
Do you still need to build a foundation? Do you need a viable audience?
Do you have an email list? Do you have a known list of customers who have already bought from you?
On and on… and on…
Want Your Page Reviewed?
One of the reasons brands find this process so valuable is that sometimes you simply need another set of eyes. You don't want someone else to take over. You just want a second opinion and a little direction.
That's why I've created two options.
The Gold Package is a thorough review with your company's goals in mind, and it includes a 45-minute coaching call to take the first steps of implementation.
The Silver Package is a very basic offering, in cases where you have a tight budgetA budget is an amount you're willing to spend on your Facebook campaigns or ad sets on a daily or lifetime basis. More or are simply curious what I think. This review is purely first glance and reactionary.
Make a difference with your Facebook Page today!