Creating a Facebook ad is a four-step process. Yesterday, we talked about the Creative & Placement step. Now we're going to make sure your ad targets the right people.
Ready? Let's go!
What You Are Going to Learn Today
Today's lesson is Audience. We're going to focus on the following:
Targeting Groups
Geography
Gender
Age
Precise Interests
Broad Categories
Partner Categories
Connections
As was the case in yesterday's lesson, this is simply an introduction to many of these targeting features. I want you to know they are there and to have a general understanding of them.
But we will be digging into many of these targeting features more in future lessons.
The Lesson
Within the test ad we started yesterday, click on the Audience link.

Targeting Groups
When you click on this button, you can select a Saved Target Group (or Saved Audience) to make the process of targeting much easier.

Everything you're doing within the Audience and Advanced Options tabs could be saved to be used on future ads.
We'll get into the details of this later!
Geography
You have to at least pick one country to target in your ads. If you include multiple countries, Facebook will target only the people who live in any one of those countries.

If you ever promote a post, it's important to remember that Facebook only pre-fills your native country. To reach as many of your Fans as possible, you'd need to add more countries.
You can also target within a single country by:
State/Province
City
Zip Code
Age
Facebook allows you to choose the ages of the people you wish to target in an ad. This is where the new ads reports can be helpful in determining which age group works best for you (we'll get to that in the bonus section!).
You can either target by specific age (check the box to require an exact match) or allow Facebook to go slightly outside of your target range.

Gender
You can target everyone, only men or only women.
Precise Interests
With Precise Interests, you can target users based on the information in their profiles. This can be pulled from things like:
Listed Interests
Activities
Education
Job Titles
Pages they like
Groups to which they belong
You can also target hashtag interests to target these interests more broadly. For example, targeting the #Cooking interest would target people interested in cooking, cooking tips and cooking and eating.
You can list as many Precise Interests as you want. Your ad will be targeted at users identified with any of them (not all of them).
Broad Categories
Broad Category targeting is essentially the same concept as hashtag Precise Interest targeting, except there's more structure to it. This allows you to target people who have shown interest in particular topics based on the information in their Timelines.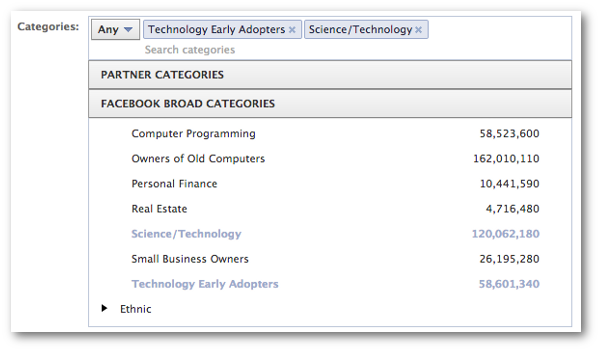 Partner Categories
This is a more complex strategy that we'll cover later, but you deserve an explanation.
Partner Categories allow you to target users based on their buying histories and lifestyles. Facebook partners with three data mining companies that collect this information, allowing you to do some very powerful targeting (only available in the US right now).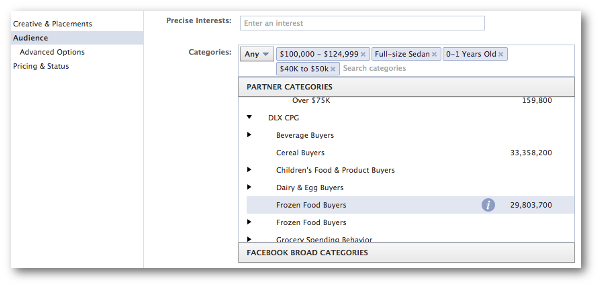 Connections
Connections allow you to target users who…
Are connected to (Fans of) your Page
Are not connected to your Page
Are friends of users who are connected to your Page
If you were going to promote a post to Fans, this is where you'd want to list the name of your Page in the first Connection text box (you can only enter Pages under your control).
If you want to get new Likes, you'd target users who are not currently connected to your Page. You may even target friends of Fans in this case.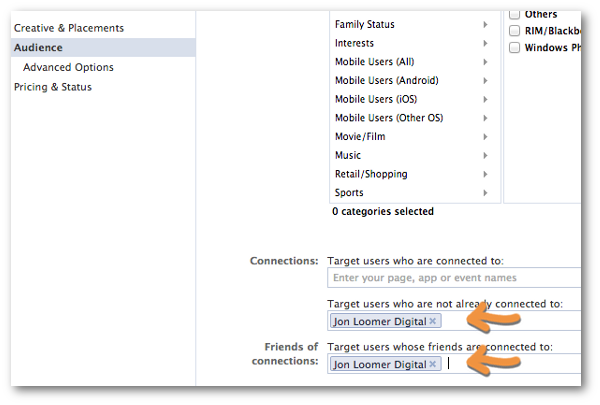 Recap
What did you learn today?
1. How to Target Users in the Audience section
2. General understanding of Saved Target Group, Partner Categories
3. How to Target Fans Only
Your Assignment
Action Items:
Within your test ad, target women from Canada aged 35-44
Target by five precise interests and five broad categories
Target friends of Fans only who are not current Fans
Related Reading
Need personal one-on-one help from Jon?
Set up a training session!