Don't assume that Meta ad CPMs will go up this holiday season…
CPMCPM measures the cost per 1,000 impressions. It's a good metric to evaluate competition level and costs to reach your audience. More, or Cost Per 1,000 ImpressionsImpressions are the number of times your ads were displayed to your target audience. Impressions aren't counted if it is detected they came from bots. More, is directly connected to advertising costs. A primary factor driving CPM during the holidays is competition. If more advertisers spend more money in the auctionFacebook uses an ad auction to determine the best ad to show to a person at a given point in time. The winner of the auction is the ad with the highest total value, based on bid, estimated action rates, and ad quality. More, the cost to reachReach measures the number of Accounts Center Accounts (formerly users) that saw your ads at least once. You can have one account reached with multiple impressions. More people should increase.
If CPM increases, your ads need to be more effective to remain profitable. Increased holiday CPM was once automatic, but it's no longer the case.
Meta doesn't officially report CPM in quarterly earnings, but they do reveal price per ad. And price per ad decreased year over year in the third quarter by 6%.

This is a trend. Price per ad was down 16% in Q2, 17% in Q1, and 22% last Q4.
This isn't due to a drop in competition. Total ad revenue increased each quarter in 2023.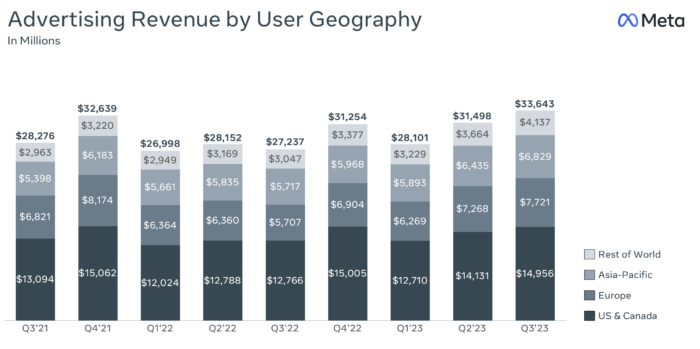 Ad costs didn't go up because of an increase in impressions by 31% in Q3, 34% in Q2, 26% in Q1, and 23% last Q4.
Why? More users and engagement, largely due to Reels.
So, expect competition to increase during the holidays, but don't assume an increase in CPMs. And this goes against what we normally expect.
What are you seeing?