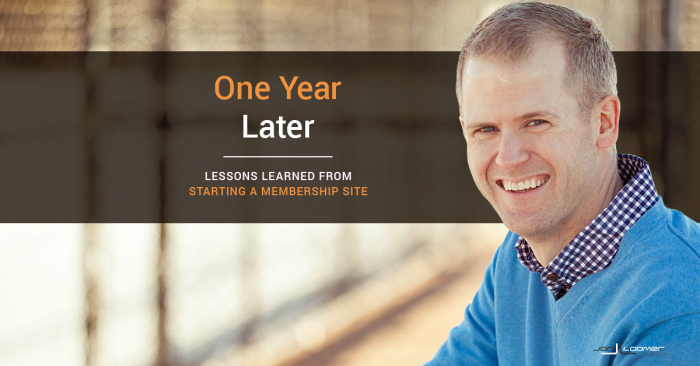 A year ago today, I was making my final plans to announce my new membership: The Power Hitters Club.
This was new territory for me. Up until this point, monetizing progressed as follows:
AdSense on the site
Website sponsors
Facebook page review services
Training courses
Training courses were by far my biggest money maker at that point, but they also presented challenges. The content took many hours to create, only to be quickly outdated.
A membership would focus on real-time content. I offered a weekly webinar and eventually a weekly blog post. The community itself was also central to the value provided. Content would not be outdated, so maintenance was minimal.
While I launched it as little more than an experiment a year ago, membership is now the primary focus of my business. Here are several lessons I've learned during the past year…
[Tweet "Here are 13 lessons learned during a full year of running a membership site…"]
1. Control Where It's Hosted
When I launched the Power Hitters Club, I was admittedly unsure where to host it. I was still getting to know Infusionsoft, and I was using their Customer Hub product to host my courses. So it was natural to also host the members content there, too.
In hindsight, this was a mistake. In fact, it was a mistake to host my courses on Customer Hub as well. I've never liked the product, and I hate not having full creative control. I also hate not getting the actual traffic — and we know that's important!
So beginning this year, I started using a membership plugin called Paid Memberships Pro. It's not perfect, but it allows me to create membership content the same way I do content on my site. I decided to create a separate members site that I control.
I now know how much traffic I get. I now can create Website Custom AudiencesA website custom audience matches people who visit your website with people on Facebook. You can then create ads to show to that audience. More based on where my members go. And I can now create content with ease for my members site.
2. Simplify the Software
Over time, the software used for my membership has gotten increasingly complicated.
Paid Memberships Pro: Host members-only content
Click Funnels: Host non-members workshops
GoToWebinar: Host weekly webinars and workshops
Infusionsoft: Tagging of users based on membership
Zapier: Webinar registration automation for PHC and workshops
Stripe: Payment gateway
This creates a lot of moving parts, and a lot of opportunities for bugs and mistakes.
We're in the process of creating a single plugin to aggregate much of this activity to streamline this.
3. Don't Offer Free or $1 Trials
When I first announced the Power Hitters Club, my email list was probably somewhere around 25-30,000 people (it's over 75,000 now). While a decent size, I lacked the confidence that I'd be able to quickly create an active community.
And that was a major concern because if I launched a community and only five people showed up, it wouldn't be a community at all! So I launched it with a $1 trial.
This was a big mistake. While I certainly received a massive influx of members, many weren't quality members. Many had no intention to renew. And some even spammed the group.
I've often been asked if there's a free trial option for those who aren't sure, and my answer is a very clear "no" now. It's just not worth it.
Your price attracts a certain type of member. If you offer $1 trials, you will attract $1 members.
Granted, things cleared up after a month, but damage was done that first month. It gave the wrong impression to those who actually wanted to be in the group since the $1 members were diluting the quality of the community.
4. Choose One: Quality or Quantity
That leads us here…
I know the argument is that we want both quantity and quality, but I don't know that this is necessarily true. This is a balance. You can actually have too many members, lowering the quality of the group.
After some research, I settled on a $97 monthly membership price point. I didn't want to be too cheap. I didn't want to attract advertisers who spent very little every month. I wanted to attract "advanced" advertisers who invested thousands per month in their advertising.
A $97 monthly membership for someone who spends thousands per month on ads is nothing. These people get their money back instantly with the content they consume in the group.
I'm often asked if I have special prices for small businesses, non-profits or students. My answer is that if the $97 monthly price is a problem, this group is not right for them.
It may sound cruel, but it's true. This is for advanced marketers already invested in their advertising. If you are spending very little or close to nothing on ads and you think that $97 is too much, it will likely be a waste of money for you.
I'm eventually going to run into a bit of a challenge. We're trending towards having approximately 1,000 members by the end of the year. Is that too many? Will it be too noisy? Will I need to create a special community for some?
Nothing has been decided here yet, but plenty to consider.
5. Make the Community Accessible
When the Power Hitters Club was launched, I included a Facebook group community. It was easy to set it up that way, and even natural since I knew that my members would regularly be on Facebook.
But just as I wanted control of where the content was hosted, I quickly started wondering whether it made sense to control where the community was hosted as well. I could significantly increase the traffic and time on site on my domain with this simple move.
I polled my members, and they overwhelmingly wanted to keep the community on Facebook. And really, it just made sense.
As much as I want my members on my website, they will spend much of their day on Facebook. Such a group would be more accessible. Had I moved the community to my domain, it undoubtedly would have resulted in a drop in participation — and ultimately membership.
I guess you could say that this isn't true for all memberships, but I'd counter that no matter what your community, your members are most likely to spend time on Facebook. And since many are already members of Facebook groups, the learning curve will be minimal.
While it may make sense if you have a huge community or your platform is already very social to host this on your site, the bottom line is that your focus shouldn't be on selfish reasons. Make sure that it's right for your members.
6. Get Feedback from Members
Your members are a treasure trove of information. Use them!
Instead of guessing about whether a change makes sense, ask them what they want. That is how I kept the community within Facebook, but it's just one of many examples.
I also poll my community for ideas on products and content. These people are the most engaged, most loyal and most willing to help!
7. Be Prepared for Payment Failures
I was not prepared for this. I had no idea what a headache payment failures would be.
This can happen for any number of reasons. Their credit card may have expired. They may have gone over their spending limit. Or their card was suspended.
You can have automated processes in place, emailing members who have had credit card failures and removing members who don't respond. But I've found this to be largely ineffective.
I dedicate one person to stay on top of payment failures to make sure that they get the problem corrected. This can otherwise be a major drain on membership.
8. Manage Member Accounts With a Spreadsheet
Do this from the start. Trust me.
When someone registers for the Power Hitters Club, the following process occurs:
They are tagged in Infusionsoft
They are emailed an invitation to join the Facebook group
They are granted access to content on the membership site
They are registered to the weekly webinar
They request access to and are accepted into the Facebook group
That may seem simple, but what happens when someone cancels?
What email address was used to register for the webinars? They need to be removed.
What name was used to join the Facebook group? They need to be removed.
Do they still have access to the membership site? They need to be removed.
Do they still have Infusionsoft tags indicating they are a member and will be emailed as such? Those need to be removed.
Without a spreadsheet keeping track of these things (and more, including membership level, renewal date and credit card expiration), you're going to end up with chaos.
9. Perform a Regular Audit
That leads us here. I experienced that moment of chaos, and I learned from it.
For the first six months or so, I simply assumed everything was running smoothly with the membership site. People who registered were granted proper access. People who canceled were removed. People whose cards failed also were removed.
But after stumbling on a couple of accounts where this was not the case, I dug a little deeper. And then deeper.
Hours upon hours later, I had uncovered some major problems. There were approximately 50 users who were getting membership while no longer paying.
This was the start of not only moving to a membership site that I controlled but building the members account spreadsheet. It was a major hassle, but one that taught valuable lessons.
We now audit every couple of months — in addition to our daily management of the spreadsheet — to be sure that those who are supposed to have access do and those who aren't supposed to have access don't.
10. Feed Them Value
In the beginning, membership provided the following:
Weekly 30-minute webinars
Access to the Facebook group
Members-only discounts on products
Since then, I have shifted away from training courses, so the discounts are now different. They are for my workshops and they are actually much more substantial.
I've also added on a weekly blog post, only for members. With these posts, I'll dig a little deeper or share something that may be relevant only to a small group.
The important thing is providing enough value to make membership worthwhile.
11. Provide a Warm Welcome
Upon becoming a member, you will receive a welcome email letting you know what's next.
You'll also receive a welcome from the Facebook group's community manager, inviting you to share more about yourself.
And I am in the process of creating a personal welcome email and video that I'll send to each new member.
12. Recognize Long Time Members
Recognizing long time members is important to show appreciation and to reinforce a personal connection. And it can also be important to help retain annual members.
As we hit the one-year anniversary, I want to acknowledge and appreciate my long-time members. So I have created a personal video and email thanking them, asking for any feedback on how we can improve the group.
As the group grows, it's easy to step back and let the community run on its own. But I can't forget that this is my community, and adding a personal touch is important.
13. Minimize Cancellations
We want to minimize cancellations and maximize retention. How do we do that?
One approach is applying the two things mentioned above to provide a personal touch. We can't just step away and assume they are going to figure out the community and enjoy themselves. We need to welcome and appreciate them.
Follow-up is also important. We're currently working in a process where we'll follow up with members three weeks after joining. This way we can make sure they are participating in everything that gives the group value, and answer any questions they have prior to their first renewal.
We are also applying something more technical (but simple) that should help us prevent cancelations going forward. Previously, it was very easy — too easy — to cancel. Just click a link and you're out of the group.
Now we have a cancellation form. You submit that you want to cancel and why, and it goes to a team member. That team member than works with the canceling member to learn more about why they want to cancel and see if there's anything we can do to prevent it.
Join Me in the PHC!
To celebrate the one year anniversary of the Power Hitters Club, I am offering membership at the same monthly price that it was offered at a year ago: $77 (which is $20 off). Go here to sign up and use promo code PHC2015 to get your discount!
Your Turn
Do you have a private membership, or have you thought about starting one? What would you add to this list?
Let me know in the comments below!