After several weeks of work, I am excited to finally launch the redesign of JonLoomer.com. I'd consider it about 60% complete, but I've decided that websites are always a work in progress and never 100% complete. I really like the new design as a starting point, and you'll be seeing additional minor tweaks in the future.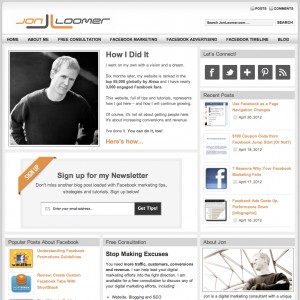 I wanted to write this post to explain the changes I made because I think it may help you as you consider building a website or redesigning your current site. It wasn't only a matter of colors and branding and format. There are some major structural changes here, and there are business reasons for that.
So let's go through each change, highlighting the problems and what was done to solve them.
Hosting
Problem: The old site was sloooooooow. Alexa reports that 85% of sites are faster than mine. That's not good. Part of this may have been the theme, but I know a big chunk of it was the hosting. Previously on BlueHost, I also found that my site was down for at least a few minutes every day. Very aggravating. This can be bad not only for user experience but for SEO. A change was necessary.
The Solution: This website is now hosted on an Amazon Cloud Server. I've noticed an improvement immediately when it comes to speed. While it's too early to make any statements about downtime, there have been no issues in that area so far. Overall, the speed alone makes this feel like a new site.
If you're interested in moving your site to an Amazon Cloud Server, fill out the form below for more information. Secure firewalled servers, regular security and maintenance updates starting at $25/month.
[gravityform id="19″ name="Hosting Request" title="false" description="false"]
Theme

Problem: My prior theme was a good fit for my site at first. But I outgrew it. I also experienced some security issues and slowness that may have been theme-related. As time went on, I became increasingly dissatisfied with navigation and performance. I needed a theme that had a good reputation and was well-coded. That theme needed to be secure, fast and optimized for SEO.

Solution: I spent some time investigating this and the solution was really a no brainer. I went with the Genesis Framework. There is a long list of reasons why I went with Genesis, but here are the big ones:
Reputation: Genesis is used by ProBlogger, CopyBlogger, Chris Brogan and many others. If it's good enough for them, it's good enough for me.
Speed: Genesis in general has a reputation for speed, but I also went with the Sleek child theme for a focus on efficiency.
SEO: Genesis is built on clean code, which is always good for search engines. There is also a built-in SEO engine so I do not need to add plugins that will slow the site down.
Flexibility: The framework itself is flexible, but there are also dozens of child themes to pick from as a head start to fit any need. I loved the home page design of Sleek since my site is focused on content.
Extensions: There are a ton of Genesis-specific plugins that have been created to further extend the potential of the theme. I use quite a few across the site.
Expertise: While I can get some help from the StudioPress forums, I've found the greatest help is Brian Gardner's blog. He provides tips on how to extend Genesis, and I used his information to create my newsletter and Genesis boxes at the bottom of each post.
There are plenty more, but these are the main ones. Through my research, I repeatedly read lists indicating that Genesis is the best WordPress theme. I'm drinking the Kool-Aid.
Design, Consistency, Formatting

Problem: My old site was dealing with the types of problems you experience when you constantly tweak a site without having a strong vision from the start. Nothing really matched. I added a new logo that didn't match the old color scheme. I had various shades of orange across the site. There was no strong use of color palette and I wasn't thrilled with the readability of my font.

Solution: Keeping it simple. I applied the orange and gray from my new logo across the site. There are some lighter shades of gray and black, but that's it. The new site has a much more consistent look and feel. I've also increased the font size of blog post content to make it more readable. I was inspired by the font used by the Likeable and Amy Porterfield websites.
Focus and Purpose

Problem: When you visited my site before, it was never all that clear what my purpose was. Or what you thought my purpose was may not have been consistent with my actual purpose. This isn't all that surprising since the site evolved quickly over six months or so, which means my purpose was constantly changing as well.

Solution: I am a consultant. I need it to be clear on the homepage that this is what I am. So the new homepage is focused on what I've done and can do for you first and makes content second. Before, my focus was largely on content. I refreshed my About page and also removed unnecessary items from the navigation. Every page should now drive people to perform an action consistent with the site's purpose. That leads to…
Conversions

Problem: My site gets very healthy traffic, but I simply wasn't doing anything with it. I wasn't getting nearly enough consulting leads and newsletter subscriptions.

Solution: This was entirely my fault. I assumed that once people read my content that they would then go contact me for help if they needed it. Instead, I needed to do a much better job of using a call to actionA call-to-action is a button or link on your ad that suggests the action you want your audience to take. Examples: "Learn More" or "Sign Up." More within or at the bottom of every post.

With the help of Brian Massey, the Conversion Scientist, I have placed greater emphasis on driving actions with each piece of content. In addition to the clear purpose of my home page and frequent newsletter signup and contact forms, I am in the process of creating landing pages for specific services and topics to drive additional subscriptions, contacts and conversions. This is a big chunk of what will soon be coming.
Bounce Rate

Problem: There are various opinions on what is and isn't a good bounce rate and how much it matters, but mine was about 75%. This could mean that people were finding what they needed quickly and didn't need to click further. But it also meant that many of my readers were one-time users.

Solution: Part of this was addressed in my conversion issue above. I wanted to lead them to something, whether it be clicking a new blog post, contacting me or subscribing to my content. I didn't want one-time visitors, but long-term relationships. If I did everything properly in the solutions above, bounce rate should have been addressed naturally.

It's really way too early to tell here, but so far the difference is night and day. My site was switched over midway through yesterday and bounce rate dropped to 54% overall. That also considers that many boxes (including ones I was hitting) did not update until today. Through noon today, bounce rate is only 10%. That's ridiculously low and potentially awesome. I assume much of that is people checking out the new site for the first time, but it's certainly a good sign.
What Do You Think?

Many of my changes are based on your feedback. So what do you think? Is this an improvement?

If you're interested in building or redesigning your own website, go here to buy the Genesis Framework. If you'd rather I build the site for you, simply fill out the form below.

[gravityform id="18″ name="Free Consultation" title="false" description="false"]

Thanks!