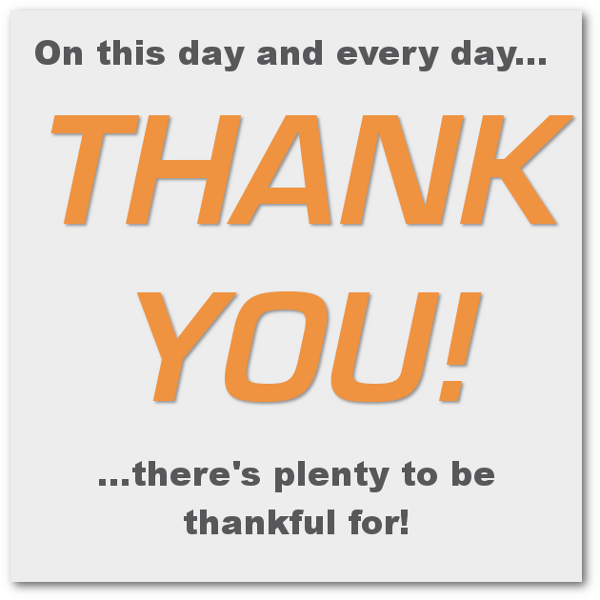 Thanksgiving is always the perfect time to reflect on a year that's gone by and show appreciation for the help, breaks and good fortune along the way. I didn't write a "Thanksgiving post" last year. Maybe it was because I was still somewhat fresh off of a layoff and frantically figuring out what it was that I was doing.

One more year has gone by, and I appreciate that our family is still happy and healthy. We'll never take health for granted again since the Thanksgiving of 2003 when our oldest son was weeks removed from surgery to carefully extract a cancerous tumor from his chest. Squeeze your little ones tightly, not only on this day but every day.

It's an exciting time right now, and the imperfections of it all help keep me motivated. Nothing comes easily, which is what keeps me focused and determined. Running my own business is still completely new and exciting, which also means that we're living a bit more frugally than we had in the past.

But let's not get crazy. We still have our home, which is more than can be said for many people post-Sandy and elsewhere. It's a challenge, but we're still plenty damn lucky.


I'm grateful that my wife continues to support this crazy dream, even though it often means an unshaven spouse still in his pajama pants in front of a computer at dinner time.

I appreciate being able to spend so many minutes and hours of the day watching my kids grow. There is simply nothing more enjoyable than coaching and sharing a passion for sports with my boys. One of the reasons I never did get that job was that I knew I couldn't give up being so close to home.

I'm also thankful for the many people and things that helped guide me on this journey during the past year. Feel free to use this list as a starting point of expert tools and resources to drive your business.
My Business Friends
Momentarily after my layoff in August of 2011, John Haydon gave me a call and convinced me that I could go out on my own. Well, maybe he didn't convince me, but that discussion made it a possibility. You believed in me when my confidence was at its lowest.
Soon after, Jay Scott of Alex's Lemonade Stand Foundation gave me my first shot as a consultant. He saw an opportunity in my misfortune, and I appreciate that he took a chance with me. Alex's Lemonade is like family to us, and I was honored to provide any help I could.
Several others showed their support in the early days when I needed it most, and I apologize to those whom I will momentarily and neglectfully forget. But Mike Sansone, Justine Tan and Michael Wilson all saw something in me that I didn't see myself. You gave me the confidence to keep going.
John Robinson has served as part business coach and part shrink, sorting through my mental obstacles and helping me stay focused. You're more than the source of my tagline ("Social Media That Makes a Difference"); your words serve as inspiration in nearly everything I do.
I was inspired by the work of Danny Brown and Marcus Sheridan. You showed me what it means to not only be a writer, but a blogger. The difference being, of course, that you take the time to mingle with your readers and make them feel special and appreciated. You never left a comment of mine unanswered, no matter how incredibly busy you were. I learned more from you than you'll ever know.
Thanks to Jim Belosic of ShortStack for making my first affiliate relationship a painless and profitable one. You're the down-to-earth CEO that I want to be one day. It should be no surprise that you're also my site's first sponsor. A perfect match!
There was a clear and obvious turning point this year when I went from "blogger" to "entrepreneur." Mari Smith and Amy Porterfield were a big part of that. You were willing to support and promote this little known blogger when no one else was. You also have been gracious in answering my many questions and helping show the way.
Thanks to Andrea Vahl for your patience and willingness to experiment with a video interview, sharing your stories of trials, comedies and successes.
Thanks to Emeric Ernoult for taking a chance with an emerging blogger. You've quickly become one of my strongest allies in the industry.
You are all friends and mentors who have meant the world to me during the past year. I couldn't have done it without your example and your support. I am thankful for you!
My Favorite Tools

I'm also thankful for some inanimate objects that make my life easier.

ShortStack for making my tabs and contests look good.

AgoraPulse, PageLever and PostRocket for helping me wrap my brain around the stats. You help me look smarter than I actually am.

Thanks to the Genesis Framework for making me look like a web designer and AWeber for simplifying my email marketing.

Thanks to TweetDeck, the Hootlet, Buffer and Timely (RIP) for making my social media management… well, manageable.
Other Great Resources
While I may have an extensive history in social media marketing, I know that I'm infinitely more informed now than I was a year ago. A big reason for that is the content from people like Heidi Cohen, Jay Baer, Kim Castleberry, Hugh Briss, Robert Scoble, Mitch Joel, Jason Falls and many more.
It's because of helpful resources like Copyblogger and ProBlogger. I swear there is not a single post that comes from your sites that I do not read. I eat it up and appreciate you!
Finally, I don't know what I'd do without the insanely thorough work of the good people at Hubspot, Social Media Examiner, Mashable, TechCrunch, AllFacebook and InsideFacebook. You make research easy!
And YOU
And last, but certainly not least, I'm thankful for YOU!
Whether you are a friend or an acquaintance, a customer or a passer by. Whether you were here from the beginning or are reading my stuff for the first time today. I do not take you for granted. I appreciate every word you read, every comment you write and every article you share.
You've inflated my ego, kept me humble, put me in my place, educated me and helped me become a better writer and business person. I've gotten to know many of you by your names and some of you more personally.
I would not have the courage to grow this company and continue on this journey without your support and participation.
Thank you!
And with that, it's time to enjoy a day of turkey, stuffing, cranberry sauce, sleep, turkey leftovers, alcoholic beverages and more sleep. If you're outside of the US, enjoy your quieter internet for a day!