Don't like that you're only reaching the dreaded 16% of your Facebook fans with important posts? Now you can quickly and easily promote those posts to your fans directly from your Page with Promoted Posts.
What Are Promoted Posts?
To create a Promoted Post, your Page first needs to have at least 400 fans. Why 400 fans? Maybe it's motivation. But if the option isn't available to you, this is likely why.
Additionally, you can only promote posts that are less than three days old. This same restriction applies to posts as you promote them. For example, if you promote a post that is two days old, it is only eligible to be promoted for one day.
Unlike other Facebook advertising units that are created from the Ad Manager, Promoted Posts are created directly from your Page. You can even view stats on how your ad is performing directly from your Page, though some additional stats will always be available in the Ad Manager as well.
Another benefit of Promoted Posts is that they will appear in the News Feeds of fans, not in the sidebar like typical ad units. Your Promoted Posts will also be shown in the News Feeds of friends of the people who interact with your post, so your potential audience is not limited to fans only.
Your ad will appear just as any other post would, for the most part, but with one exception: A Sponsored label. Since the ad looks so much like a typical story and it now appears in News Feeds, you are much more likely to get interaction with the ad unit.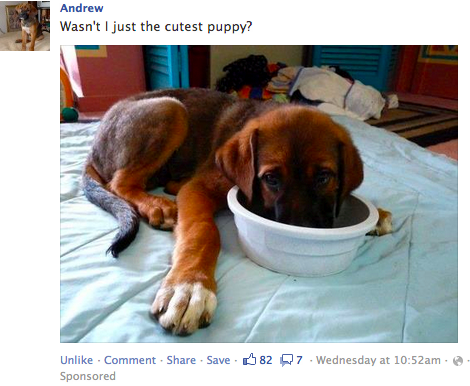 How to Promote a Post

You can choose to promote a post either while creating a new post or after a post has been created. Click on the "Promote" button at the bottom right of an individual post, and you'll be given various options of lifetime (not daily) budgets and the estimated reach of your ad.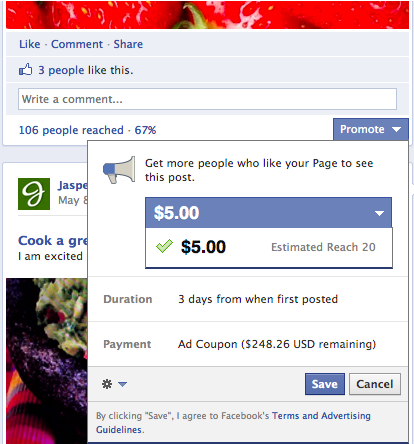 The options available will be determined by the size of your audience. Smaller Pages may have only $5 and $10 available while bigger ones will have many other options. Note that you will not be paying per click, action or thousand impressions, but based on estimated reach.
You can change your payment method by clicking on the gear icon. If you don't, you'll simply be billed the way you are typically billed for Facebook advertising.
Once created, your ad will need to be approved by Facebook (as always) before appearing.
Monitoring Performance

One of the nice things about Promoted Posts is that you can monitor performance directly from your Page. All posts, whether promoted or not, will now have stats that only you can see at the bottom of them indicating the number of people reached and the percentage of your total fan base.

If you hover over the number of people reached, you'll get a breakdownBreakdown is a way to get insights into your ad performance related to time, delivery, action, or dynamic creative element. More of how many were reached organically (fans who saw it from you), virally (people who saw it after friends created a story) or through paid advertising (your promoted post).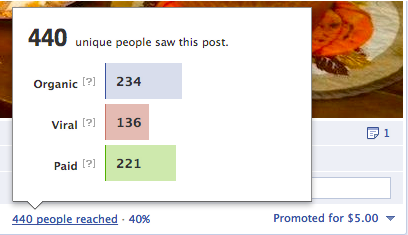 If you hover over the percentage of fans reached, you'll get a different visual breakdown of how many of your fans were reached, and how many were through paid advertising.
Of course, you can also view any statistics that you would typically see for your advertising in the Facebook Ad Manager.
What to Promote?

Though Facebook Promoted Posts are quite different from Sponsored Stories promoted to your fans, how you approach choosing what to promote remains largely the same. What you put in needs to be worth what you get out. So you shouldn't be promoting mundane status updates. You should be promoting something that you feel needs to be seen by your fans. The more people who see it and take a desired action, the more value.

So what should you promote? I'll get to that in another blog post, along with my experiments with the ad unit.
How About You?

Have you tried out Promoted Posts yet? What's been your experience? Share below!