[NOTE: This post continues a series exploring the topic of entrepreneurship. While my focus has and will continue to be on Facebook ads, I have plenty to share about what I've learned while building my business.]
I've learned countless lessons since my entrepreneurial journey began in 2011, but one of the most important is this: Monthly recurring revenue is the key to efficiency, stability and sanity.
Let's take a closer look at what monthly recurring revenue is and how it's impacted my business…
Monthly Recurring Revenue
The term may be self-explanatory, but I feel I should add some clarity…
The typical product is sold as a one-off transaction. You give a business $100, and they give you the product. The transaction is complete.
If your business utilizes monthly recurring revenue (MRR), the customer enjoys your product or services for as long as they continue to pay. The transaction continues into perpetuity — or until they decide they no longer want to pay.
Your utilities would be an example of this. You're going to keep paying that fee every month so that you continue to get water and electricity in your home.
This also includes some software and applications. You can use that software for as long as you make monthly payments. The customer will need to cancel in order to stop the transaction.
My Business and Monthly Recurring Revenue
As has been documented many times over on these pages, I had no clue what I was doing when my business (loosely defined as such) began in 2011.
I didn't collect a penny of revenue from August through October of that first year. I collected pennies, but not much more, for the next five months. I then launched my first product, and my business finally became something that would keep a roof over my family's head.
Revenue can be broken down into phases for my business:
Phase 1: Consultation fees only (Aug 2011 – Mar 2012)
Phase 2: Consultation fees, static virtual products and affiliate sales (Apr 2012 – Dec 2013)
Phase 3: Static virtual products and affiliate sales (Jan 2014 – Jun 2014)
Phase 4: Static virtual products and memberships (Jul 2014 – Dec 2015)
Phase 5: Real-time virtual products and memberships (Jan 2016 – Present)
During the first two phases, I was focused on finding clients. I also kept my business afloat with affiliate revenue.
Once the third phase began, I decided to begin focusing entirely on my own business — choosing to no longer take on clients.
In the fourth phase, I cut out affiliate sales and started the Power Hitters Club, my first membership.
Now, in my current phase, I've become even more efficient. Instead of creating static training courses that become outdated and obsolete, I create real-time training programs that are conducted via webinar. And I can conduct them on nearly a monthly basis, making only minor changes to the content as necessary.
This was a natural progression for me. I've always felt that the amount of effort necessary to manage clients was too great, while it took me away from building my own brand. It was inefficient.
But selling virtual products also involved inefficiencies. It wasn't until I started offering memberships that my business found true stability.
MRR and Memberships
My memberships have evolved since launching in 2014, but I offer two options today…
Power Hitters Club – Elite ($97/month or $873 annually)
Private Facebook group community for PHC – Elite members only
Weekly, live, 30-minute webinars for PHC – Elite members only
Access to all weekly webinar replays with links, video and audio
Access to all recorded workshops and 4-week training program replays ($297+ value each)
Exclusive access to me
Power Hitters Club – Basic ($29/month)
Private Facebook group community for PHC – Basic members only
Video recordings of weekly webinars given to PHC – Elite members
I started with PHC – Elite for the first two years, and then I launched PHC – Basic to satisfy those looking for a lower-priced alternative.
Today, I have about 1,000 total members.
MRR and Impact on Revenue
Here's a chart showing average monthly revenue growth over six-month periods since my business began (the first and final periods being incomplete).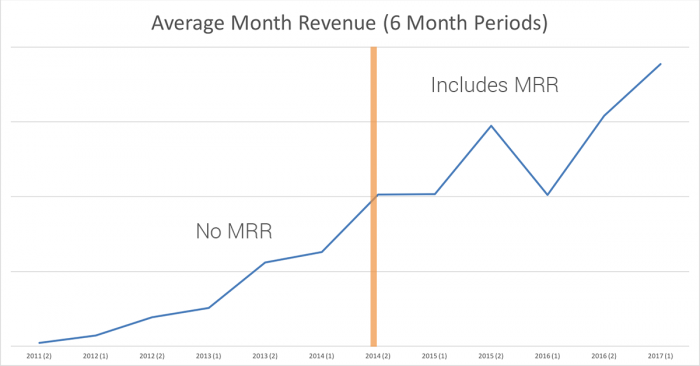 My business was profitable by the end of 2012. In this case, I define profitable as bringing in about the same income I did while working for the man.
Monthly revenue continued to grow for the next couple of years. I launched the Power Hitters Club (my monthly membership) near the end of June in 2014. Average monthly revenue has never dropped below that point since, and I've been having a record breaking 2017.
Thanks to my membership, I had a foundation of predictable revenue every month. I would bring in new members and some members would cancel. But from that point forward, I could assign reasonable expectations for monthly revenue, regardless of effort.
MRR and Impact on Effort
And effort was the key change here.
Looking at my chart, you could argue that MRR didn't necessarily improve my revenue. It was already trending upward when I made the change. And in fact, revenue growth slowed through the first half of 2016.
But if you look only at revenue, you are neglecting primary goals of this business: I want to spend more time with my family.
That is precisely what happened. The first half of 2016 was a drop from the second half of 2015. It was about even with the first half of 2014. But the difference was huge: baseball.
I started a travel baseball team for my middle son. It was like starting a new business. I spent an insane amount of time — and still do — as a baseball coach.
Prior to the launch of my membership product, I needed to churn out a new product every three to six months. It's the only way I could keep revenue coming in.
The reason is simple: Previously, my products were static. A training course consisted of modules of recorded videos and articles. These training courses would quickly become outdated and obsolete as Facebook made changes to their own product. So I'd need to either make updates to the current product or churn out a new one.
I churned out new products because that was the better revenue model. I wasn't going to sell a $150 product that I'd update forever. You'd buy it as is, and eventually I'd need to create a new product.
So that meant lots of effort. Late nights. Weekends. All of the stuff that I hate. All of the stuff that kept me locked away and off of the baseball field with my kids.
So beginning in 2016, everything I sell is either a membership (monthly recurring revenue) or a real-time training. No more polishing videos and articles. No more outdated and obsolete products.
As a result, revenue may have been flat to start 2016, but I was infinitely more productive than the previous year.
MRR and Impact on Promotion
There was another problem with my prior model of having to regularly churn out a new product: I had to regularly run promotions for the latest product.
Fatigue…
The static training course product would get a high volume of sales at launch. But after that, the only way to maintain revenue levels from month-to-month was to offer discounts or create a new product.
Under my current model, there's far less push. I come out with a new product on occasion, but I no longer offer discounts. I don't need to offer discounts. I know that I have monthly recurring revenue to rely on.
Today, membership and MRR make the foundation of my income. Any real-time training sold is a cherry on top. So there's no longer the internal pressure to find a way to sell more this month.
There's less promotional fatigue for me, but there's also less promotional fatigue for my audienceThis is the group of people who can potentially see your ads. You help influence this by adjusting age, gender, location, detailed targeting (interests and behaviors), custom audiences, and more. More. I can start to sell the way that makes me most comfortable again — soft sell. I'll tell you about my 4-week training program. If you click the link, you fall into the funnel where I send you reminders. If you don't click, no fatigue.
MRR and Impact on Lifestyle
It's huge. MRR has changed my life.
We all dream of being more efficient. We yearn to do only the things we really want to do. We cherish our evenings, weekends and holidays. I still work hard, but not absurdly so. I don't regret what I do while neglecting my family and personal priorities.
Ultimately, MRR isn't about how much money it's made me. There are plenty of ways I could have made a bunch of money — even much more. But that's never been my goal.
It's about allowing me to enjoy the freedom that comes along with it when executed properly.
MRR and Your Business
You may be stuck in that same hamster wheel that I was in a few years ago, constantly churning out a new product to keep revenue coming in. Consider an MRR model.
What membership could you create? What is the community you could serve? Why would it be valuable? How much would members be willing to pay?
Or maybe you could apply monthly recurring revenue instead to software or a mobile application. Or maybe even a service. What would it look like?
Your Turn
I'd love to hear your experiences with monthly recurring revenue.
Let me know in the comments below!