This interview with AgoraPulse CEO Emeric Ernoult is the fifth in an ongoing series. I will continue to search for the Holy Grail of Facebook business success by tapping into where the industry's elite have been, what makes them tick and how they got to where they are today.
Emeric Ernoult is the CEO and founder of AgoraPulse, an awesome tool that I both use and love (it's one of my favorite things!). AgoraPulse helps Facebook Page admins optimize their Facebook presence, engage their fans, qualify them and measure ROI. I wrote this review of this powerful, yet affordable, tool.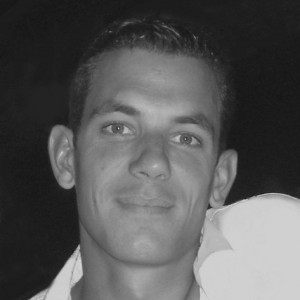 During the past few months, I've gotten to know Emeric pretty well and consider him a friend. He's an extremely bright and thoughtful guy, and we've had numerous Skypes about Facebook reach, stats and what they mean. He's one of the good guys, but he's also a true visionary who is making a significant mark on Facebook marketing.
As such, I was looking forward to this review. Make sure you check out AgoraPulse, and stay tuned for a promotion we'll be partnering on soon!
---
Jon: You are an ex-business lawyer, which includes time working for the French Embassy in Washington, DC. Compared to what you're doing now, this would seem to be a prior life. What led you from law to entrepreneur?

Emeric: Being independent, leading my own life, not having a boss (or parents/teachers/supervisors) telling me what to do has always been my thing. ;-)
Being a lawyer was a good way to be independent (well at least more independent than a regular employee in a company), but I guess it was not enough for me…
I was doing pretty well as a lawyer (and making good money), but at 29, I realized that I would have to work like a dog for the rest of my life. If I had to live that life, it should be to build something valuable.
The problem with being a lawyer is that no matter how hard you work, you're still selling your hours and are not building any asset. That does not scale and does not build value (I mean the kind of value you can sell, that can produce revenue and that you can give to your children).
So, I decided to start something else and try to create assets instead of billable hours!
Finally, being a lawyer was very interesting, but I lacked the passion; now I am passionate about what I do. That makes a difference.
Jon: What is it about social media generally and Facebook specifically that drew you to this industry?
Emeric: This was totally random. As a lawyer, I did not know anything special about business. I needed to find partners who had "real" jobs but were not good at business and help them turn their talent into revenue.
My partner had talent in building web technologies. We brainstormed what we wanted to build, decided it was a community website and we built it. It was a failure but it got us started.
And going from there, we kept building expertise in the web communities business so Facebook became a no brainer in 2009. Pure pragmatism.
I am very happy about that "non-choice" because the one thing I've always wanted (a big market and a business model that can scale globally) is there with Facebook.
Jon: Do you recall your first exposure to Facebook as a user? What did you think then?
Emeric: It was only for US students when I first heard about it in 2005, so I could not register! When I finally did sign up a couple of years later, I did not really get why people were so excited. ;-)
To be honest, I've always been very bad at predicting what was the next big thing in terms of websites or technology. I did not get blogging or tweeting. I don't even get Pinterest today!
The only thing I get is if there is a market for something and how to build what that market needs. As long as the market is not there, I can hardly understand what it's worth.
So no, I'm not a visionary! Plus, I think being (or willing to be) a visionary is a risky job with very few chances of being right.
Jon: What was your first Facebook business project?
Emeric: A driving test for the FIA (the Fédération Internationale de l'Automobile, the organization behind Formula 1 and WRC). It was a fun project but the money was not great. So I knew right from the first project that building bespoke apps was not an easy business. And probably not a profitable one for most people.
Jon: You describe yourself as a "Serial Entrepreneur." What is it about starting businesses that motivates you? What are some of the businesses that you've gotten off the ground?
Emeric: I've started three web businesses, a medical device business and a real estate business. Each time I was the manager of the business, but I only had an actual role in building the products for the web ventures.
What inspires me is starting out from nothing and getting a team together, business processes in place, the first clients and put a business on track. This is highly stressful but so exciting! And you learn so much each time.
I love the feeling of creating something.
Jon: You started AgoraPulse, which is a terrific tool that I use and love. Tell me about the inspiration behind it.
Emeric: That is pretty simple.
We started building bespoke Facebook apps for brands n 2009 and realized that the margins were too small. At that time, Wildfire was starting. We emailed them to use their apps to save money by not redoing all our apps from scratch. When they got back to us, we discovered that their white label apps were priced at $5,000.
That was way too expensive so we decided to do our own self service apps! We ended up offering the same apps for $99, which was much more affordable…
So the inspiration was simple: people (like us) needed Facebook apps but most of them did not have $5,000 for a single campaign. So we had to build something more affordable so more people could build Facebook campaignsThe campaign is the foundation of your Facebook ad. This is where you'll set an advertising objective, which defines what you want your ad to achieve. More!
Then, we also realized that campaigns were great but not enough, so we've built everything else (statistics, wall management, fan management, etc.).
Finally, we also had the feeling that brands would need to learn more about who their fans were, so we built everything from the ground up so it would be a real CRM product with a lot of qualifying information about the fans.
To my knowledge, we were the first self-service tool providing real CRM features for Facebook.
Jon: It's a competitive market. What separates AgoraPulse from other similar products? What makes it unique?
Emeric: The first thing that makes us unique is the CRM feature. No other technology gives you that much information about your fans.
The second thing is that we provide everything a Facebook Community Manager needs under one roof. From applications to statistics, timeline management, publishing, competitive analysis or fan management and qualification.
With most of the competing products, you'll only have one of these (only the apps, only the statistics or only the timeline management, for example).
Last but not least, we do all that for a very affordable price. Where competing products will charge several thousand dollars a month, we'll start at $99 for everything included.
Jon: What do you have planned for AgoraPulse? What's in the future?
Emeric: First step: mobile! We'll have all of our apps optimized for mobile in early December.
Next, build more apps. Hopefully one new app per month.
Then, we'll add Twitter and LinkedIn to the system to enhance the CRM capabilities and offer even more stuff under the same roof.
Jon: What is your opinion on the uproar during the past couple of months around reach? What are you seeing with your customers?
Emeric: For some of our customers, the reach has remained pretty good. Those are the ones who already had good content.
For some others, there has been a decline. But they were not the best at creating good posts.
Like Google, Facebook will continue to change the rules of its algorithm to ensure that the content delivered in the News Feed will please the users. This is their role!
When Google upgraded its algorithm to Panda and killed hundreds of businesses overnight, no one came whining in the media. In some ways, Google and Facebook have the same mission: deliver the content that people want to see.
It's as simple as that.
Now, there is also sometimes a "maturity" issue. Not so long ago, I heard a Facebook Page admin complaining about the fact that not all her fans were seeing her posts. It is like expecting that all the recipients of your marketing emails are going to open and read them. Sounds a little naïve to say the least, but that is an illustration that education is still necessary.
Overall, I still think that content visibility through EdgeRank is much better than in emails (open rate and CTR).
Jon: Any predictions for where Facebook is heading during the next six months or year? This would seem to be a critical time.
Emeric: Mobile, mobile, mobile.
For the next 6 months, that will be their obsession. Usage is switching to mobile and so is their business. They badly need to improve the mobile products as well as the mobile monetization. They've already started a lot of initiatives and they will get there.
---
Thanks, Emeric! Once again, make sure you check out AgoraPulse (there's a free trial), but you can also connect with him and the company here…