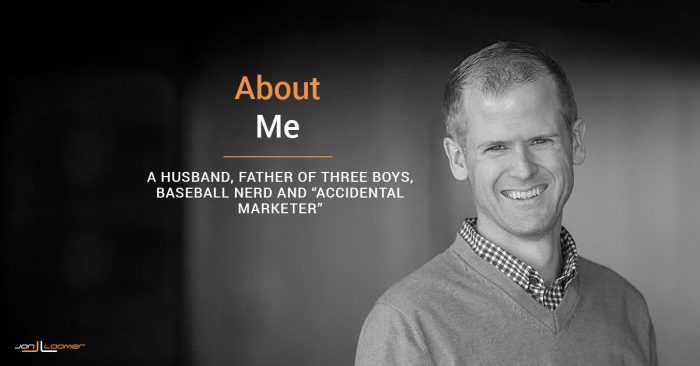 This is my opportunity to help you understand the person behind this business. I'm a husband and a father and a coach and a baseball stats nerd. I'm an "accidental marketer" who, having never started his own business, is now living the dream.
I am an open book. As a result, this "About Me" is a bit long! Let's go…
About Me Personally
I'm a husband and father to three boys in the Denver, Colorado area. While I would never say that marketing and business define me, my immediate family drives my goals and outlook on life.
This family-first perspective drew significant inspiration from the impact childhood cancer has had on us. At the age of 2 1/2, our oldest son Michael was diagnosed with Neuroblastoma, a rare form of childhood cancer.
Michael had a golfball-sized tumor lodged between his aorta and spine. The day we learned of his diagnosis was the scariest of our lives. I know that my wife and I will never forget it. Thankfully, Michael was so young he has very few memories of those days.
While Neuroblastoma often presents a challenging prognosis, we were lucky. Michael needed surgery to remove the tumor, but he did not require chemotherapy or radiation. Today, Michael is a very healthy teenager.
That experience resulted in a truly grateful Thanksgiving, and we were forever changed by it. Michael has the physical scars, and we as a family have a new perspective as a result.
Every summer, Michael hosts a lemonade stand to benefit Alex's Lemonade Stand Foundation and childhood cancer research (if you don't know about Alex's Lemonade Stand, get to know them!). Helping others going through that experience who may not be as lucky as we were will always be a priority.
Those who know me well realize I can be an emotional mess when talking about my kids, and this is likely one of the reasons why. I'm so proud of our boys, and I cherish every day with them.
I was born in Wisconsin, which explains my irrational love of the Brewers and Wisconsin sports teams. I grew up in a series of small towns in Wisconsin, Iowa, Wisconsin again, Michigan and back to Wisconsin.
I'm a younger brother and the son of two teachers, one a math professor. It's why bad grammar drives me crazy. It's why I'll be "that guy" who points out a misspelling on an ad. And it's why I'm more than a little obsessed with baseball statistics.
This love of baseball, its history and statistics is significant because the relationship isn't all that distant from marketing and advertising. I have an obsession with the numbers, strategies, looking at things in unique ways and understanding what the numbers do and don't tell us.
While my boys have never lived in Wisconsin, I've somehow managed to pass on my love of both baseball and the Brewers to them. And given the Brewers' less-than-stellar history, that is an accomplishment!
While I was never a star baseball player, I was at least good enough to play into college — at a small college, mind you. These days, I get endless enjoyment from watching my boys play and coaching their teams.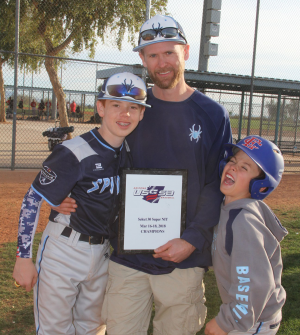 Coaching has been far more than just a passing hobby of mine. I've coached my boys' baseball teams for more than a dozen years now, and it's become my passion. In 2015, I started a travel team for my middle son, and now I'm coaching my youngest.
To start this team, I applied much of what I've learned as a marketer. Travel ball is competitive in the Denver area, so to start a successful team I'd need to get creative. I started a website and began doing what I do best: I wrote a lot!
The crazy thing is that the site for my son's team attracted more traffic in the first 30 days than JonLoomer.com has received in any 30-day period during its first decade. It allowed me to build our brand quickly.
In case you're wondering what one needs to study to prepare them for the path I've chosen, I was a Philosophy major at Cornell College, a small liberal arts school. I would say that path prepared me for nothing and everything at the same time.
I met my wonderful wife Lisa at college, and she's the glue that holds this family together. She is the CEO of Loomer Family, Inc. There is no chance any of the amazing things in my life would have happened without her support.
My Core Values
This is the most difficult section for me to write "About Me," but it's an important one.
First and foremost, I value my family. I value time with them. I value every waking moment seeing my boys grow up and enjoying life with them.
I value evenings and weekends. I value holidays. While some entrepreneurs boast of working around the clock, even when others do not, work is a small part of my life. It will not engulf me.
While I realize the importance of money, I do not obsess over it. I am motivated by building the life I desire with my family far more than any desire for money or fame.
I rarely travel. While I will do the occasional public speaking gig, a life of being constantly on the road is not desirable to me.
I value honesty and authenticity. I dread deception and manipulation. While I understand that selling comes with the job of marketing, it's never been something I am comfortable with.
It's why I consider myself an "accidental marketer." I enjoy the tools, numbers, analysis and strategy of marketing. But I don't necessarily enjoy the sales side.
My goal for my life and my business is to make a difference. Along the way, I hope to be successful enough to help my family live comfortably while making sure my boys still understand and appreciate different cultures and the value of hard work.
Professionally: Before This Business
As I mentioned earlier, I majored in Philosophy at Cornell College in Iowa. I can't tell you why I chose this, other than that decision wasn't made until my senior year. I was a pretty average college student majoring in English, but that major was because of my love for writing over reading literature.
When it came to Philosophy, though, I enjoyed both reading (usually) and writing about it. I enjoyed critical thinking, and the new worlds that these words could open up.
Upon graduation, you might imagine I didn't have a clear path. You would be correct.
I bartended for the first year. I then took the worst job I've ever had as a telemarketer. I truly value that experience because of the perspective it provided.
I was a horrible telemarketer. I hate telemarketers. I hang up on them. So if someone told me "no," I said, "No problem. Sorry for bothering you."
My life as a telemarketer was temporary, thankfully. My soon-to-be wife and I then got married and moved ourselves to the Denver area to start our lives.
Since I was now helping support two (and eventually more), it suddenly became a bit more urgent that I figure out my career and not just philosophize about it. I took what I could find upon getting married, starting in the insurance industry.
While my distaste for insurance will never compete with that of telemarketing, I knew this would not be a long-term solution. As a result, I pursued my passions in the meantime, not knowing where that would lead.
At the time, my passion was in fantasy sports. Again, this is not a surprise given my love of numbers, statistics and strategy. I started writing for fantasy sites and even started my own in the infancy of the online fantasy games industry.
In late 2005, I received an unexpected and amazing opportunity that would change our lives forever: I was hired to manage fantasy games for the National Basketball Association. Only a year after Michael's diagnosis, it required a move from Colorado to New Jersey, where I would work both out of Secaucus and Manhattan.
The job was as ridiculously amazing as you might imagine. I was put in charge of content, product, marketing and more of fantasy games for the NBA. My job included sitting around a table with developers and asking them, "You know what would be a cool game?" and creating it.
Even better was my brush with celebrity while there. I served as a writer during the Las Vegas All-Star Weekend, interviewing players and celebrities. I also managed the NBA Cares Celebrity Fantasy League, which allowed celebrities to compete against one another in a fantasy league.
For two years, I helped Samuel L. Jackson manage his fantasy team. I will never forget sitting on a phone call with him during our draft as he considered his picks and made fun of the selections made by George Lopez.
The NBA provided my first exposure to Facebook. In early 2007, we partnered with Facebook to create an app — before you could create your own. I was also one of the first admins of the official NBA Facebook group — before there were pages.
I instantly fell in love with the Facebook platform. I've been using it both personally and professionally ever since.
The job with the NBA was amazing, but I knew when I took it we couldn't stay there forever. New Jersey did not give us the lifestyle we wanted, so it was a three-season gig. We moved back to Colorado in the summer of 2008 so we could start our next phase.
My first job post-NBA had me working for a start-up fantasy games development company. That lasted for six months, ending with a layoff. After doing a little bit of consulting, I received an opportunity to again fuse my career with passion as VP of Strategic Marketing for the American Cancer Society.
This was a great experience, but nonprofits present their own challenges. And it probably wasn't a good time to hold a higher level experimental position in 2011, during tough economic times.
I was ultimately laid off for the second time in 2 1/2 years.
This would present a challenge. I didn't want to move my family again. I knew that I didn't want to travel much or commute, allowing me to spend more time with my family. And I had been spoiled post-insurance with great jobs.
The Evolution of My Business
I can't even tell you for sure when my business was born. I had never started a business before, and I didn't know how to start one.
But I launched JonLoomer.com 11 days following my layoff on August 29, 2011.
It wasn't a business. It wasn't intended to be one. I first created it as a way to showcase what I could do as either a consultant or employee.
I wrote about topics that interested me, mostly concerning social media — both personal and business. I didn't start focusing primarily on Facebook marketing topics until about six months following the launch of the site.
That was in February, upon the birth of "Timeline for Pages." It was at that point that the purpose of my website started crystalizing.
I wrote a lot in those early days. I wrote more than 300 blog posts in the first year. I made very little money (I didn't make a dime for the first four months), but we've already established I didn't know how to start a business.
Eventually, though, I realized it was time to monetize. I created my first product about a year after launching the website, offering a primitive "Facebook Page Review" service that was grossly underpriced. But as often happens, I lacked the confidence to charge more.
While that product didn't change my business overnight, it was a great experience. I learned from it.
I then soon created a One-on-One product, allowing people to set up 45-minute calls with me to discuss their Facebook strategy. Soon after, I launched my first online course.
During my first year, I learned from my successes and failures and by watching others. One day, I stumbled upon Social Media Examiner's "Top 10 Social Media Blogs of 2012," and I set a goal to make the next list.
Not only did I make the 2013 list, I made the lists for 2014 and 2015 as well.
During this time, my focus was on driving as much traffic as possible and converting that traffic to email lists and ultimately to my training courses. However, this would soon evolve.
Going into 2015, I was beginning to get overwhelmed. While the business had grown quickly, the demand to continuously create and update training courses was great. It seemed that three to six months after launching a new training course, it would become obsolete — or at least outdated.
Remembering my core values and desire to spend time with my family, I knew that I needed to change directions. While profitable, I ceased creating training courses, opting for a more real-time model.
The Power Hitters Club, my private community, was born in the spring of 2014, but it became the entire focus of my business beginning in 2015.
About Power Hitters Club
I envisioned the Power Hitters Club (no surprise that there's a baseball reference, right?) as a private community for advanced Facebook marketers. It would give members exclusive access to me as well as a valuable community of peers who can help one another and share the latest strategies.
The community launched as a group of 100 people. Then 200. After growing to more than 500 people, I decided to segment into groups of PHC – Elite, PHC – Basic, and PHC – Entrepreneurs.
Power Hitters Club – Elite members, as I write this, get access to the following:
Private Facebook group to learn and share strategies with their peers;
Weekly webinar, where I keep members updated on changes that impact them as advanced Facebook marketers;
Training programs — both live and replays;
Full library of Quick Video Tutorials; and
Virtual Happy Hours.
The PHC is a mixture of agencies, consultants, entrepreneurs and marketers. It includes highly advanced Facebook marketers and those who are experienced, having the passion to be advanced. Monthly advertising budgets range from hundreds to hundreds of thousands of dollars.
About One-on-One Sessions
For the first couple years of my business, I took on consulting gigs in addition to selling products on my website. Over time, I realized something: These clients take up quite a bit of my time that I would like to be spending on building my products and business.
It was simple, really. It makes more sense doing something that can help thousands as opposed to helping only one. Additionally, I contend that the client will always be more knowledgable and passionate about their brand or product than I will be.
That's why I find one-on-one sessions helpful. I won't take over the ads for you. But I can help give you the tools so that you can do it successfully.
These sessions occur virtually over GoToMeeting and last 45 minutes. We share video and screens so that I can see what you're doing and help walk you through processes.
As is the case with the Power Hitters Club, these one-on-one sessions are not for everyone. They are not meant for new advertisers. The 45 minutes provided is not enough time to introduce you to advertising on Facebook.
I find these sessions are most useful for those who are already experienced with Facebook ads, but simply need one or two takeaways that may make a big difference on results.
At this moment, I reserve two times on Thursday afternoons for one-on-ones. Upon booking your time, I will send you a confirmation that includes a link to a survey that will give me an understanding of your business and how you are using Facebook ads.
These sessions may be as valuable for me as they are for the clients as I often learn something new about problems advertisers are facing and strategies they are using. This also allows me insight into different industries without taking on clients.
Those who purchase one-on-ones walk away with valuable insights that they can apply immediately. The key, though, is that they are the right fit for these sessions and have the proper expectations about what we can accomplish in 45 minutes.
I Have Free Stuff, Too!
It's possible that you aren't ready for Power Hitters Club and aren't the right fit for my one-on-one sessions. That's fine, and I understand that these products may only apply to a small percentage of my audience.
This website can still help you. My free blog posts retain high value that may be perfect for you. I also publish lots of regular videos, and you can follow me on several different social platforms.
Public Speaking
As I mentioned earlier, the life of constantly being on the road does not appeal to me. However, I will accept the occasional public speaking gig, though the fit has to be just right.
The event needs to be right as well as the timing. It doesn't make much sense for me to be speaking to a beginner or even intermediate level marketing audience. To get the most out of it — from both sides — it's best that the audience is already advertising on Facebook.
While this is important for me, it's important for your event as well. If my message is over the audience's heads, it's a waste of their time. When I'm speaking to the right audience, it can be a bit magical!
Still Have Questions?
Thanks for taking the time to read this! If you have any other questions, click on the chat button at the bottom right.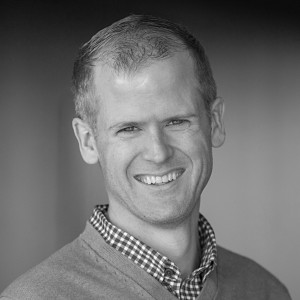 Thanks!
Jon