So, you know that Custom Audiences are great, but maybe your list is small and is quickly and easily exhausted. Or maybe you simply want to branch off of your customer list to find people very similar to those people. That's where Lookalike Audiences come into play!
Ready? Let's go!
What You Are Going to Learn Today
Today's lesson is Lookalike Audiences. We're going to focus on the following:
What Are Lookalike Audiences?
How to Create Lookalike Audiences
How to Use Lookalike Audiences
Lookalike Audience Use Cases
The Lesson
In order to do this, you must first create a Custom Audience. If you haven't done that yet, make sure to complete Lessons 4 and 5!
What Are Lookalike Audiences?
Lookalike Audiences are pretty much what they sound like: An audience that looks like another audience.
Facebook takes an audience your previously uploaded (your customer list) and finds users similar to them. Facebook isn't clear on how they do this, but we can assume it's based on geography, Pages liked, interests, age, gender, etc.
There are two types of Lookalike Audiences that you can create:
Based on Similarity: Top 1% of Similar Users
Based on Greater Reach: Top 5% of Similar users
Obviously, the first will be more precise (and smaller) while the second will give you a larger list.
How to Create Lookalike Audiences
Click on Audiences on the left hand side to view a list of your current Custom Audiences, Lookalike Audiences and Saved Audiences.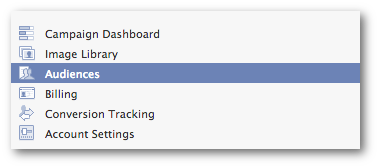 Highlight the Custom Audience that you want Facebook to mimic. Then click the "Create Similar Audience" button.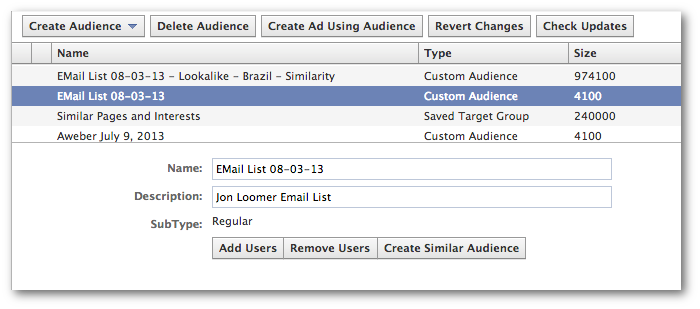 Note that you can't create a Lookalike Audience from a Saved Audience or another Lookalike Audience.
Next, the following message will appear…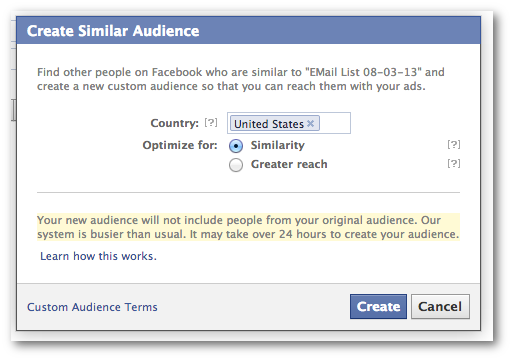 Choose one country where you'd like your audience to be located. Note that you can only create a Lookalike Audience using one country at a time, but you can create many different audiences — one for each country — if you choose.
Then determine whether Facebook should optimize for Similarity (top 1% of users similar to your list) or Greater Reach (top 5%). I'd recommend starting with Similarity. Especially if you have potential customers in multiple countries, you should be able to generate list that is more than big enough based only on the top 1%.
Lookalike Audiences can take up to 24 hours to generate, so you'll need to be patient. In the meantime, the status will appear as "Waiting" and the size will appear as "–". This is the same as when waiting on a Custom Audience.

While you're waiting, you can rename the list and add a description. As is the case with other audiences, campaigns and ads, make sure that the name and description are as detailed as possible so that you'll quickly know exactly what they are.
How to Use Lookalike Audiences
Once your Lookalike Audiences are ready, it's time to use them!
This is done in the exact same way that you use Custom Audiences, so this should be nothing new for you. Within the Advanced Options section of ad creation, simply enter the Lookalike Audiences you'd like to target or exclude.

As you can see in this example, I've created separate Lookalike Audiences for each of the main six countries that represent my customer base. If you do this, however, make sure that you are also targeting all six of those countries in the Audience section.

Lookalike Audience Use Cases
So, how might you use Lookalike Audiences? Here are a few ideas…
First, I'll create a Page Like Sponsored Story that targets those on these Lookalike Audience lists who are friends of Fans of my Page. I go out with very broad targeting to start and then optimize once I see what works best based on the ad reports (more on that in the BONUS section!).
I'll also target this group with standard Facebook ads for my Facebook Page, driving them to a Like-gated tab that offers something of value in exchange for a Like. Since I have some confidence that these people are similar to my current customers, I feel they may like an eBook or something else of relevance that I've created.
I'll also promote a post and use my Lookalike Audiences as a campaign variation. An example is inviting them to register for a webinar.
And finally, I'll often at least attempt to sell them my product or service. I'll be the first to say that success rate is not as high with non-Fans, but it is always worth trying with this Lookalike group.
Your Assignment
Action Items:
Create a Lookalike Audience for each of your main countries — both for Similarity and Greater Reach
Create a Page Like Sponsored Story that targets your Lookalike Audiences — one campaign for Similarity and one for Greater Reach
Need personal one-on-one help from Jon?
Set up a training session!