We've got an easy one today. But it's something you may not know exists, even if you use Power Editor. It's the Image Library.
Ready? Let's go!
What You Are Going to Learn Today
Today's lesson is Managing Your Images. We're going to focus on the following:
Locating Your Image Library
Uploading New Images
Accessing Your Images
The Lesson
If you create Facebook ads that utilize an uploaded image instead of an image from a promoted Page post, those images go into a library. This is nice since you can then access old images to be used later.
Locating Your Image Library
On the left-hand side, click on Image Library.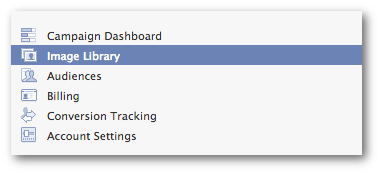 You will now see all of the images you have uploaded to be used within ads.

Again, this doesn't include images that were included in your original posts that you promote. These are only the ads that you upload through Power Editor and into the self-serve ad tool.
If you double click on any of these images, it's supposed to bring up the ads that utilize this image. The feature doesn't work for me, though I don't have much use for it.
Uploading New Images
You can upload a new image directly within the flow of creating an ad (that will be covered in a later section) or you can upload — or even bulk upload — directly to the Image Library without a connected ad.
At the top right, click on "Bulk Import."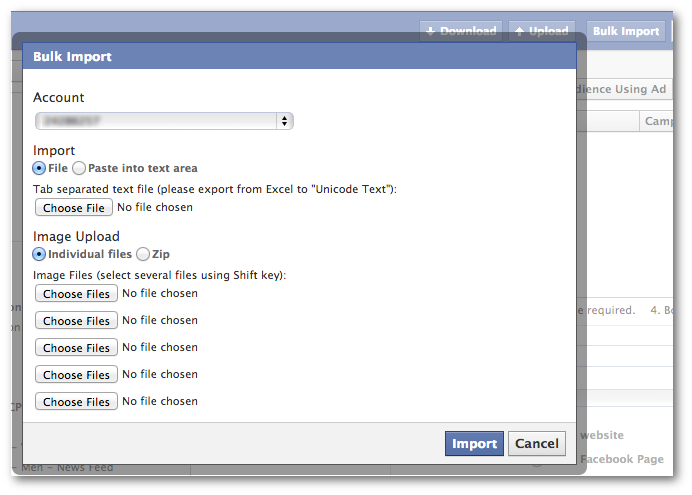 In the bottom half of this pop-over, you have two options for uploading images:
Select one-at-a-time
Upload a zip file that includes multiple images
Accessing Your Images
Now when you create an ad (again, more on that later!), you'll be able to easily access these images that you've uploaded.
When you click the "Choose" button to select an image to be used with your ad, you'll get the following prompt:
Now you can either select an image that is in your Image Library or upload a new one.
Recap
What did you learn today?
1. How to access your Image Library
2. How to add new images to your Image Library
3. How to access your images in the Image Library when creating ads
Your Assignment
Action Items:
Go into your Image Library to get an idea of what's already there
Test uploading a single image file
Test uploading a zip file of at least two images
Need personal one-on-one help from Jon?
Set up a training session!