Meta is rolling out a change that will allow them to spend up to 75% over your daily budgetA budget is an amount you're willing to spend on your Facebook campaigns or ad sets on a daily or lifetime basis. More.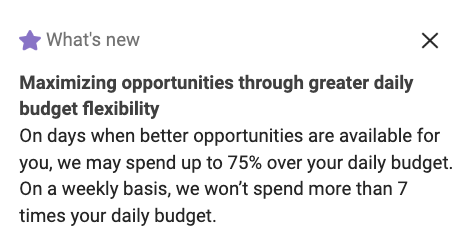 When setting your budget in the ad setAn ad set is a Facebook ads grouping where settings like targeting, scheduling, optimization, and placement are determined. More, your may see this message:
"Maximizing opportunities through greater daily budget flexibility. On days when better opportunities are available for you, we may spend up to 75% over your daily budget. On a weekly basis, we won't spend more than 7 times your daily budget."
For an example of a $20 daily budget, Meta normally says they'll spend up to $25 on some days, which is an increase of up to 25%.

Here, Meta says they'll spend up to $35.

While 75% is a potentially big increase, Meta willl spend no more than your budget over a 7-day period. If Meta does spend 75% over your budget one day, they'll need to make up for that on others.
The potential for confusion is high, of course. It may appear that Meta is grossly over or under-spending. It's still good to have this flexibility in the event your ads are performing really well. Meta can take advantage of that performance automatically.
What do you think of this update?