Check it out, Meta is rolling out BudgetA budget is an amount you're willing to spend on your Facebook campaigns or ad sets on a daily or lifetime basis. More Scheduling…
When you set a daily budget in the ad setAn ad set is a Facebook ads grouping where settings like targeting, scheduling, optimization, and placement are determined. More or while using Advantage Campaign BudgetAdvantage Campaign Budget (formerly Campaign Budget Optimization) automatically manages your Facebook campaign budget across ad sets to get you the overall best results. More, you may see this option for Budget Scheduling:

"You can now schedule budget increases in advance based on certain days or times when you anticipate higher sales opportunities, peak traffic or other promotional time periods."
Check the box to increase your budget during specific time periods. Provide a date and time for when this change will start and end.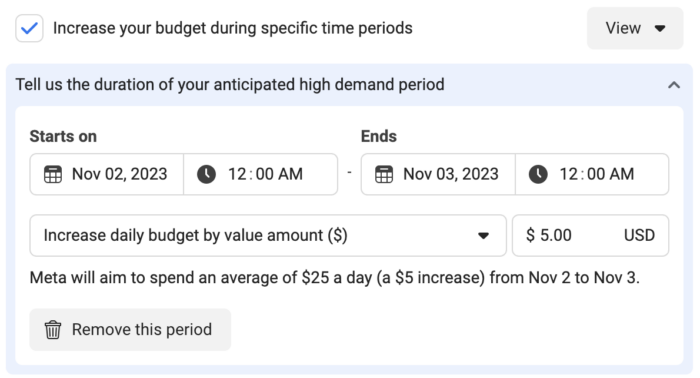 You can increase by a dollar amount or percentage compared to the base daily budget. You're able to add up to 50 time period entries.
This will be super useful for budget planning during the holidays. You may set a daily budget through the end of the year, but increase the budget during promotions like Black Friday or Cyber Monday.
It's not clear whether there's a risk of re-entering the learning phase, but Meta has been much more forgiving there lately.
Do you have this feature yet?