One of the pains of these new ad reports is that you need to edit columns every time you come back to them each day. That is, unless you save reports…
Ready? Let's go!
What You Are Going to Learn Today
Today's lesson is Creating Saved Reports. We're going to focus on the following:
How to Create Saved Reports
Types of Saved Reports You Should Create
The Lesson
How to Create Saved Reports
Once you've created a report that you like with the settings you like, click the Save button.
Next name your report. Make sure that it's something descriptive that will be easy to remember later…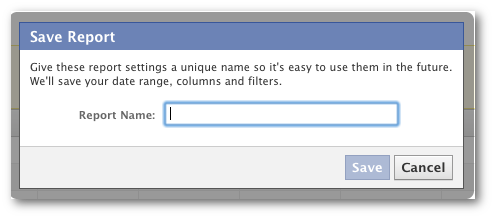 Now, later on, you'll have access to any report that you've saved at any time.
Click "Reports" at the top left.
Types of Saved Reports You Should Create
The easy answer is that you should create a saved report for anything that you view often. Easy access.
But in general, I'm going to assume that you regularly run ads that do the following:
Drive Website Traffic
Increase Page Likes
Drive Website Conversions
Increase Post Engagement
As a result, I recommend saving reports for these purposes. I would use settings similar to those described in Lesson 4.
Also note that you can also have alerts sent to you on a daily, weekly or monthly basis with updates on these reports. You do this by clicking the Schedule button.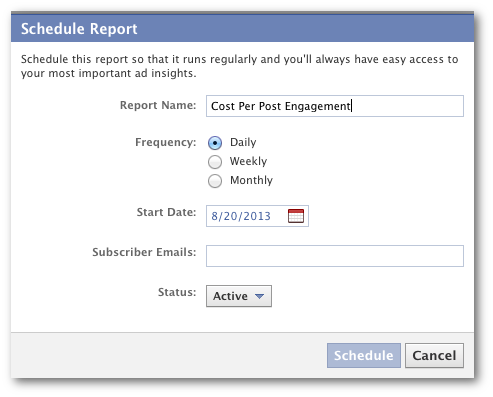 Simply pick your report, provide an email address and determine how often you want to receive it.
Your Assignment
Action Items:
Determine the reports that you expect to use most often
Save those reports!
Schedule a report to be sent to you daily
Need personal one-on-one help from Jon?
Set up a training session!