In the last lesson, you were given a general overview of Facebook ad reports. You saw some of the amazing things you can do. Now you're going to learn more about what makes ad reports so great: Edit columns!
Ready? Let's go!
What You Are Going to Learn Today
Today's lesson is Editing Columns: Introduction. We're going to focus on the following:
What "Edit Columns" is
Why it's Important
The Types of Data Available
The Lesson
This could be one of the most important features you use. Let's master it!
What "Edit Columns" is
It is pretty much what it sounds like. You are given complete control over what appears in your reports. And the reason for that is that you can edit the columns (stats) that appear.
On the left hand side, click on the "Edit Columns" button.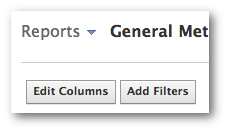 Why it's Important
You are no longer at Facebook's mercy when it comes to reporting. You don't have to focus on Clicks, CPM, CPC, and Click Through Percentage. You can focus on the stats that matter to you, to that particular campaign.
And the added beauty is that the stats you use in your report don't need to be directly related to that ad's initial purpose.
For example, maybe you created an ad with the purpose of driving link clicks. It's a promoted post. But you want to see how it did in terms of increasing Page Likes.
You can do that. And a whole lot more.
The Types of Data Available
There are limitless variations of ways you can craft your reports. You can feature a lot of data or very little of it.
The types of information that you can place in those columns are broken down into Data Aggregation, Data Breakdowns (we'll discuss this tomorrow), Delivery & Spend, Clicks, Actions and Cost Per Action.
Within Data Aggregation, you can determine which pool of campaigns or ads you want to focus on:
Account
Campaign
Ad
Account ID
Campaign ID
Ad ID
Here are the Delivery & Spend stats:
Reach
Frequency
Impressions
Social Impressions
Cost Per 1,000 Impressions (CPM)
Cost Per 1,000 People Reached
Spend
Following are the Clicks stats:
Clicks
Unique Clicks
Social Clicks
Click-Through Rate (CTR)
Unique Click-Through Rate (uCTR)
Cost Per Click
Cost Per Unique Click
There are more than 40 Actions stats, so I won't list them all here. But following are some examples:
Page Likes
Page Engagement
Post Engagement
Post Shares
Link Clicks
Website Conversions
App Installs
App Engagement
Mobile App Installs
Event Responses
And the Cost Per Action stats simply find the cost per any of those actions.
Your Assignment
Action Items:
Create an Ad Report
Edit Columns based on what you'd want to see for gaining Page Likes
Need personal one-on-one help from Jon?
Set up a training session!