Nearly a year ago, Facebook first started testing Lead Ads, a way for advertisers to collect leads without sending users to an external website. This ad unit significantly improved the user experience by eliminating load times and pre-filling registration data from the user's profile.
By keeping people on Facebook, though, it created some issues for advertisers. Some of those issues are addressed in Facebook's latest new Lead Ad Form Engagement Custom Audience.
The No-Landing-Page Problem
One of the inherent problems with Lead Ads — for advertisers, not users — was that they kept users on Facebook. Without a landing page, advertisers could not create Website Custom Audiences.
Why was this important? It's helpful to know whether a user clicked to open the form but didn't submit or clicked and submitted. These actions could help the advertiser show the user a more relevant ad.
For example, when a user clicks and submits to register, they should be excluded from seeing that ad again. This could be accomplished with some creative email Custom Audience syncing, but the process wasn't perfect. The email address that the user provided, for example, may not be the same as what is on their profile (since it can be edited).
Additionally, you may want to show a different ad to a user who clicked and didn't submit. Understanding that they got close to submitting, you could surface additional benefits or remind them that time is running out on signing up.
These are all things you can do with Website Custom Audiences when driving users to a landing page. Without that landing page, though, advertisers were limited.
The Lead Ad Form Engagement Custom Audience
This didn't come as much of a surprise to me as it was a natural addition to the Engagement on Facebook Custom Audience. Back in March, Facebook started testing a feature that allows advertisers to create Custom Audiences from user engagement.
Some users still don't have it, but go to Audiences within your Ads Manager and click to create a Custom Audience.
Some advertisers will have the "Engagement on Facebook" option.
In the beginning, the only engagement type available was video. That seemed strange at the time since the audiences weren't called Video Views or Video Engagement Custom Audiences. They had a general title, leading me to believe that more types of engagement would be coming.
And they're coming! As you can see below, you can now choose from Video and Lead Ad engagement. And when I checked today, I also see Canvas on the list (though this seems to be premature as the feature is not yet functional for me).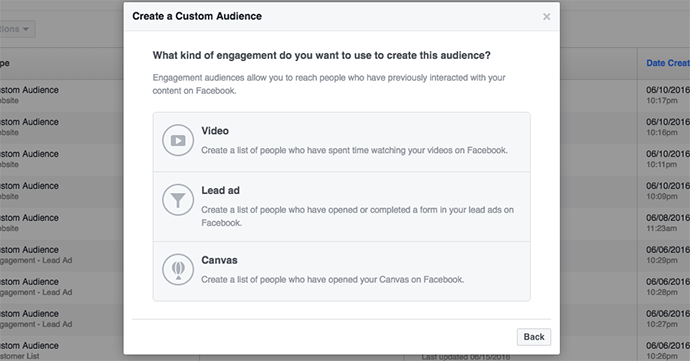 The possibilities are endless for Engagement on Facebook Custom Audiences (post likes, comments and shares), but let's focus on Lead Ads today.
How to Create a Lead Ad Custom Audience
After going through the steps above, you are then given a dialog that looks like this…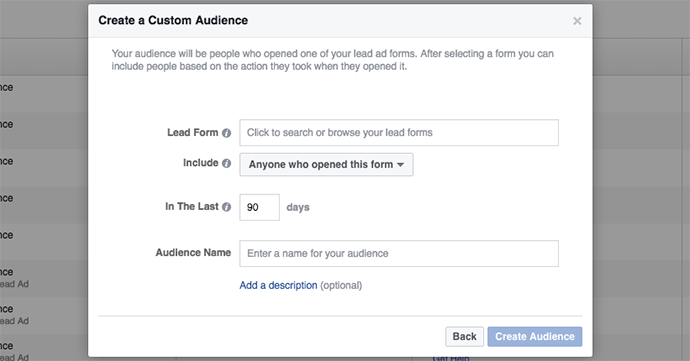 First, select the Lead Ad form for which you'd like to create an audience. Obviously, that step is necessary first. Then select the type of Lead Ad engagement.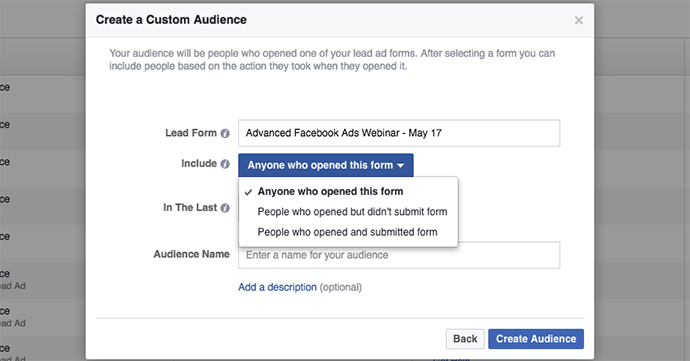 Following are your options:
Anyone who opened this form
People who opened but didn't submit form
People who opened and submitted form
There's been some confusion regarding the differences between the three, but I think it's rather straight forward. The first ("anyone who opened this form") would be the largest audience, including both those who submitted and those who didn't. The second only includes those who didn't submit and the third only includes those who did submit.
The maximum duration for these audiences is only 90 days…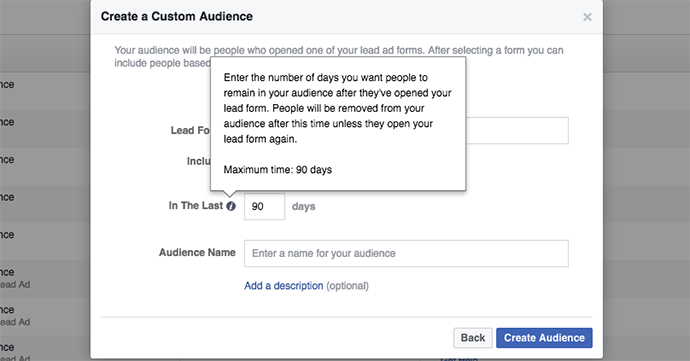 In other words, it will only include someone who has engaged with your form during the past 90 days. That's kind of annoying since the Video Engagement Custom Audience is 365 days and Website Custom Audiences is 180 days. Why the inconsistency?
How to Use These Audiences
Go ahead and create each audience for each form you have. You can certainly experiment with various durations if you want (especially if you want to create an Evergreen Campaign), but otherwise stick with the 90 day maximum.
Here are examples of how you might use these…
Anyone who opened this form
Since this is a larger audience, it may be one you could use for basic remarketing. All of the people engaged with your ad, so you may want to show them content related to that registration — regardless of whether or not they opted in.
People who opened but didn't submit form
Consider this an "abandoned shopping cart" opportunity. Why didn't they submit? Did they simply forget? Do they need more benefits before they submit? Do they need a sense of urgency? Create an ad based on one of these profiles.
People who opened and submitted form
An obvious opportunity is for up-sell. If someone registers for my free beginner Facebook advertiser webinar, I should promote my 4-week program to them.
There's another way that I use it, though. I hate waste. So when I promote a product or opt-in, I want to be sure to exclude those who already purchased or registered.
You can exclude Custom Audiences in your targeting. Previously, I would exclude the Website Custom Audience for the thank you page or the Email Custom Audience for the email address registered. But both of these were imperfect when using Lead Ads. This should provide a close-to 100% match for minimal waste.
Your Turn
Not everyone has them, but do you have the option to create Lead Ad Engagement on Facebook Custom Audiences yet? How are you using them?
Let me know in the comments below!