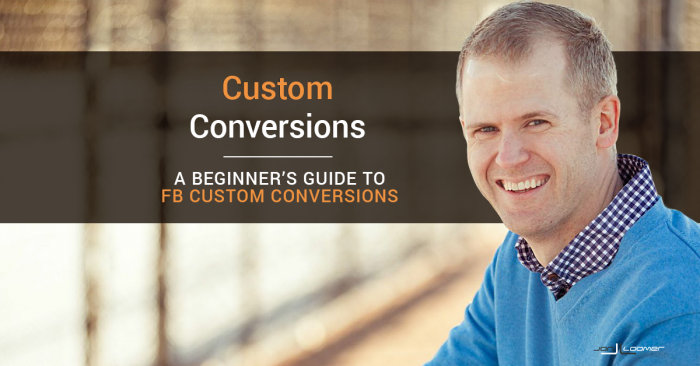 The new Facebook pixel has frustrated and confused marketers. Do you need the new pixel? How do you set it up? Should you get rid of the old pixel? What about the conversion pixel?
These questions can't all be answered in this blog post. I'll do my best to exhaust this topic in my next Power Hitters Club workshop on December 16 (available only to PHC members — SIGN UP HERE).
In this post, though, I want to cover the basics of Custom Conversions. This is a new addition that on one hand provides further confusion, but on the other is on the right track to making this process a whole lot simpler.
What Are Custom Conversions?
Custom Conversions allow marketers to track and optimize for conversions without adding anything to the Facebook pixel code that is (hopefully) already on your site. This replaces the conversion pixels you've been placing on individual success pages.
Custom Conversions also complement — or at least partially replace — Standard Events. With Standard Events, you adjust the Facebook pixel on particular pages to help track or optimize for conversions.
But we aren't going to dig into Standard Events today. This is an advanced and complicated topic, and we're going to try and keep it as basic as possible.
The main thing to understand is that Custom Conversions will make your life easier. It means less adding code manually to your site. This is a good thing.
How to Create Custom Conversions
First, I am going to assume that you have the Facebook pixel installed on your website. If you don't, make sure to read this tutorial.
Within ads manager or business manager, click "Tools" at the top and select "Custom Conversions."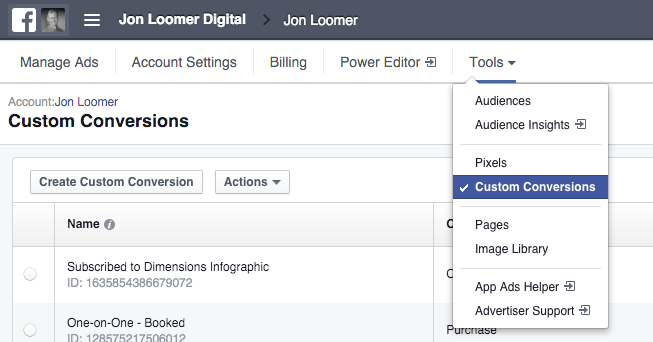 Click the "Create Custom Conversion" button at the top left and you'll see something like this…
Note that this looks a lot like the Website Custom Audience interface. As such, you should feel at home!
There's a reason the two processes are similar. What we are doing is very similar, too. We are trying to help Facebook determine if a user who visited our website ended up converting.
Under the rule, you'll have three options…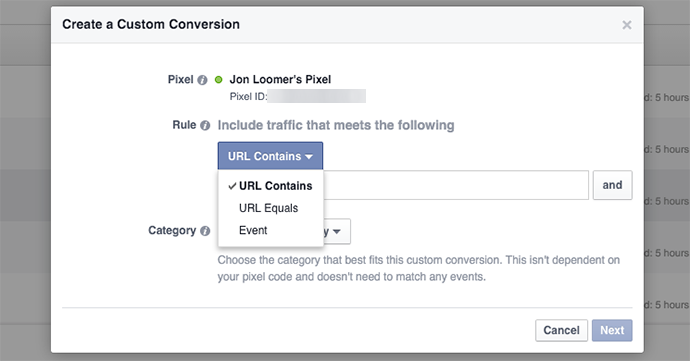 If you've created Website Custom Audiences before, you've seen "URL Contains" and "URL Equals" before. I can create a rule, for example, to help Facebook determine who subscribed to my lead ads ebook…
URL Contains: lead-ads-ebook-thank-you OR
URL Equals: www.jonloomer.com/lead-ads-ebook-thank-you/ (you don't need http:// or https://)
Note that you wouldn't include both. I'd use this URL because it's the page someone would see upon subscribing — it's my "thank you" page.
You can also select "Event." I'm not going to dig into this today as it's for a more advanced lesson at another time (and for my Power Hitters Club workshop in December). But this is for Standard Events, assuming you've added such code to individual pages of your website.
Next select the conversion category…
Options include:
View Content
Search
Add to Cart
Add to Wishlist
Initiate Checkout
Add Payment Info
Purchase
Lead
Complete Registration
Other
Again, if you've created Standard Events before, these will be familiar to you. All but "other" can be created with Standard Events. And again, that's for a separate lesson.
So here's an example of the first screen when creating a Custom Conversion for my lead ads ebook subscribers…
After clicking "Next," I'll need to name the Custom Conversion…
I have the option of providing a description and value for the conversion. Since this is a simple opt-in, I leave that unchecked.
I then went through and created a Custom Conversion for every active product and lead magnet on my site (there are seven of them).
These Custom Conversions can and will eventually replace the conversion tracking pixels we currently use for conversion success pages. If you're going to replace them, make sure you don't have any active ads that are using them first.
How to Optimize for a Custom Conversion
Now let's put this Custom Conversion to good use. First, create a campaign in Power Editor with the objective of Website Conversions.
Within the ad set, the first step is to "choose a conversion event."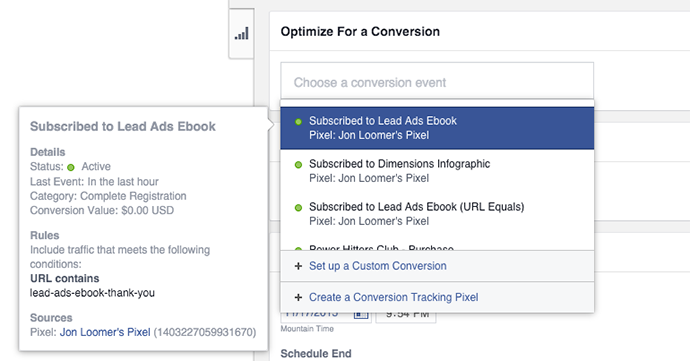 You can select from a list of Custom Conversions, Standard Events and Conversion Pixels. Select one of the Custom Conversions you just created.
By making this selection, you are telling Facebook to optimize for that specific action. In other words, look at the people who have performed that action so far, and find those who are most likely to do it as well.
How to Track Custom Conversions
You of course want Facebook to track, count and report the number of conversions that result from your ad. This is the easy part.
Within the ad, you'll notice that when optimizing using the new pixel, you no longer need to select a conversion to track.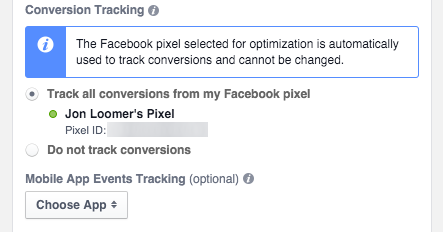 Facebook is automatically tracking them all for you.
How to View Reported Conversions
Understand that Facebook is going to report on all of the conversions that result from your ad and are connected to your pixel — whether you were optimizing for that conversion or not. But we can break that down.
Within your ad reports in Ads Manager, click the "Columns" drop-down and select "Customize Columns."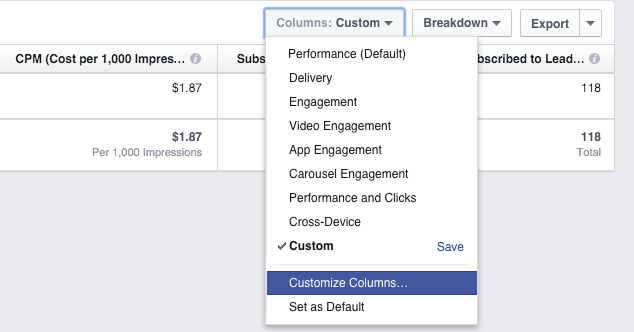 We want Facebook to display columns for number of events for each specific Custom Conversion.
Click on "Website" on the left side…
You should see the Custom Conversions or Standard Events that you've created. Select all or just the ones you want to see. You can do the same for Cost Per Conversion.
Now I can see that of my 229 conversions, they were actually split between two different events…

It's important that you use your ad reports to drill down. Otherwise, the results may be misleading or not tell you what you think they say!
Why You Should Create Custom Conversions
Using Custom Conversions is a whole lot easier than using the old tracking pixel that was placed on all of your success pages. You had to manually copy and paste a unique code to the header of each page.
Now, you don't need to do any of that. Your code is already on the site. Simply tell Facebook what a conversion is and create it. Easy!
It's also much simpler than Standard Events, which require you to replace your code with one specific to that conversion type on each success page. This doesn't completely replace that process, though, as the two can be used together.
There are actually some pretty cool things you can do with Custom Conversions and Standard Events, but we'll get to that at another time!
The Limitations of Custom Conversions
Unfortunately, there are two pretty big limitations of Custom Conversions.
1. You can't edit or delete a Custom Conversion once it's been created.
You can edit the name, but that's it. Nothing else.
This is kind of ridiculous. You may have noticed it in some of my screen grabs, but I actually have a duplicate Custom Conversion. I can't get rid of that, and it can throw off reporting.
I'm sure that Facebook will allow you to delete Custom Conversions eventually, just as you can delete Website Custom Audiences and conversion pixels.
2. You're limited to 20 Custom Conversions per ad account.
This actually isn't a huge deal for my site. I don't have 20 active conversions I want to track or optimize for right now. However, I'll continue to create new products and lead magnets, so — if I can't delete any — I'll eventually run into this limit.
For the time being, if you need more than 20, you should be using Standard Events anyway. They're more work, but you'll just need to deal with it for now.
Your Turn
Have you started using Custom Conversions yet? Does this post clear up any of the confusion?
Let me know in the comments below!