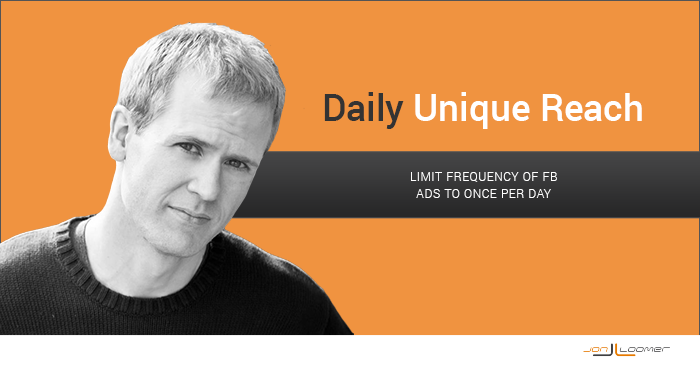 [AUDIO VERSION: I also recorded an audio version of this blog post. Click below to listen. Let me know if this is something you find helpful!]
As an advertiser on Facebook, you need to be aware of frequency. This is the number that tells you how often you've reached the average user with your ad during a given period of time.
There's no hard or fast rule on what frequency is too high for a period of time, but the fact of the matter is that you don't want to overwhelm your audience with ads.
Luckily, there is now a solution to this within Power Editor!
[CLARIFICATION: This feature has technically been in Power Editor for a long time, but it was buried and poorly explained. The equivalent of Daily Unique Reach within the old format was using manual bidding within oCPM and putting your entire bid on Reach.]
The Problem with Frequency
Facebook has some controls in place to cap frequency. You are limited to reaching fans four times and non-fans two times every day with your ads in the news feed. Of course, that doesn't include the right column sidebar, where there are no such limitations.
So if you want to limit your frequency, what do you do? Until now, you simply had to keep the budget down as the best course of action. Of course, this also prevented you from reaching more people with your ad.
What is Daily Unique Reach?
With the latest update to ad sets and ads for Power Editor, Facebook provides a new option: Daily Unique Reach.
As the explanation in the image above says, selecting Daily Unique Reach for optimization allows you to "serve ads to people up to once per day." No more.
Once you select that option, you'll need to provide "the amount reaching 1,000 people is worth to you."
Note that this isn't a true bid, but Facebook uses it as a guide for determining whether or not to show your ad.
What should you enter here? Good question. I consider an average oCPM to be about $5.00. But regular CPM is often much less. So feel free to split test and see what works!
How Daily Unique Reach Works
It's important to understand your selection here. In the example above comes from a campaign with the Clicks to Website objective. By default, Facebook recommended optimizing for Clicks to Website. But I am instead selecting Daily Unique Reach.
When you optimize for an action, Facebook is going to focus in on the people most likely to perform that action (within your designated audience). So while your potential audience may be 100,000, Facebook may focus on the 10,000 people most likely to click your link.
When you use Daily Unique Reach, the action is no longer a consideration. Facebook will show your ad to as many people as possible within your designated audience, but no more than once per day.
That limitation includes all placements. So if you reach a user once in the right column, you won't reach them again that day — even within the news feed.
Limitations and Considerations for Daily Unique Reach
Your ad will now be shown to people no more than once per day. That's a pretty awesome option. But what do you lose in the process?
Facebook is no longer optimizing for your desired action, so the likelihood of the people who see your ad clicking (or converting, liking, etc.) goes down. The focus is now on controlled volume.
As a result, there are a few things you should consider when testing this out…
1) Approach this the way you would normal CPM. Keep in mind that, like CPM, Daily Unique Reach is not optimized for a particular action. How much reaching 1,000 people is worth to you should be the equivalent of what you'd normally bid for CPM.
2) You may want to consider eliminating the right column. I have no problem with right column ads — they can be effective — but since they count towards your daily reach you're probably best served focusing on the news feed (desktop and mobile).
3) Target a very focused audience. Since Facebook is no longer optimizing for you, the job is yours to eliminate waste. Target custom audiences or apply important interests and behavioral targeting to make sure you're reaching the right people. Keep the audience small.
This is a nice option. But it sure would be nice if Facebook would provide a frequency capping option when optimizing for a particular action!
Learn More About Power Editor
Daily Unique Reach is one of many features that are available to advertisers only if you use Power Editor. Want to master Daily Unique Reach and other amazing features the pros use? Sign up for my self-paced training course!
Your Turn
What do you think of Daily Unique Reach? Have you started testing yet? What results are you seeing?
Let me know in the comments below!