It's unclear when this happened, but the Static HTML application that makes it easy to build your own Timeline apps has changed.
Previously, you only needed to add the app to your page once, and you could then create multiple "tabs." But now, that option doesn't exist. And when you try to add the app again, that page no longer exists in the drop-down of selections.
So how do you create multiple Facebook Timeline apps with Static HTML? I figured there must be a way. I poked around everywhere. The information in the Account information within the app clearly states that you can create "unlimited tabs."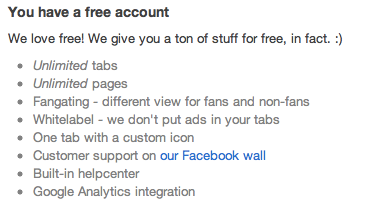 But I figured this could just be carryover language from the pre-Timeline days. I looked in the main app settings of my page and found no solution. I looked on the main page for the app and there was no explanation.
So… we can only use the Static HTML app once now? Nope. You can use it up to 12 times. But they sure don't make this clear.
Here's what you do…
I found this by mistake when I searched Static HTML on Facebook: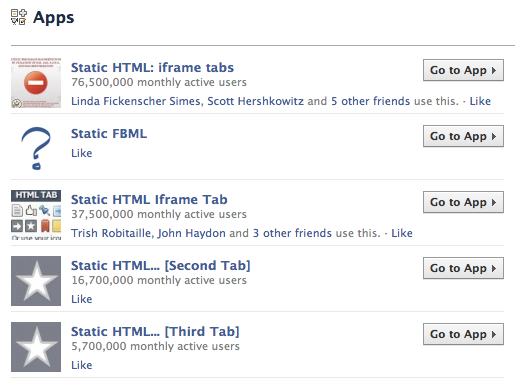 So apparently, you have to add a different app each time you want to create a new tab with Static HTML. For your reference, here are all of the links that you'll need to create multiple Facebook apps with Static HTML:
Static HTML Facebook Application (first tab)
Static HTML… [Second Tab]
Static HTML… [Third Tab]
Static HTML… [Fourth Tab]
Static HTML… [Fifth Tab]
Static HTML… [Sixth Tab]
Static HTML… [Seventh Tab]
Static HTML… [Eighth Tab]
Static HTML… [Ninth Tab]
Static HTML… [Tenth Tab]
Static HTML… [Eleventh Tab]
Static HTML… [Twelfth Tab]